Introduction
80 % of companies think they are delivering superior service to their customers. Yet only 8 % of customer agree. That's the outcome of various studies for more than 10 years. This means there is no improvement for more than 10 years even though more than 1/3 of customers change their suppliers after one single bad experience (online even 2/3). In addition, more than 80 % of customers are willing to pay more for better customer experience. Same studies, same period and nothing has significantly changed! What needs to be done to change?
There are two assets to drive experience – customers and employees. Without employees, you can't create great products or services. Even more important in this content: Without engaged employees you can't delight customers. And who will buy your products and services if you don't have customers?
At the end of the day, employee retention and customer tie is directly related to their experience they make with you in each case. Likewise, the strategies and technologies applied to provide experience as a service are important because they deliver empathy in action.
We all live in an experience economy. We all are Generation CX. After buying a book via Amazon we take an Uber to the apple store to buy their new watch. Afterwards we stop in Starbucks for a coffee and use Amazon one to pay and go. All these brands have in common that they do not just selling a product. They are selling experience. That means: just "business-centric only" strategies and technologies as applied in the past will cost you more. Because customers will abandon their journey or the journey ends up in a dead end.
Empathy
Regardless of your industry: Key is your customers are comparing the experience with you to their last experience with similar brands. You may have the best products to offer, but do you have the type of experiences that garners trust and loyalty in this new experience economy? If not, your customers of sure won't be satisfied. Quite often they will be frustrated if the delivered service doesn't fit with their expectations.
With that frustration the customer-employee cycle gets closed to a loop: Angry customers take frustrations out on agents leading to constant stress and high attrition rates. The results are demotivated employees who won't be engaged and won't service customers with the empathy required leading to even more frustrated customers.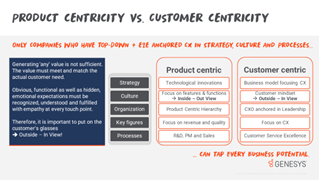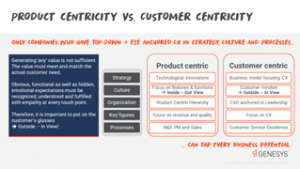 How can 'empathy' help in this content? Empathy is the ability to put yourself in someone else's shoes and see the world through their eyes. That means you must take actions from their point of view. So, in the business world you can say empathy is real customer centricity. Change the view from inside-out to outside-in. Be customer centric!
Now the question is: How do you deliver outstanding customer experience? How do you change perspective to an outside-in view? How do you deliver empathy?
Listen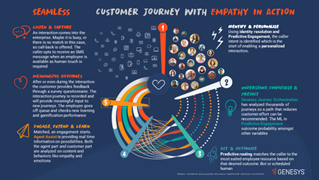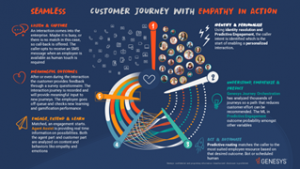 It all starts with listening, listening to your customer, get to know him and remember him. Listen to the verbal and the nonverbal communication: What do they say? Why is he there? What does she want (and what not!)? By when? How did he get there? …
Please consider: There are many touchpoints on this customer journey. Some of them are visible and obvious. But some of the touchpoints on this omni-channel customer journey might be indirect and invisible for you. That doesn't mean those are less important. Be aware of them and get the ability to 'listen'.
Listen is the first step. Listen doesn't necessarily mean that you understand your customers intention. The next step is to understand how your customer is acting and feeling. Understand or predict the real expectation and need behind. Understand his mood and feelings. Understand his priorities. And understand what is the best you can do to fulfill those expectations and needs on-time.
Understand & Predict
By purpose we talk about expectations and needs. There might be customer expectations where no real need is behind. And quite often there are needs your customer is not aware of. For an outstanding customer experience with empathy you need to understand and address both. That means that it is required to read in between the lines, to understand conscious, well expressed as well as unconscious, hidden expectations and needs.
Act
And then you need to act and help your customers to accomplish their intended outcome. Taking action means the company is determining, on-time – sometimes even in real-time, the action sequences to route customers to the best resource that ensures the customer's predicted outcomes from the understand step including the orchestrations of all back-end processes to provide the right content on the right channel at the right time – all with minimized effort from the customer as well as employee.
Learn
Now you did all to satisfy and – if done with empathy – to delight your customer. What does your customer think? Is your customer impressed what and how you have helped? What are areas of improvement? That means after acting as required you need to learn. Learn from customer feedback as well as employee feedback: Where did we earn a 'wow'? What needs to be done differently next time. How can we make the experience even better next time?
In addition, you look to the achieved business outcome. Does it match with customer expectations? Does it match with your targets? And does the outcome match with employees needs? Your learned lessons need to be considered for the next customer journey.
Summary: Experience Orchestration with empathy
In a world with focus on growth and profitability on the one side and with drastically changing customer and employee expectations on the other side you need to do things differently to get a competitive advantage. While striving to achieve your business centric goals you need to deliver experiences that drive a competitive differentiation in parallel. You need to deliver outstanding experiences for your customer as well as for your employees. You need to deliver experience as a service:
The ability to orchestrate customer/employee journeys: know who they are, what they need and deliver it like never before …
While lowering your costs, enhancing the experience and thus driving more revenue
Organizations that want to deliver orchestrated experience need to change their perspective. They need to leave their business centric inside-out view and start with the outside-in perspective putting themselves in the shoes of their customers and putting on their glasses. Only then organizations will be able
To listen to customers' expectations and needs,
To understand them and predict the according actions with the right priorities,
To take the actions to fulfill expectations and needs, and
To learn from feedback and business achievements to do even better next time.
This is key for the required customer experience and it needs to be done for employee experience for the highest rate of return. Because customer and employee experiences are intertwined and they support each, exponentially providing a better experience tying customers as well as employees and driving profitable business.