Serve more customers in less time with contact center automation
Put the power of automation to work for your business
It's time to automate. End-to-end automation drives innovation. It's the key to ensure that your prospects and customers have a seamless, consistent and personalized journey. Rethink your approach and improve the customer journey by automating your customer experience and back-end processes. You'll see faster results, more revenue-generating opportunities and happier customers.
Three Customer Service Megatrends in 2019: As AI Eats Jobs, Agents Are More Valued
Start making automation work for you
The era of automation is here. Automation connects departments, systems and people to build a foundation for innovation. It gives you detailed reports on how you spend resources. And it  captures, prioritizes, routes, escalates and tracks any business process, end to end, enabling you to:
See when a task is assigned, resolved, who worked on it and how much time was involved
Archive data from every step of each process for a complete picture of each case
Capture what you learned from each interaction
Free up agents to do their best work
The growing volume of customer interactions has led to widespread use of bots to handle repetitive or mundane tasks, particularly in self-service. Bots combine artificial intelligence (AI) with predictive routing, orchestration and agents to engage customers in natural conversations using voice, text or microapps—across all parts of your organization so that you can:
Improve your machine-learning capabilities and add the human element at the right time
Free up human agents to engage with customers on more challenging issues
Automate identification and verification of customers
Level-up your AI game. Find out how in 7-10 minutes.
Make intelligent automation your "easy button"
Every contact center environment has its flaws. Intelligent automation can help. Intelligent automation carries context from one channel to another, increases self-service rates and decreases average handle time. It resolves customer problems faster while reducing costs. See how efficiently you can:
Analyze call data for continuous improvements, such as optimizing containment rate
Drill down into actionable data so you can recognize trends and quickly find trouble spots
Reduce repeated calls, improve first contact resolution and reduce costs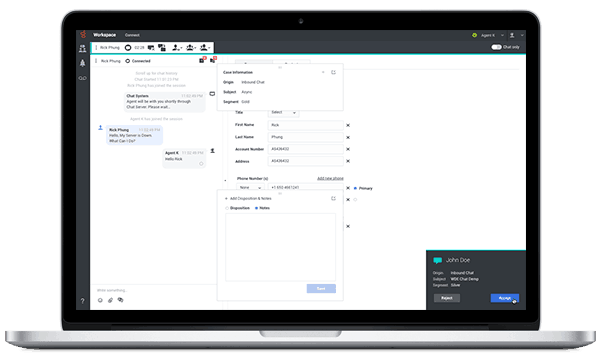 Send customers to the right agent at the right time
Using intelligent automation for sales means you can determine the most appropriate and personalized next step for prospects. Prioritize and distribute leads based on their value and timeliness in order to recapture lost sales opportunities. With intelligent automation, you can:
Increase sales conversion rates by delivering each opportunity to the best available sales rep
Quickly identify and follow up on online abandonments and improve sales efficiency
Automate the distribution of online transactions to improve sales attribution and reporting
"Now, tasks always get assigned to the right person with the right skills at the right time. This puts us firmly in control and shortens our internal processes. So, the customer gets a better experience and achieves their desired outcome quicker."
Paolo Chiozza, Director, Enterprise Caring Sevices, Telecom Italia
Explore Genesys innovations…