CX Insights, a next-generation reporting platform, gives you the ability to view and analyze Genesys® PureConnectTM data through interactive dashboards. It is the web-based, easy-to-use, interactive, drag-and-drop business intelligence (BI) tool.
CX Insights will become the primary Genesys reporting tool over existing capabilities, such as ICBM, Marquee, IWP and schedule reports. In addition, we will blend real-time and historical capabilities into the tool in the future.
The implementation process has begun with the first release. The dashboards presented in CX Insights for the first release (2018 R4) were limited to 11 dashboards created by the PureConnect platform. The I3 FEATURE ANALYTICS license will include these 11 dashboards.
Major CX Insights features are:
Web-based tool means there's no specific requirement for installation
Ability to blend real-time and historical data to offer both crystal reports and ICBM
Easy-to-create dashboards provide an extremely user-friendly interface that makes them usable by business analysts and supervisors—no need to call in developers or coders
Ability to change the visualization in a matter of simple clicks and facilitates the addition of a new visualization
Agent and Workgroup Dashboards
Interactive dashboards in CX Insights give users an easy way to see a wide range of real-time agent and workgroup activities to understand the current state of the contact center. The 11 dashboards for Agent and Workgroup statistics in the tool include the number of agents available, time in status, interactions waiting; they also feature filtering and sorting capabilities.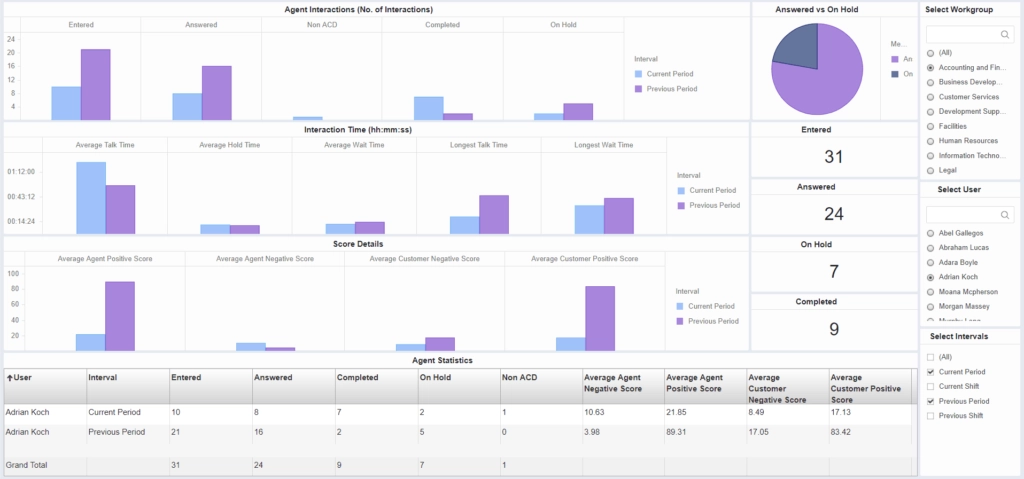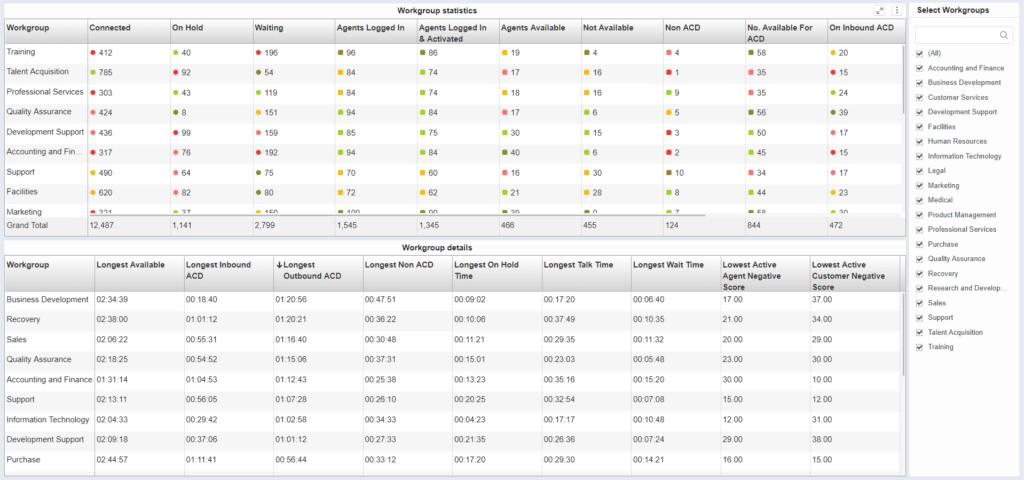 A data structure/a new data pipeline was created as part of the reporting and analytics framework, primarily to add data capabilities to CX Insights. It will be a new source of data that is modern and event-driven—it has nothing to do with our current database, nor will it use the current real-time APIs. However, the PureConnect platform will feature a new model for storing events in real-time using next-generation technologies like Kafka, MySQL, and others.
Going into the unstructured data space, Genesys will tap into the IVR subsystem first, because it contains more requests for information and data around IVR activities. Currently, the tool captures these IVR events and how a caller navigates through a system—they might push a button or move to another node in a profile. These events will be made available and housed in deep storage; they'll also be available for real-time analysis in the future. This will give customers the ability to visualize much richer data.
IVR dashboards enable subscribers to understand how their callers use applications. These dashboards will offer insights into which nodes a call traversed during a specific timeframe. You'll also get information on IVR usage that includes the time callers spent in one or more IVR applications, how callers use the apps, and whether the IVR successfully contained callers.
Coming in 2019
We'll continue to roll out additional features to the CX Insights platform. By the second half of 2019, we plan to add agent-skill and interaction-level drill-down reporting, as well as scheduling capabilities. You'll also see new features that let customers design their own dashboards and enable them to import data from external sources. To learn more about additional announcements for Winter Innovations 2018, check out the guide for what's new in product and services.