Many corporations are moving their on-premises solutions to the cloud for a range of reasons — their current solutions might have reached end of life, or they want to take advantage of the innovations and speed to production that cloud offers. Today, contact centers have many choices when choosing to deploy a cloud solution.
In this article, we'll break down the Genesys Engage Cloud Azure (Managed) and Genesys Engage Cloud Private Edition (PE) solutions.
Genesys Engage Cloud Azure (Managed)
Omnichannel customer experience is the future of customer engagement — and Genesys is the leader in the market. Companies are shifting from single channel, single department solutions to enterprise-wide solutions. Most companies today support multichannel customer engagement over an omnichannel solution.
They support many channels: voice, email and chat, for example. But they typically can't support multiple channels simultaneously within a single interaction (multimodality); they can't link interactions in a step-by-step workflow (orchestration). Finally, they can't manage the lifecycle of the customer journey (design, orchestrate, monitor, tune) to provide a personalized and context-appropriate experience for every customer (journey management).
The paradigm shift to an omnichannel experience is driving contact center modernization strategies. An omnichannel solution allows you to deliver a consistent and connected experience over every touchpoint — whether it's self-directed or with a contact center representative.
The Genesys Engage Cloud Azure solution, managed by Genesys, lets you modernize your contact center with product innovations, integrations to business applications and increased personalization that lets your customers achieve greater profitability and brand loyalty.
The Genesys Engage Cloud Azure solution creates true omnichannel customer engagement for enterprise and global companies. It provides real-time contextual journeys, world-class intelligent routing and digital transformation at any scale.
This all-in-one solution provides cross-channel journeys, scalability for growth and visibility into workforces across all media and work environments. Genesys Engage Cloud includes service automation, inbound/outbound voice, digital channels/messaging, workforce engagement management and analytics. And it accounts for the highest level of security and compliance in the industry.
Genesy Engage Cloud Private Edition (PE)
Genesys Engage Cloud PE leverages multicloud, a technology strategy that gives customers a step into cloud technology using the power of containers. It supports both public and private cloud models.
Customers manage the Genesys Engage Cloud deployment, giving them the flexibility and control to migrate to the cloud with their choice of Infrastructure as a Service (IaaS) provider. This approach offers the following benefits:
1. Ability to select your IaaS provider(s)
2. Have a choice of public, private or on-premises deployment
3. You can use innovations through a hybrid approach
4. Leverage your current IaaS relationships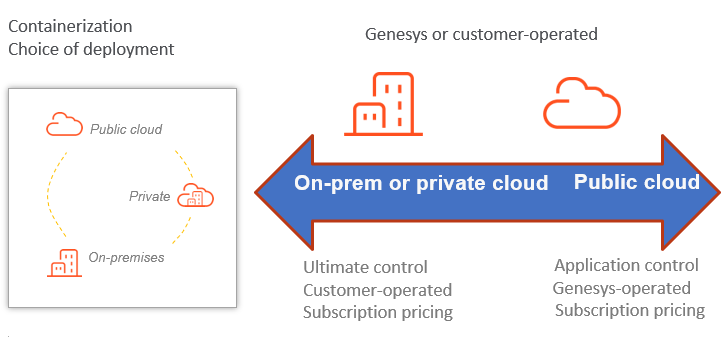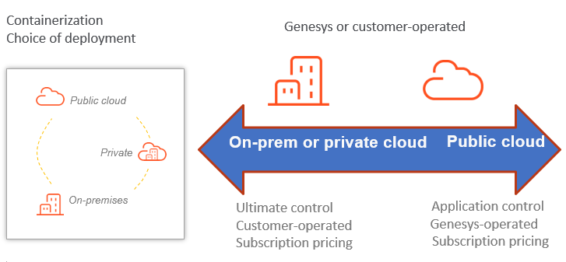 Containers bring increased value to existing Genesys Engage and on-premises customers, as well as new customers who have selected Genesys Engage on-premises. These benefits include continuous deployment, self-healing infrastructure, ease of management, simplified testing and speed of deployment.
Genesys Engage Cloud PE (Genesys-operated) currently supports Amazon Web Services (AWS) and will support Azure with containers by mid-2021.
Future-Proof Your Business
Genesys Engage gives you the choice and flexibility of deployment — and it future-proofs your investment. Customers can choose the Genesys Engage cloud solution, which is Genesys-managed or they can deploy Genesys Engage Private edition via containers with multicloud.
Read more about Genesys Engage Cloud and Genesys multicloud to learn how these solutions can help your business.