Channel-wise, it probably seems like your customers are all over the place. That's because they are.
Consider the interactions involved in changing a hotel reservation: A customer looks online for availability, chats online with an agent to ask a quick question about adding a special service, and then calls to modify dates and add that service. That same customer could call or email with more questions minutes or days later. The ability to juggle all those interactions seamlessly adds up to a great—and omnichannel—customer experience.
To better understand how customer experience professionals think about trends like omnichannel, ContactBabel, the leading analyst firm for the contact center industry, asked 234 senior customer experience executives for their perspectives. The firm also engaged ORC International, a market research firm, to gather input from 1,000 US consumers in a brief, complementary survey. As a result, "The US Customer Experience Decision-Makers' Guide 2018," is a 110-page downloadable report that examines how customer experience pros think about omnichannel in addition to consumers' stated preferences.
What Customer Experience Pros Think
Many customer experience professionals surveyed believe their customers prefer speaking to a person over automation. They also believe customers would choose this option—no matter the outcome. A more moderate number believe that most customers prefer automation. And a few believe there's an even split between agent or automation use.
Looking at the numbers broken out according to business-to-business (B2B) and business-to-consumer (B2C) segments, as ContactBabel did, reveals an interesting mix—and some strongly held views on the B2B side.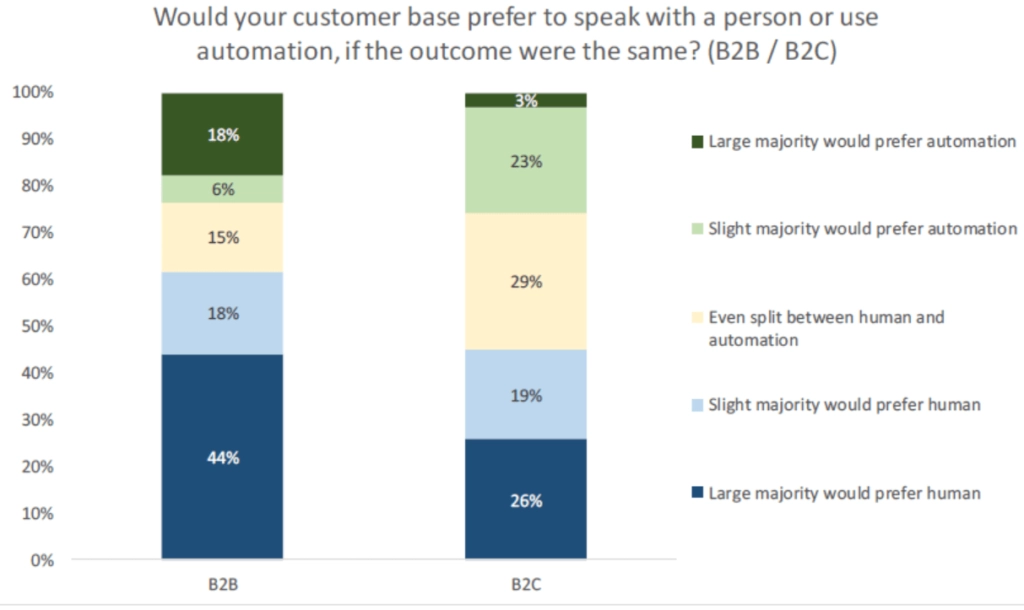 More than 66% of respondents with B2B offerings believe their customers prefer to speak with a person over the use of automation. In contrast, less than 50% of B2C respondents believe their customer base would prefer human interaction. And although just 3% of B2C respondents thought their customers would prefer automation, the responses on the B2C side are quite evenly spread across other options. Only 29% of B2C respondents thought a "large majority" of their customers would not have a preference either way, but 62% of B2B respondents thought that a "large majority" of their customers would have a preference.
What Customers Actually Want
While it's interesting to look at what customer experience professionals think their customers prefer, it's even more illuminating to get a peek into actual customer opinions. ContactBabel commissioned ORC International to ask consumers their overall preferences. They also surveyed consumers about their preferences in specific situations. The differences in the responses point to the importance of providing an omnichannel approach.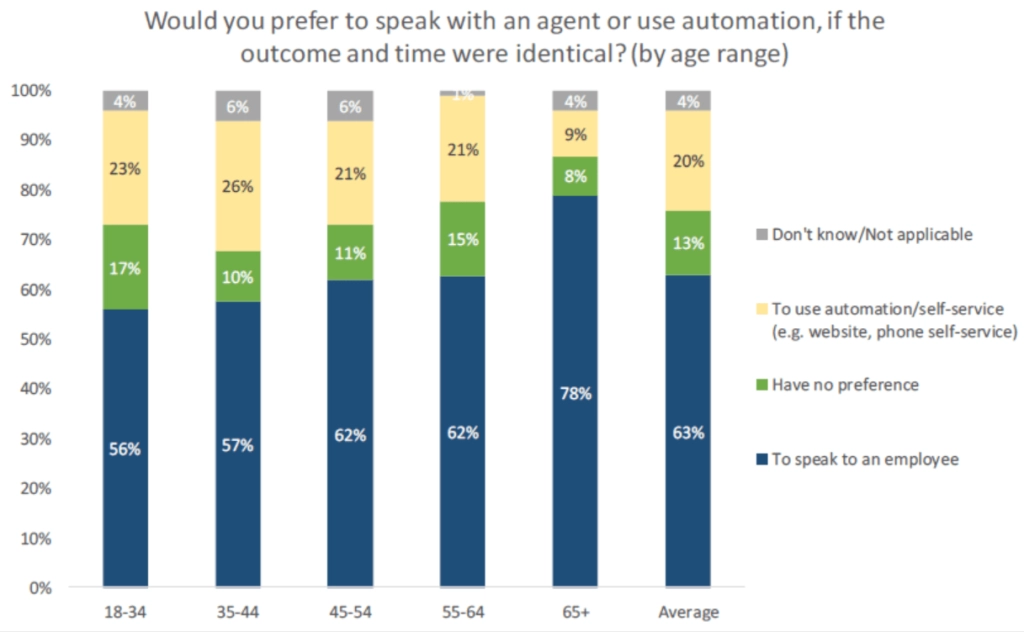 When it comes to whether respondents prefer to speak with an agent or use automation, consumers chose an agent interaction—even if the outcome and time were identical as with automation. The preference exists across age ranges, with 56% of the youngest respondents preferring to speak to an agent and 78% of the oldest respondents preferring it. Interestingly, more respondents aged 35 to 44 years old preferred automation over the 18- to 34-year-old respondents.
Overall, stated preferences for consumers were somewhat similar across ages, and they were much higher than customer experience professionals believe—especially those at B2C companies. These customer experience professionals understand how much context matters. But consumers had very different preferences when ORC International asked them how they prefer to interact in different situations, such as when a company ships them an incorrect product, when they need to check the arrival time of a flight and when they need help filling out a complex form. For certain interactions, the desire to speak to a live agent dropped dramatically.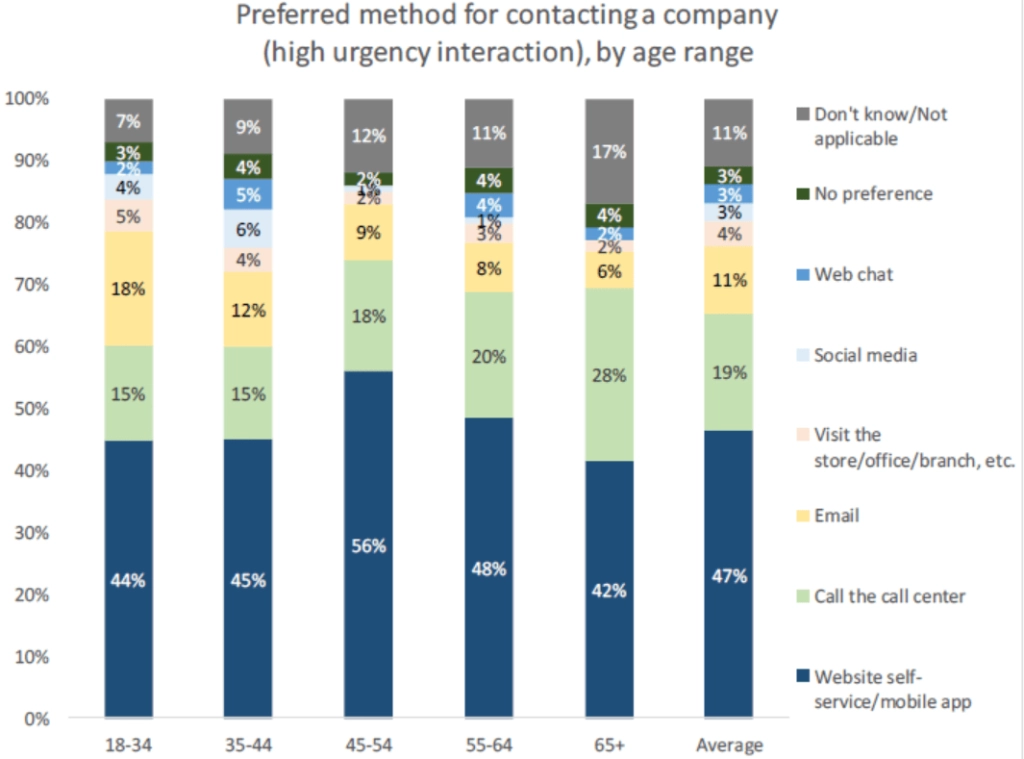 The graph above shows the results when respondents were asked which interaction they wanted to use when they needed to confirm a flight arrival time—an urgent, but not complex interaction. Across all age ranges, less than 30% of respondents preferred to use the call center; that number didn't exceed 20% for all respondents under 65 years of age. Consumers chose web-based self-service as their top option; calling ranked a distant second for all groups. Though the survey didn't specify a preference for speaking to a person on the call center option, we can speculate that a certain number of respondents would choose phone automation over speaking to an agent.
The wide range of responses, along with the relatively high number of people who didn't know their preferences, points to the importance of taking an omnichannel approach. When customers have an urgent need for information, they don't always know their preferred channel or they might find it inconvenient to access it. In an urgent situation, an omnichannel approach offers the convenience of choice and the ability to try other options if the interaction increases in complexity.
Delve Deeper Into Survey Results
These findings are just a small sampling of all the data published in the ContactBabel report, "The US Customer Experience Decision-Makers' Guide 2018." Read the full report to see which channels consumers preferred for complex and high-emotion interactions.
The report also breaks down omnichannel-related results according to income level. Beyond omnichannel, the report details the opinions of customer experience professionals on many hot topics, including investment and future strategies. Download your copy today.