The worldwide online retail market is strong — exceeding $5 trillion in 2022. And because of its popularity, the online shopping industry is incredibly competitive for retailers. There are low barriers to entry and benefits like free shipping erode margins.
The biggest issue, though, is that customer satisfaction with the retail experience has declined. Only 18% of consumers worldwide said online retailers provided "exceptional" service in 2022, down from 22% in 2021, according to "The State of Customer Experience" report from Genesys.
This creates an urgency for online retailers to improve their eCommerce customer experience (CX) to stand out from the competition. The ideal approach is to provide convenient, personalized experiences and seamless customer journeys. To do this, retailers must help customers discover and find products and ensure they feel secure in their purchases. They should also make it easy to track a delivery and, if needed, make a return.
This will create more empathetic experiences that meet customer expectations – and that build brand loyalty and trust.
Critical Empathy Gaps Undermine eCommerce Customer Experience
There is work to be done. Genesys latest research report, "Retail's empathy gap," reveals urgent gaps in the online retail experience that are undermining customer loyalty and holding back growth.
This empathy gap is most apparent in three areas of the eCommerce customer journey:
Insufficient product information and customer support that diminish shopping experiences
A lack of post-purchase visibility into shipping and delivery
Difficult or inconvenient returns processes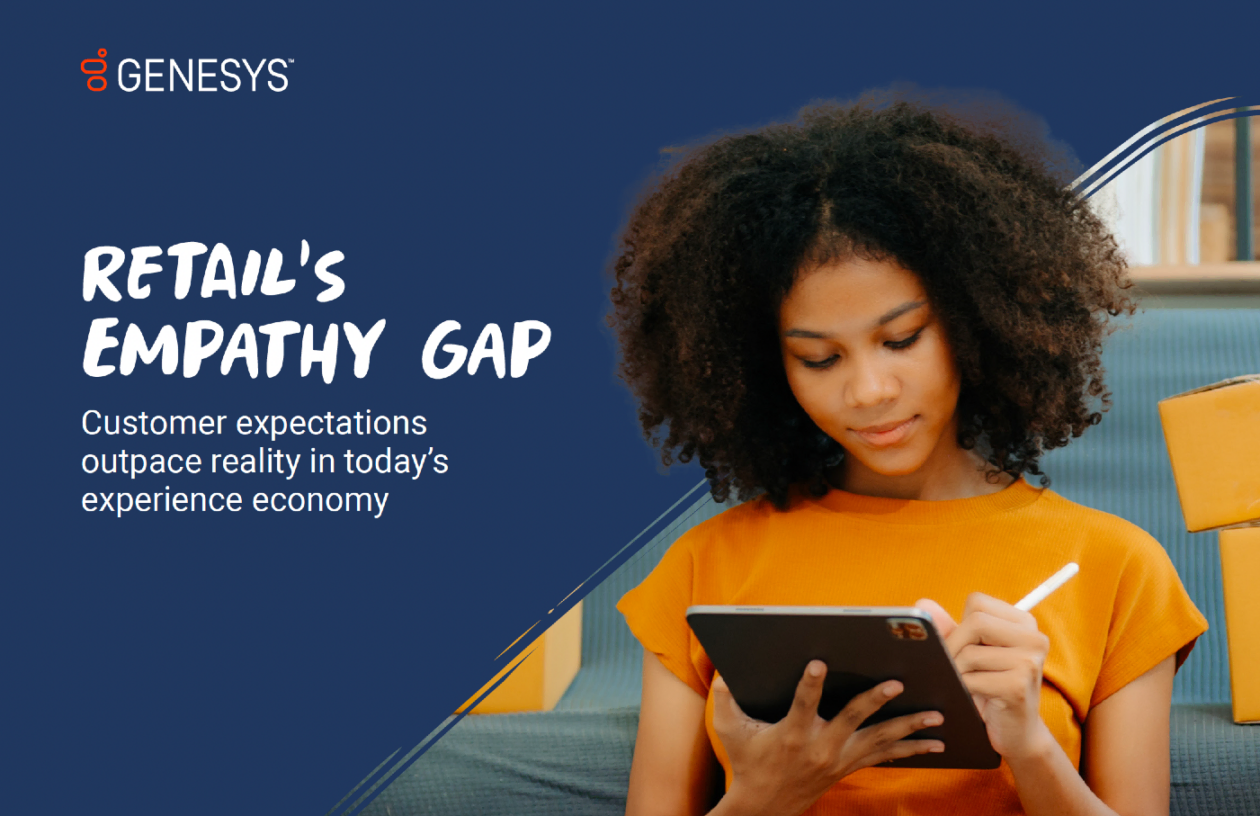 Retail's empathy gap
Consumers expect more from online retail experiences. Find out how to give them what they crave.
Retailers can increase customer satisfaction and drive better business outcomes by connecting channels, services and data to build meaningful relationships with their customers . Doing so will also entice potential customers to buy.
Here's how:
Make it easier to shop and buy, so customers feel appreciated.
A mere 24% of surveyed consumers strongly agreed they found sufficient information to make a purchase decision when shopping online. Retailers often have details such as sizing charts, estimated arrival date and return policies scattered around a site. This creates a disjointed experience.
Consumers also want the ability to easily contact support when necessary. But in their most recent online shopping experience, just 25% said customer service was accessible to them in their preferred channel when they needed it.
In some cases, consumers are stalled when they're ready to pay. Only 35% strongly agree they were able to purchase through their preferred payment method.
Customers who lack the information or support they need to purchase products or services are likely to abandon their carts and shop elsewhere.


To improve online user experiences, retailers can provide easier access to information and increase personalization for their customer base. Using tools like journey analytics, retailers can better understand how customers are navigating their site and what factors are driving traffic to service channels. This will enable online retailers to personalize customer journeys individually — at scale.
Additionally, tools such as predictive engagement allow retailers to understand customer behavior and intent. Combining this with artificial intelligence (AI)-powered chatbots helps online retailers deliver the information, product recommendations and relevant promotions that will prevent cart abandonment.
Providing a smoother shopping experience will do more than increase customer satisfaction. It delivers a wealth of business results, including higher sales conversion rates, fewer returns and deeper long-term customer loyalty.
Provide greater post-sale visibility to instill customer confidence.
Less than one-third of shoppers worldwide strongly agree their tracking experience was easy or that they received up-to-date information about their purchase delivery. And just 40% strongly agree that most orders arrive with the correct items and in the expected condition. This not only demonstrates a lack of empathy by retailers, but it also creates inbound queries as customers seek information about their orders.
Retailers can make shipping and delivery more convenient and personalized in several ways. They can provide detailed outbound communications to keep customers informed and use journey analytics with AI to identify the post-sale issues driving traffic to the contact center. Also, by better organizing their data and knowledge bases, retailers can ensure that self-service channels and employees are drawing on consistent information, which leads to a resolution in the first interaction.
By optimizing processes to increase visibility into shipping and delivery status, retailers can improve customer satisfaction and lower costs through reduced inbound interaction volume.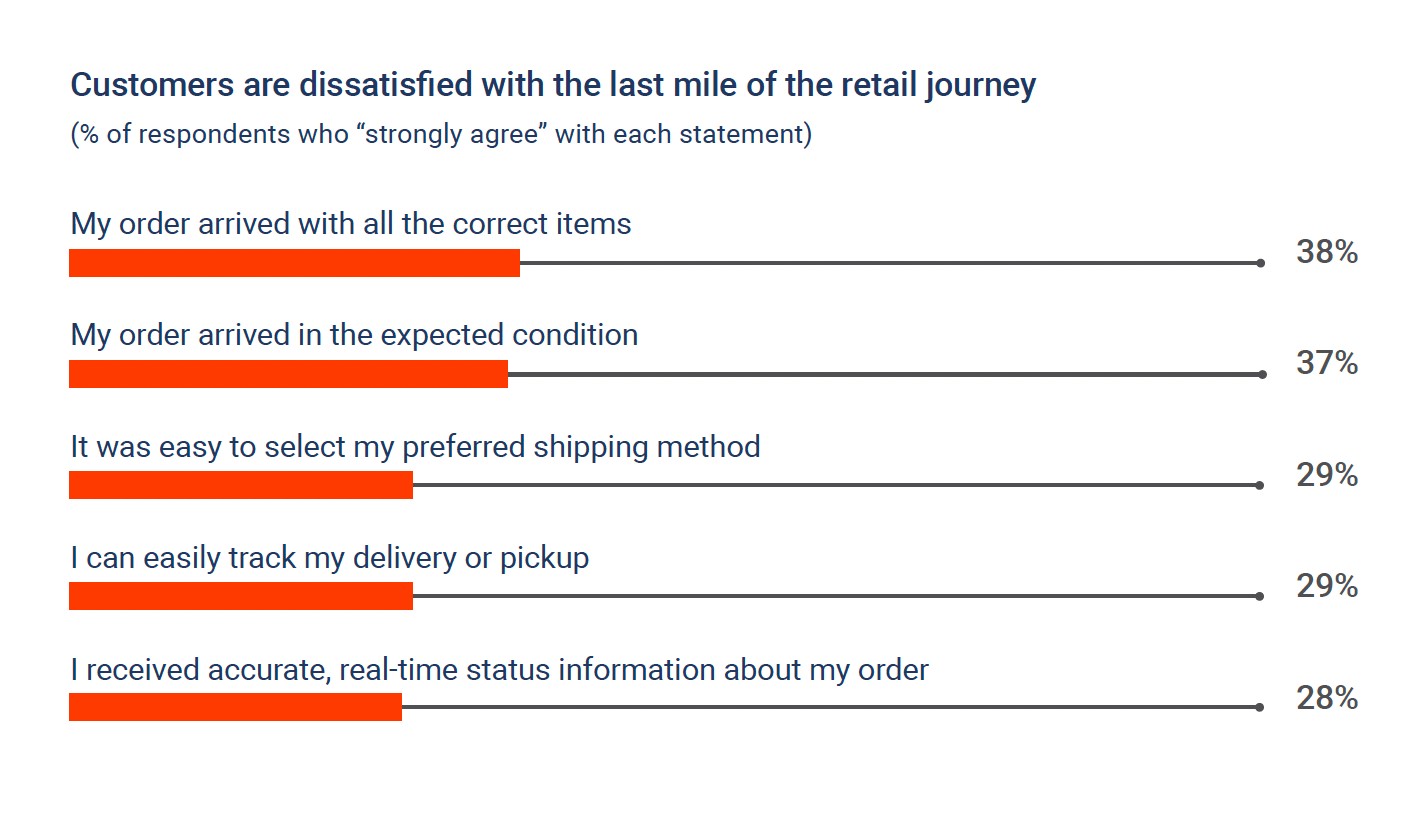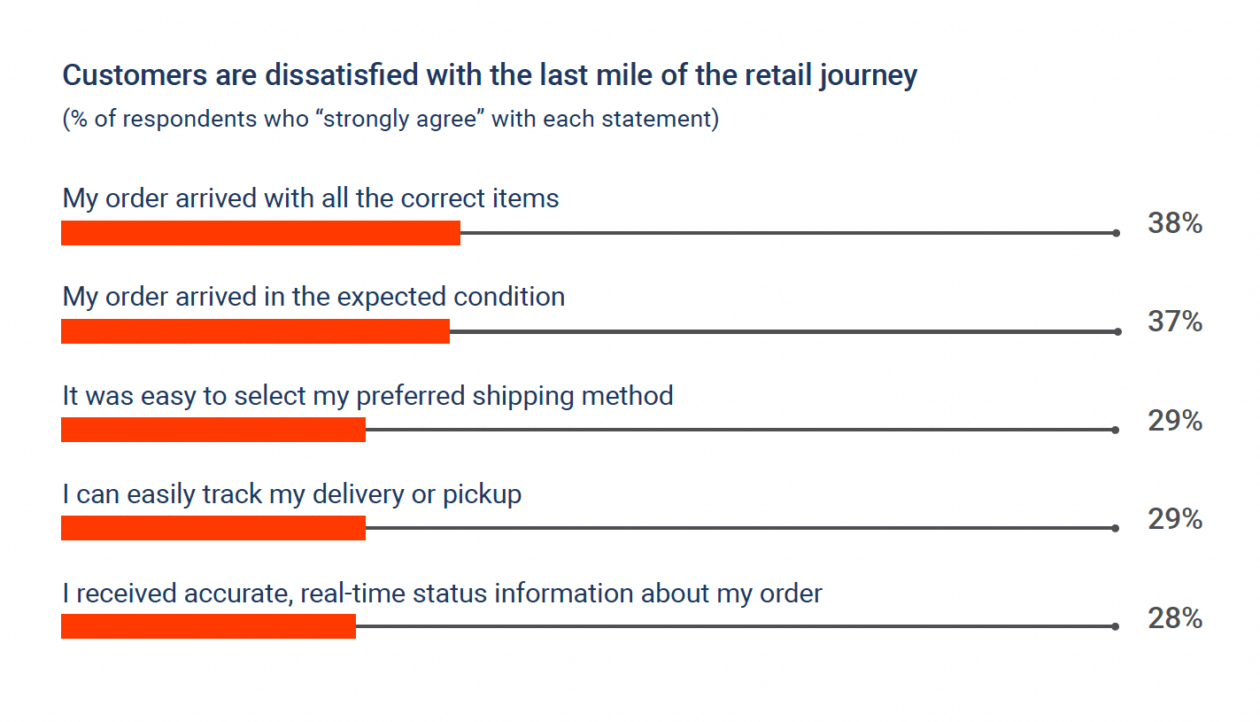 Simplify returns processes to build loyalty and trust.
Nearly one-third of products ordered online are returned. The ease or complexity of that process has a significant impact on consumers' propensity to buy the first time — and increase or decrease the likelihood of repeat orders. But just one in five consumers globally are confident that when they buy online, the return process will be easy. This lack of trust can lead directly to cart abandonment.
What matters most to consumers is knowing the cost of the return, the timeframe and the exact process involved — often before they make a purchase. They also want retailers to provide easy access to customer service via their preferred channels, if needed.
Retailers should prioritize creating a simple return process. One way is with journey management and predictive engagement, which will trigger the right resource when customer behavior suggests they need guidance or reassurance. Proactive assistance will increase initial sales conversion rates and grow brand loyalty over time.
Empathy as a Business Builder
Organizations across every industry are competing on customer experience. And that's raising the bar for online retailers. Product innovation isn't enough to attract and retain customers.
Retailers must close the empathy gap that insufficient product information and customer support, a lack of post-purchase visibility and difficult returns processes have created.
It's time for online retailers to shift to a customer journey approach that enables them to deliver the experiences customers crave. By implementing connected technology, measurement and management, retailers can orchestrate and optimize customer experiences in real time. This approach requires cloud-based technologies, automation and AI to connect and coordinate channels, data, employees, interactions, knowledge and systems.
At a time when 77% of consumers will leave a brand after five or fewer poor interactions, offering empathetic end-to-end customer experiences is a business builder retailers can count on.
Read the full report "Retail's empathy gap" online today.