Customers are communicating with businesses across many channels, accelerating the shift to digital. While customers now expect seamless, personalized experiences, connecting all these communication channels can be complex. And having several one-to-one touchpoints that customers can use interchangeably makes it difficult for contact centers to gather insights and synchronize customer data.
To overcome this, the Genesys Cloud™ platform unifies customer data and gives you the foundation and structure needed to drive more personalized end-to-end experiences and customer journeys. Single Customer View, powered by Identity Resolution, "auto-stitches" or connects customer identifiers, such as phone numbers and email addresses, with a Genesys platform identifier. This unifies inbound and outbound conversations as well as voice and digital channels.
This means that — regardless of the channel a customer uses — all interactions are saved to one External Contact, which gives contact center employees an omnichannel overview of the customer journey. Single Customer View is a feature enhancement of External Contacts, providing a holistic profile with historical conversation data from the last 60 days of activity. It's the source of personalized customer experiences and journey management throughout Genesys Cloud.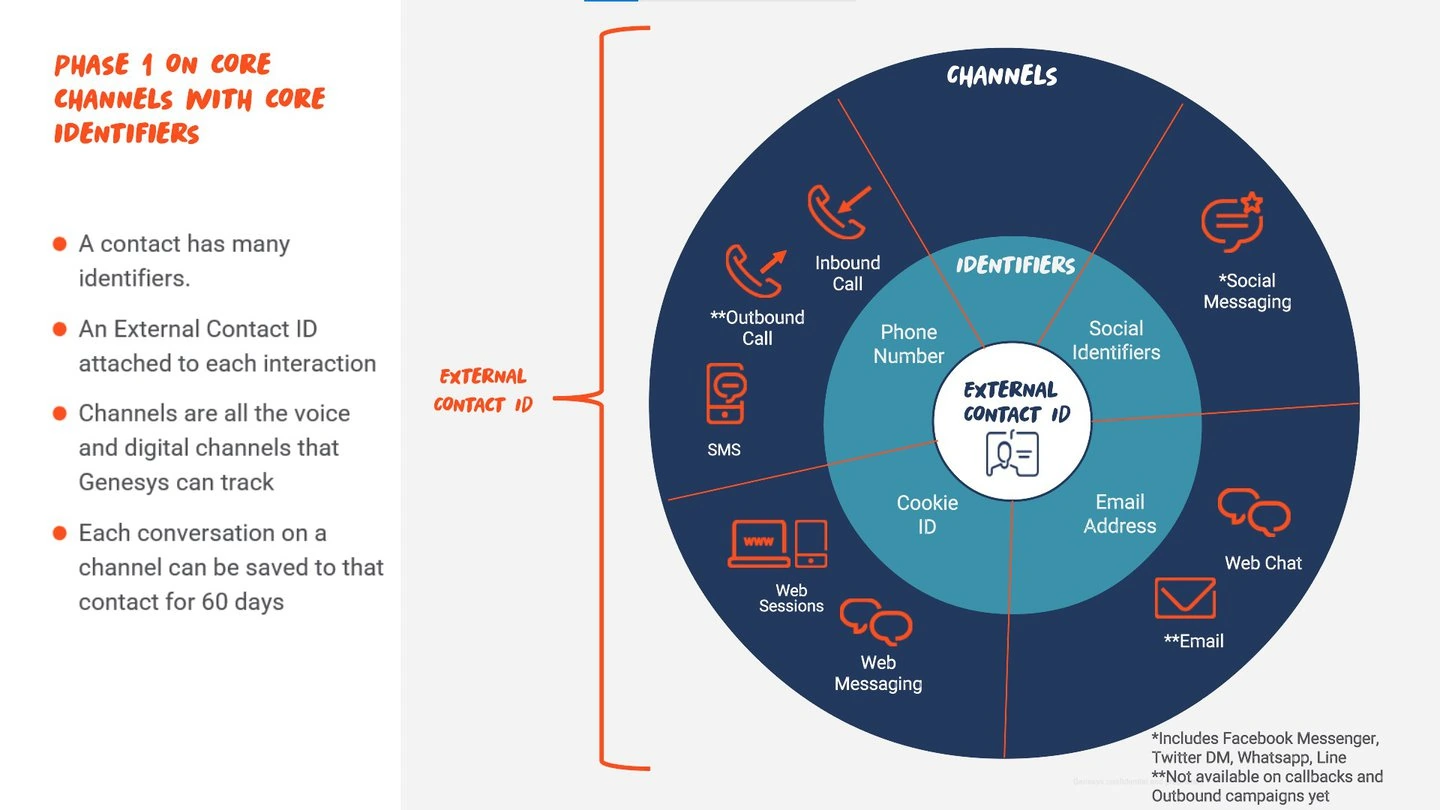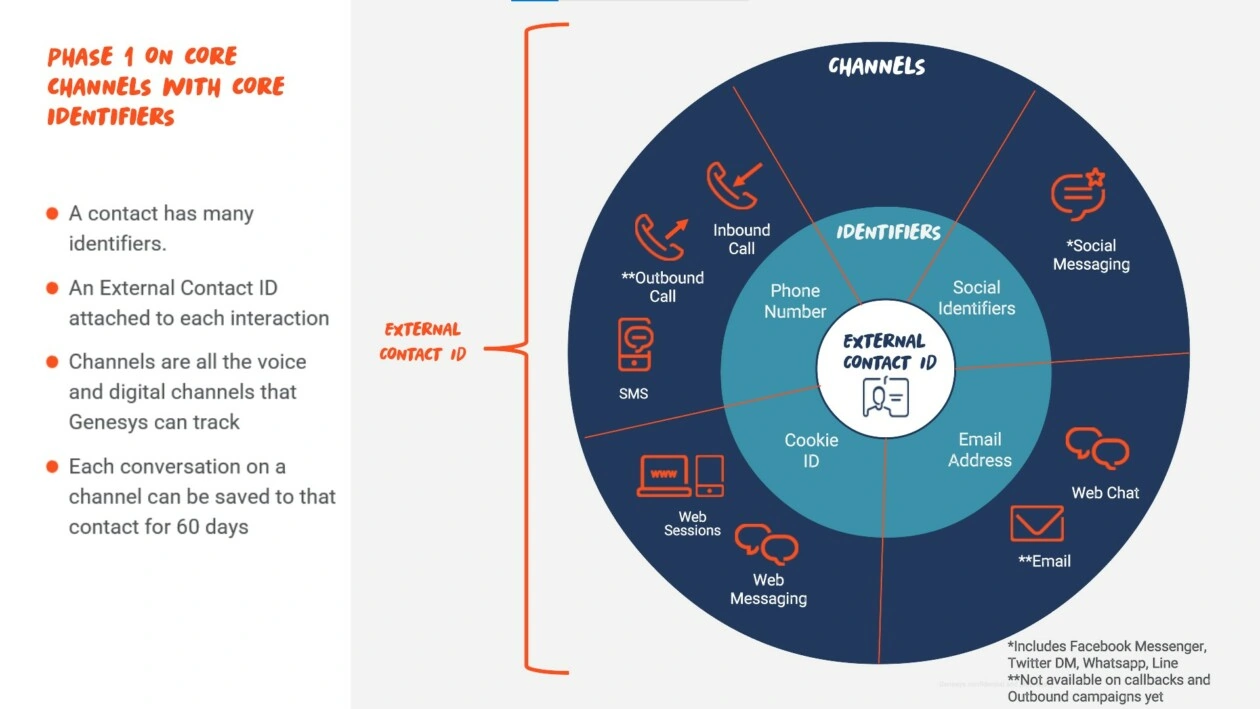 Benefits for Contact Center Agents and Supervisors
In a perfect world, contact center agents would have a full view of their customers without having to switch applications. But, in reality, agents often need to jump from one place to another — repeatedly — to search for a customer's information and, ultimately, solve the issue. This, combined with having to perform other manual tasks daily, is frustrating for contact center employees.
And having to interact with customers who've waited a long time on hold, or need to repeat themselves to resolve an issue, leads to customer and employee frustration as well as employee burnout.
Identity Resolution brings significant value at the platform level by tying together customer touchpoints. One of the immediate benefits for a contact center employee is that they have access to rich context about previous interactions the customer has had with the company, giving a full picture of the end-to-end customer journey.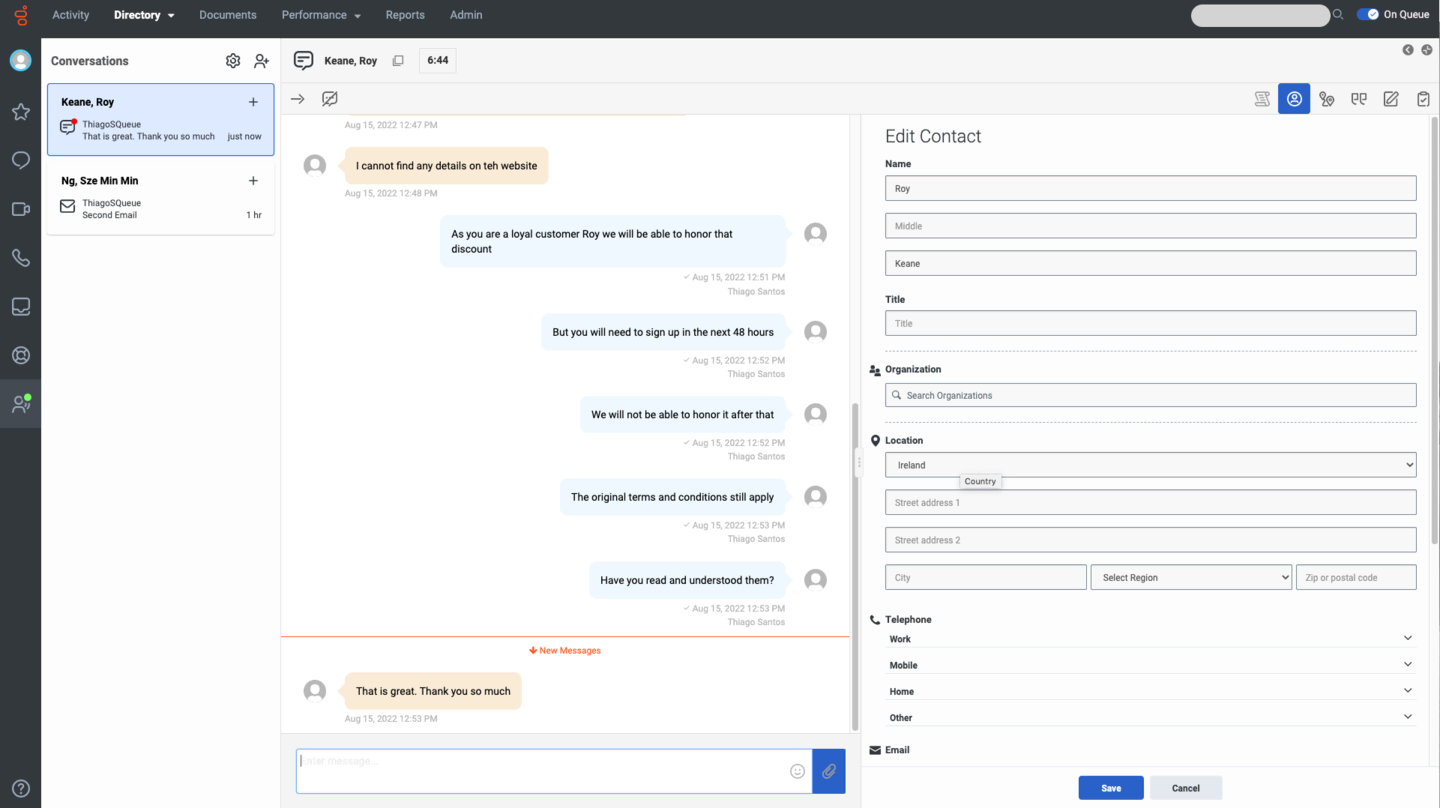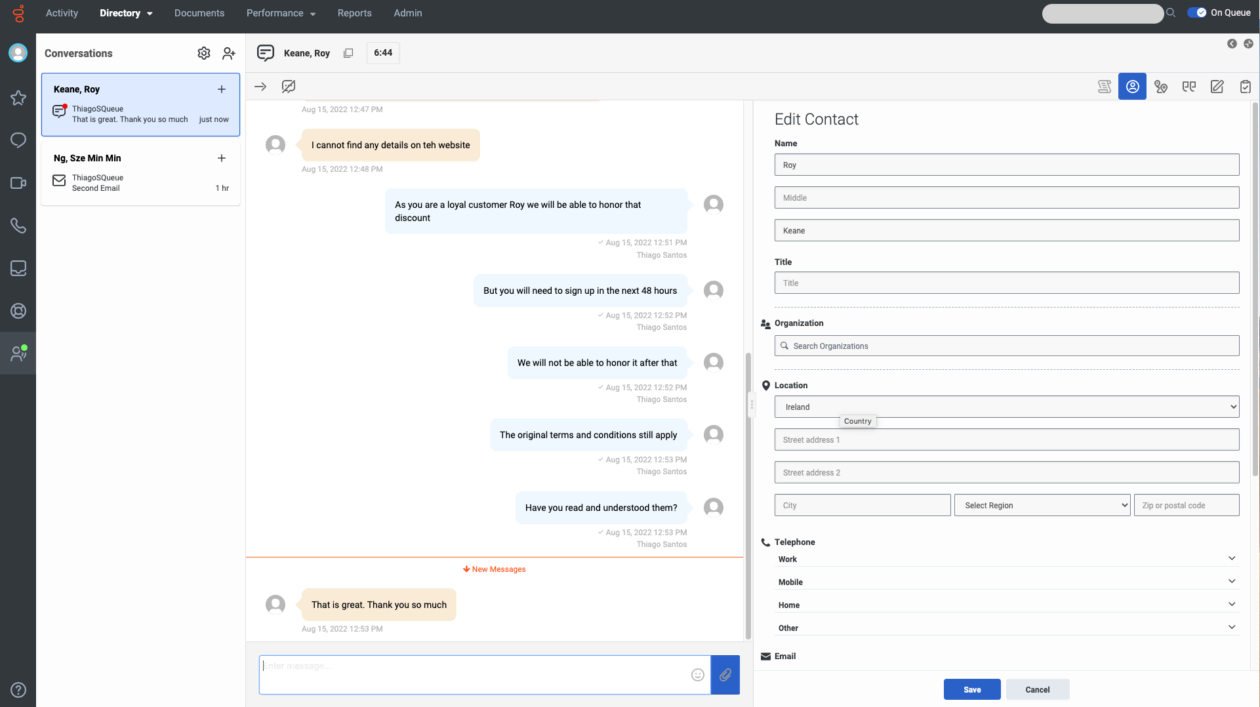 Let's take a deep dive into Single Customer View, powered by Identity Resolution.
The Journey tab in Identity Resolution provides the most recent conversations (in chronological order), allowing contact center agents to quickly gain context on end-customers interactions. The agents can also customize and personalize the experience.
Contact center managers and supervisors have access to the Customer Journey option in the Interactions View on the Performance tab.
This feature helps reduce average handle time, improve first-contact resolution and boost Net Promoter Score. In addition to this, businesses that use Genesys Predictive Engagement can access customer perspectives with web session information, as customers use their mobile and desktop devices. This allows agents to see outcome predictions and segments of customers – at a quick glance – from web activity.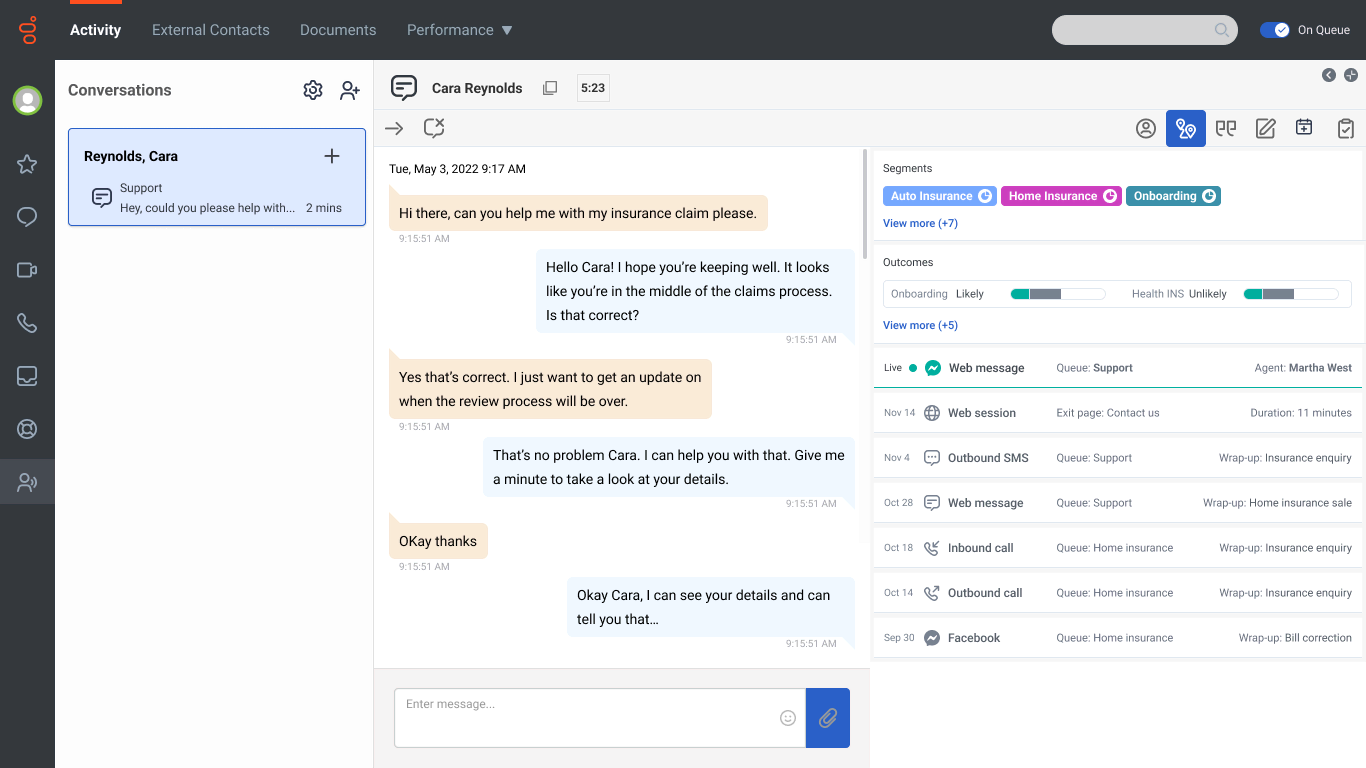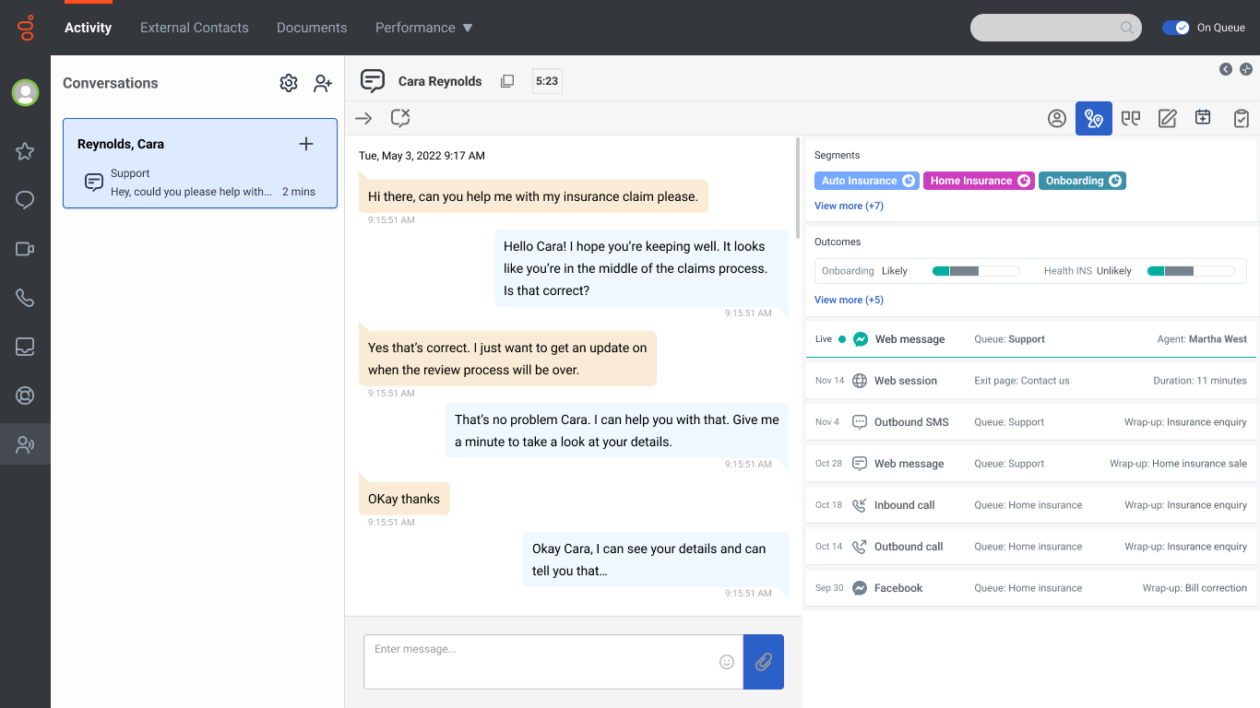 How Single Customer View Works
Interactions are auto-stitched or paired automatically to the contact with identifying data that's based on an appropriate channel identifier, such as a phone number or voice call. If there are multiple contacts, then the interaction is paired to the first-created contact.
Currently, contacts are automatically created for incoming interactions that aren't an existing contact with that identifier. Contact center agents can save these as permanent contacts, or they can link the conversation to an existing contact.
If, for example, the interaction is on an inbound call with a phone number that isn't associated with an existing contact or customer, but the email address is, the agent can add the phone number and interaction to that contact. This makes it easier for agents to assess profile information and view omnichannel customer journeys.
When new or unknown customers reach out over a new channel or with a new phone number, agents can create new contacts manually. Then they can edit any imported customer information that was saved via API or bulk import and merge the current information with existing contacts.
Identity Resolution is turned on by default and temporary contacts are turned on with each touchpoint.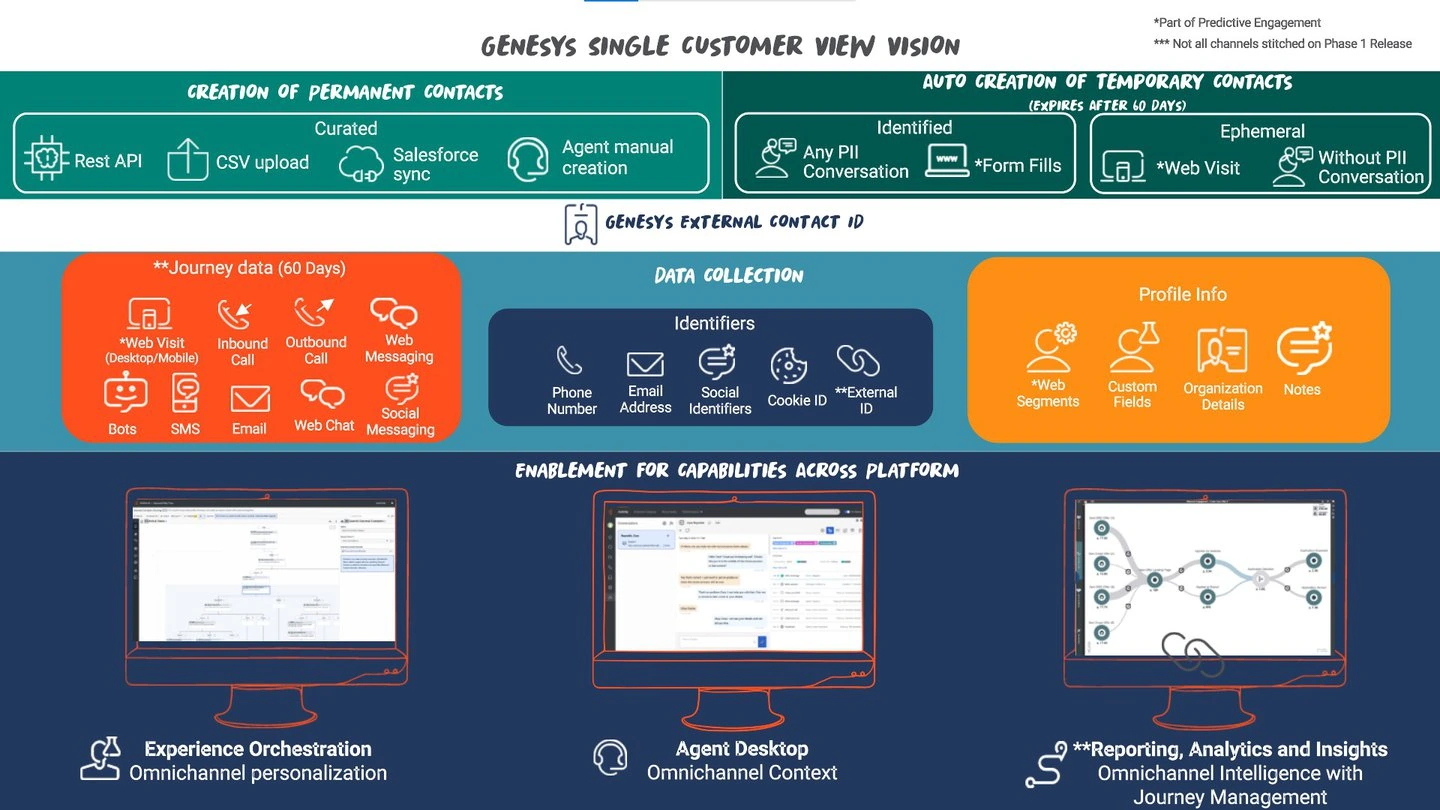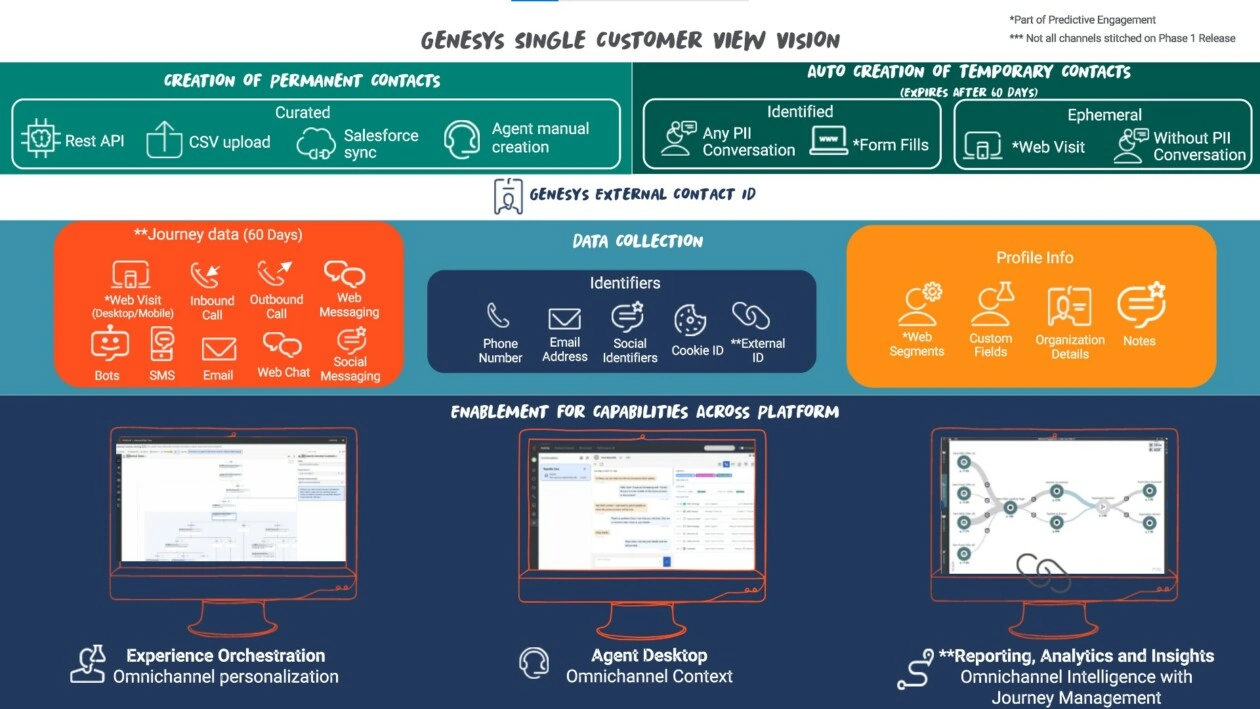 What's Next for Single Customer View
We're continuing to develop capabilities for Genesys Cloud Single Customer View. The ability to associate contacts and conversations with a specific division of your organization is coming soon.
According to the most recent Genesys report, "The State of Customer Experience," consumers' No. 1 priority for personalization is "Receiving the services I need at any time and in my preferred channel." Customer loyalty is won or lost where expectations meet reality.
When loyalty is at stake – and one in 10 customers say they'll abandon a brand after just a single bad interaction, shows the report – it's critical to meet customers where they are and provide them with a highly personalized experience.
Genesys Cloud Single Customer View, powered by Identity Resolution, can help improve agent and supervisor productivity. And it allows you to deliver the orchestrated end-to-end experiences your customers want – at exactly the right time – to ensure they feel listened to and understood.
Genesys Cloud Single Customer View creates more advanced cross-voice and digital channel orchestration on Genesys Architect. And you'll gain greater insights and omnichannel intelligence with Pointillist as well as better integration with outbound campaigns.
For more information on current and upcoming features visit the Resource Center and check out Developer Center articles.