Genesys new benchmarking report "The State of Customer Experience," has the verdict on customer experience (CX) worldwide. Now in its third edition, the report finds CX is at the heart of an organization's reputation and brand. Some 86% of consumers globally say a company is only as good as its service. In 2021, 70% said the same.
Based on a global survey of 5,517 consumers and 646 senior "CX Leaders," the report uncovers how rapidly shifting customer preferences and declining satisfaction with digital channels are creating mounting business risks for organizations worldwide. In surveying CX Leaders, the report discovers profound challenges in digital transformation strategy and execution. And it shares a powerful roadmap for delivering empathetic experiences at scale.
Good, But Not Great Customer Experience
The research found a widening gap between customer expectations and the experiences that organizations can provide. Compared to 2021, consumers say fewer industries provide "exceptional" customer experiences. And satisfaction declined with all channels except voice.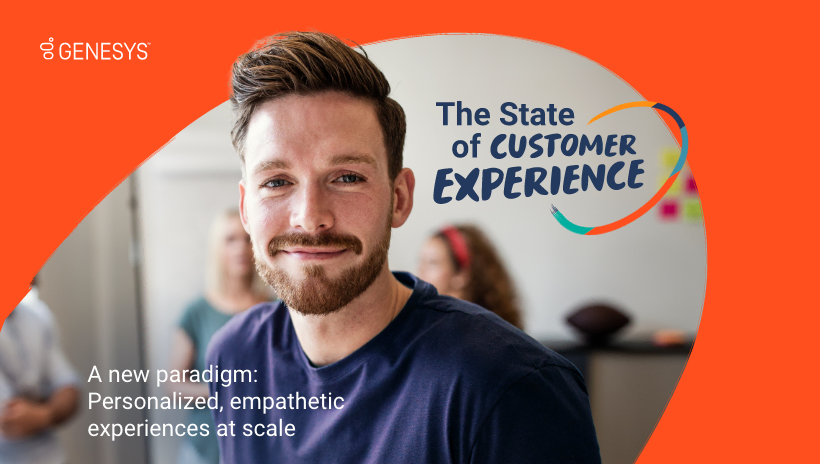 The State of Customer Experience
Customer experiences are defining moments where loyalty is won or lost. Are you getting it right?
Meanwhile, CX leaders acknowledge their No. 1 challenge is keeping up with rising customer expectations. And meeting expectations is the baseline; organizations need to routinely exceed expectations to delight their customers and build customer loyalty.
When it comes to poor service experiences, consumers have little patience and will walk away when their needs aren't met. More than 74% of consumers said they'd switch brands after five or fewer negative customer service interactions. One in 10 would abandon an organization after a single bad interaction. In the past year, one-third of consumers have switched brands due to poor service.
It's not just that consumers are getting frustrated; negative interactions create strong emotions. A quarter of consumers revealed they had lost their temper and more than one in 10 ended an interaction in tears.
The biggest annoyances include dropped calls, dead ends and having to repeat themselves. These issues result from technology failure, silos or poor process design.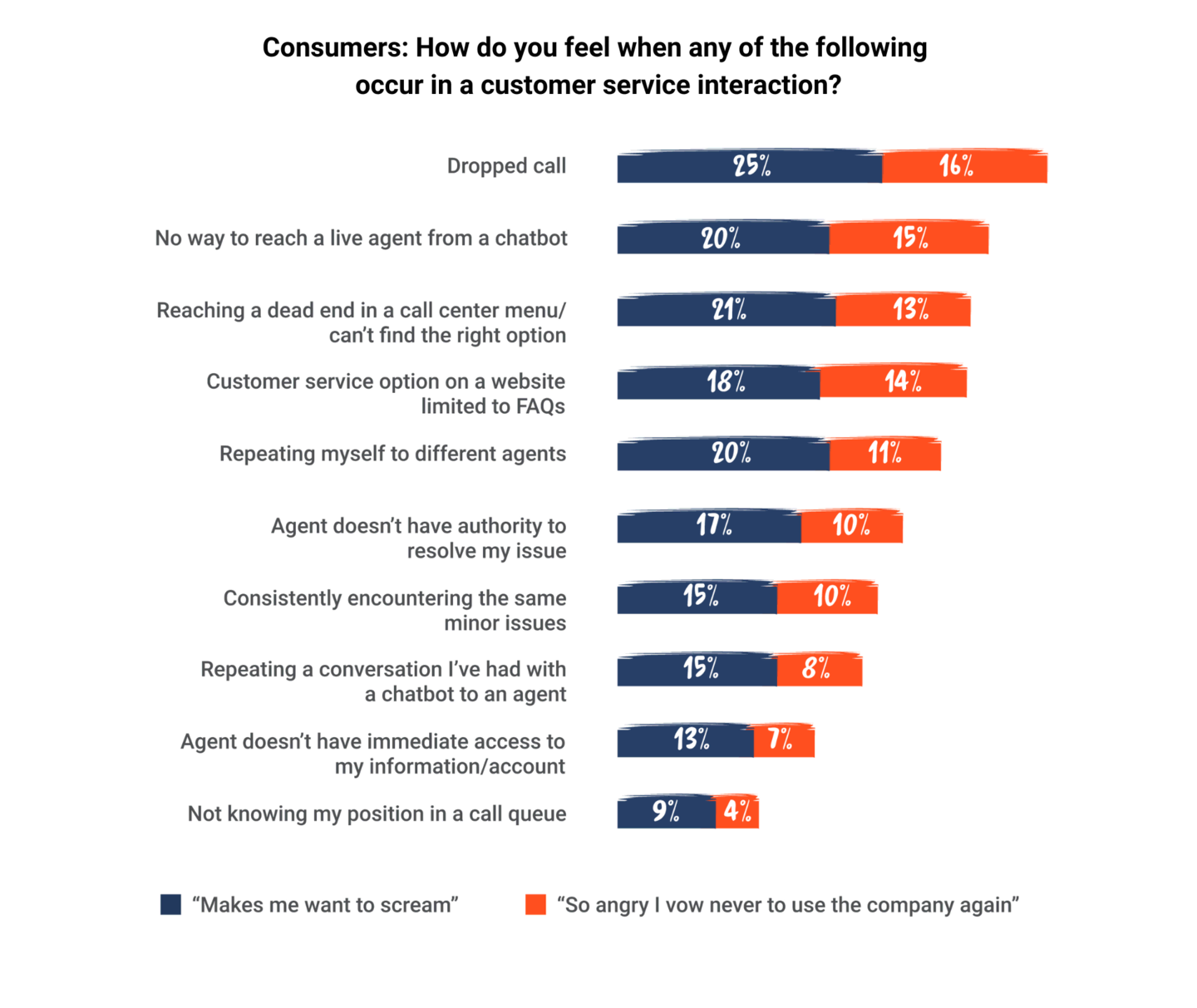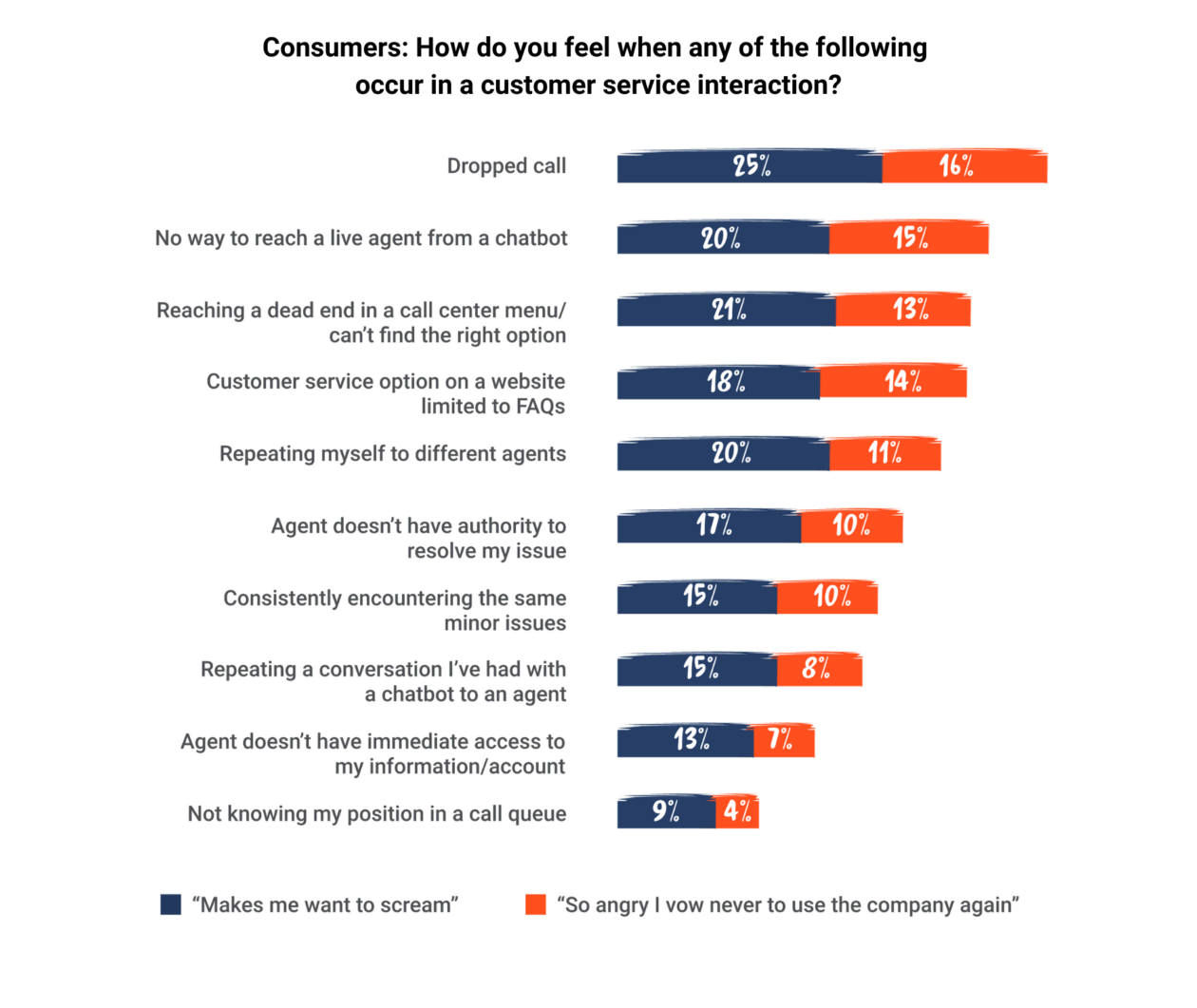 A Critical Lack of Progress on Digital Transformation
Customer experiences are the defining moments where loyalty is won or lost. And efficiency, effectiveness and empathy in the customer journey, enabled by a comprehensive digital transformation, are the foundations for success.
Yet the survey finds that digital transformation is severely lagging. Just 13% of organizations have a fully connected, omnichannel approach. The lack of omnichannel creates data silos, missed opportunities for personalization and a lack of visibility into business performance.
More than half are using a "multichannel" approach, offering several customer interaction channels but having separate or partially connected underlying technology and data. This approach naturally creates inconsistent and fractured customer experiences, leading to lost revenue or missed opportunities to personalize and build loyalty.
This siloed environment also creates problems for employees. Almost half of CX Leaders (48%) say their organization currently does very little or nothing at all to make contact center jobs easier.
CX Leaders also cite keeping staff continually trained on new tools and protocols as one of the top three challenges facing their function. This isn't surprising, given their self-reported turnover rates of 30-40%.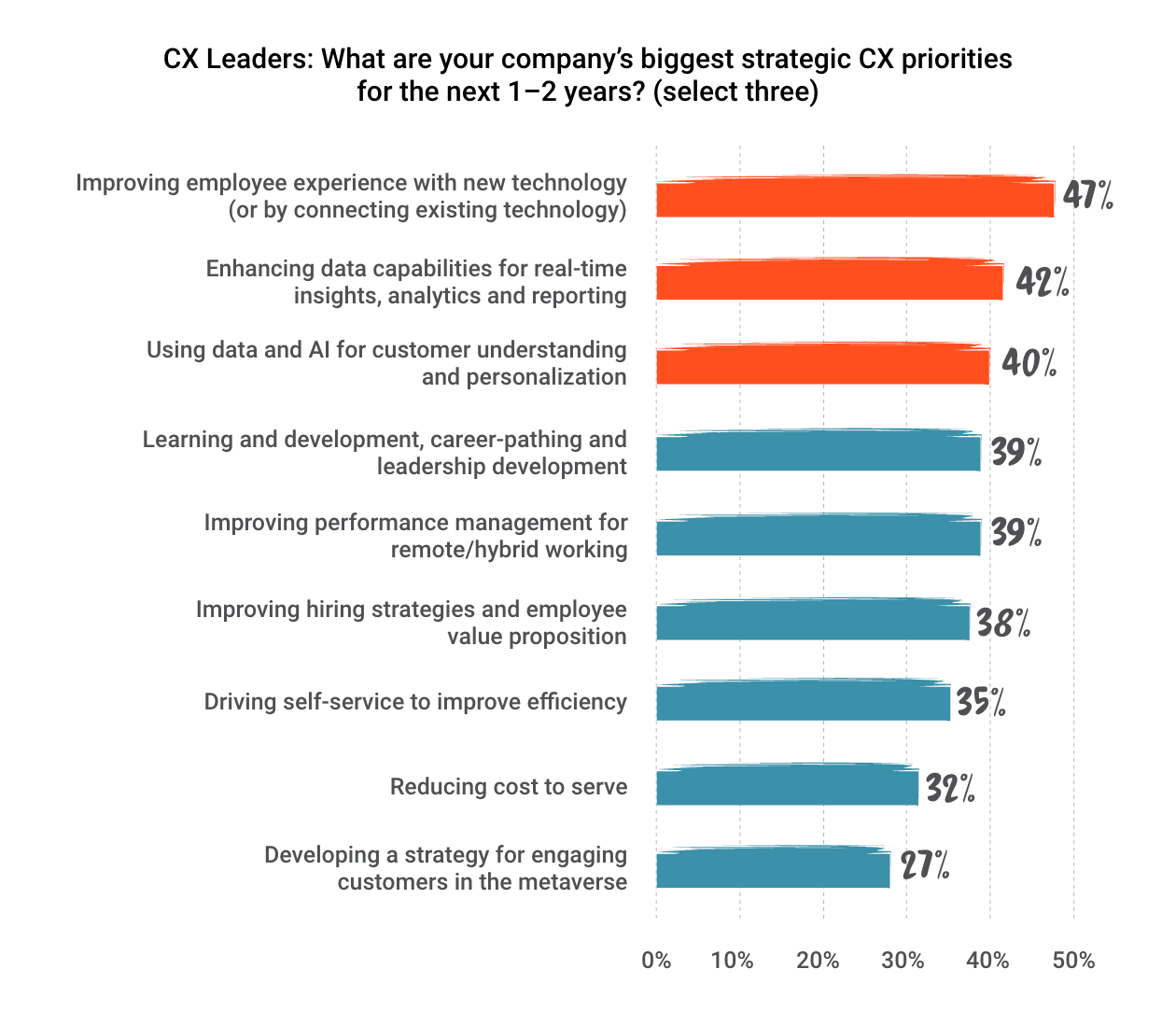 Employees Take Center Stage in CX
Organizations now cite employee experience as their top strategic priority, which they plan to improve by deploying new or connecting existing technology. These tech investments include customer experience platforms, customer data platforms and unified agent desktops to simplify the experience and empower staff.  Additionally, almost half of CX Leaders surveyed identified workforce engagement management as a top-three strategic priority for the coming one to two years.
The survey revealed how critical digital channels are for improving customer experiences. Two-thirds of consumers say that customer experience is broadly improving. Yet the only channel they're more satisfied with is voice. This finding also highlights the critical role employees play in delivering those high-touch personalized experiences that lead to greater loyalty.
When asked which types of personalization were most valuable, consumers selected "Receiving the services I need at any time and in my preferred channel of choice," and "Being connected straightaway with the right person to help me." More than half of consumers said they'd be willing to pay a higher price for a consistently personalized experience.
The data shows that personalization isn't a "nice to have" add-on. To secure customer loyalty and accelerate business growth, every aspect of the customer journey must show empathy; i.e., be designed to drive outcomes and experiences unique to individual customers.
The Tech Stack: Powering Growth and Agility
Several of the business imperatives to improve CX center around the cloud, data, artificial intelligence (AI) and automation. The leading benefit of the cloud, according to 57% of the respondents, is better access to data across channels.
This data-rich environment will accelerate two of their top strategic priorities: "Getting real-time insights, analytics and reporting;" and "Using data and AI for customer understanding and personalization."
These capabilities will also significantly enhance the effectiveness of self-service channels in providing convenient, asynchronous customer interactions.
While email and voice are the most widely used channels today, consumers prefer a fast, first-contact resolution. Younger generations also show a greater preference for unassisted interactions, or those that occur in their own channels, such as WhatsApp or Instagram.
Organizations that don't actively pursue these multi-pronged strategies will lose an advantage in the market – not just with customers leaving but with workforce shortages and constraints. Talent is at a premium, and organizations need to think more strategically about their employee experience strategies.
Automation and AI technologies deflect and resolve simple interactions, and empower employees for high-value, complex and personalized customer engagement.
Personalization Is the Key to Loyalty
Organizations that get personalized experiences right will unlock new revenue opportunities. More than 80% of consumers say they'd purchase additional items or spend more money with companies that consistently personalize the customer service experience. And 56% of consumers would pay a higher price.
Consumers are overwhelmed with choices. Organizations need to earn their customers' loyalty every day, proving their value through personalized and effortless engagement that turns transactions into meaningful relationships.
Shifts in consumer behavior and preferences require organizations to become increasingly customer centric. They also present rapidly mounting risks to those lacking the agility to keep up. "The State of Customer Experience" highlights how CX is entering a new paradigm of personalized, empathetic experiences and presents actionable strategies for creating effortless journeys that customers will love.