You've probably had a question or issue you needed to address with a business, but never found the time to call them. We live in a fast-paced, constantly moving world; simply drafting an email can feel like it takes far too long. It's no wonder we've increasingly turned to messaging apps to communicate with friends and family—they're a simple and convenient way to touch base when we're on the go. This type of asynchronous messaging lets you fire off a quick message when you have a moment—maybe while you're dropping your kids off at school or in a theater waiting for a movie to start—and then get on with your day while you wait for a response.
Asynchronous messaging is as useful for business interactions as it is for personal ones. And your customers want to reach you on their terms and from the same tools they use every day.
Inbound Messaging Channels
The Genesys® PureCloud® team is excited to release inbound messaging for Facebook Messenger, Twitter Direct Message and LINE platforms. PureCloud customers can leverage any of these existing messaging platforms to engage with their customers. End customers can send a Facebook Messenger message, Twitter Direct Message or a LINE message to a company's business account on those platforms. Powered by Genesys ACD routing, the messages are then delivered to the appropriate agent in PureCloud. The agent can respond directly within the PureCloud interface, and the customer receives the response in the same messaging channel they initiated.
Quick, convenient, asynchronous messages are the new normal in communication—unlocking these new channels in your contact center couldn't be easier.
New Options to Express Yourself
With these messaging channels, we've introduced new options that enable agents and customers to better communicate, express emotions and provide additional details and context to their discussion. These include:
Images. End customers using the messaging channel can send images to an agent. These images will display inline in the conversation log for the agent. Agents can also send images up to 10 MB in size to a customer. Images in the conversation log can be collapsed and expanded, allowing agents to best use available space.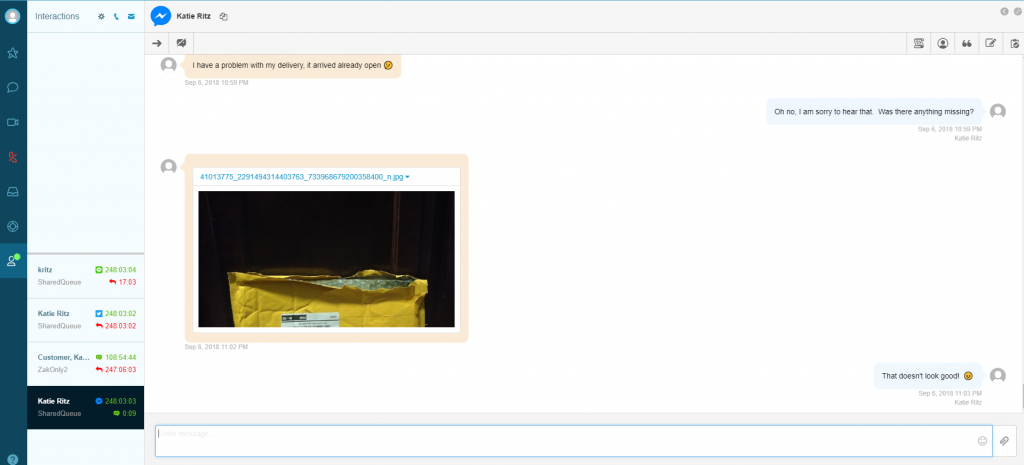 Animated GIFs. Agents and customers can send animated GIFs, which will display in the agent's conversation log and can be collapsed and expanded.
Stickers. For messaging platforms that support stickers, such as LINE, agents have access to a sticker tab in the emoji picker. This new tab contains available stickers that can be sent to the end customer. The sticker tab is contextual to the conversation the agent is handling. For example, the LINE sticker tab is only available when an agent is working with a LINE interaction. End customers also can send stickers that display as images in the agent conversation log.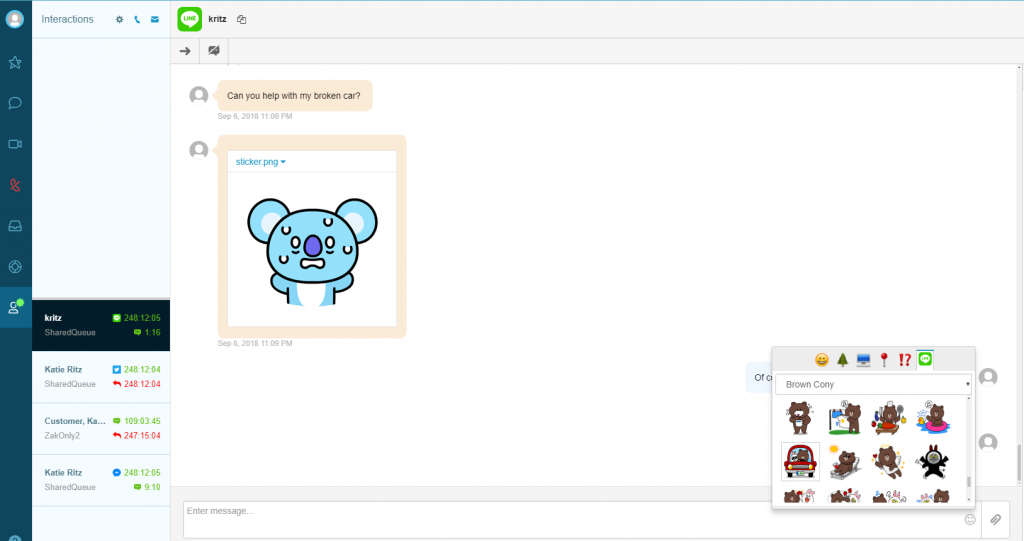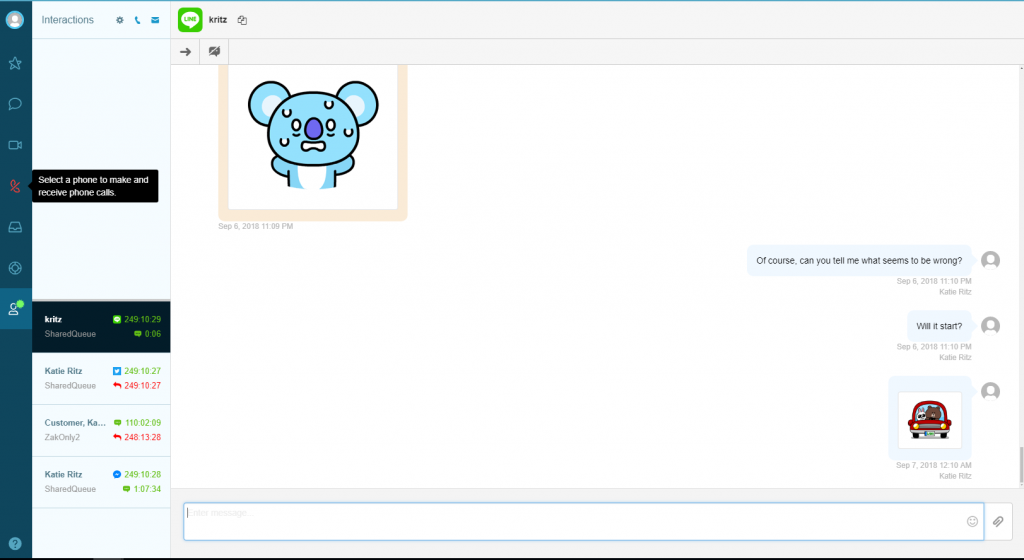 A Familiar Experience for Everyone
The use of asynchronous messaging channels has a familiar feel for both end customers and agents. End customers can engage with businesses using messaging platforms they use daily and are familiar with, giving them ease of use and convenience. They don't need to download a new application or learn how to use a new product.
For agents, the messaging channel interactions look, feel and operate like other interaction types within the PureCloud platform. Messages have the same features agents are used to, including transfer, notes, canned responses, and script support. Agents can quickly and easily identify the messaging channel interactions they are working with by referencing the messaging channel icons displayed in the notification panel as well as on the top interaction bar.



New functionality like images, stickers, and GIFs are an intuitive part of the agent experience and are easily accessible from the chat field in the agent interface. Like SMS interactions, messaging channel interactions remain open for 72 hours after the last activity. This enables agents to see all previous messages with the end customer directly in the conversation log—and that creates seamless continuity for the conversation.
All the PureCloud Goodness Is Included
Messaging interactions are integrated into all the goodness that PureCloud offers. Messaging interactions are available in real-time dashboards and historical views. A "Message Type" field is available in the historical views that indicates the message platform (e.g., Facebook, Twitter, LINE or SMS) used for that interaction. You can add the Message Type field as a column in the view, and interactions can be filtered by Message Type to narrow the data set displayed.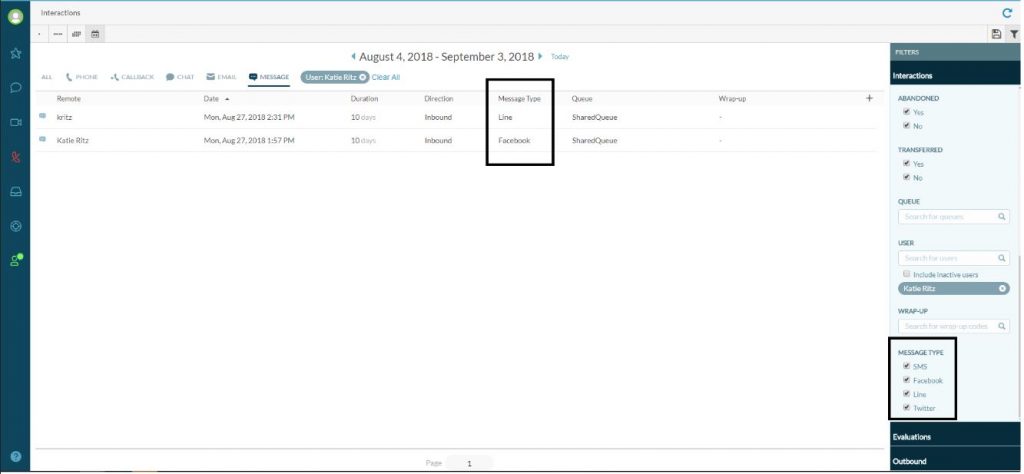 There is built-in support with workforce management to evaluate messaging interactions for scheduling and forecasting. Standard quality management functions also are available, including evaluations, transcript recording and screen recording.
What's in Store for the Future
While no one can accurately predict the future, we do have a roadmap planned to continue enhancing our messaging channel. We're actively evaluating the next set of messaging platforms to support with plans to roll out new options in the next six to 12 months. We're working on additional features around messaging including sending auto-responses from a messaging flow and using bots with messaging interactions. We're also looking to enhance the existing messaging platforms with new capabilities that our customers find useful, such as rich media support, location notifications, and additional attachment types.
Next time you have a few free moments, consider dealing with a customer service issue by sending a quick message from your Facebook Messenger, Twitter Direct Message or LINE app. Then, go on with your day, review responses as you have time, and reply with additional information when it's convenient for you.
If you're an existing PureCloud customer, learn more about Inbound Messaging features via the Resource Center. And if you're wondering whether an asynchronous messaging strategy is right for your business, read our white paper Defining and using asynchronous messaging.