Last month brought a stream of significant new Genesys Cloud CX™ capabilities. Main themes from February 2021 releases include workforce engagement management (WEM), artificial intelligence (AI) and integrations. And all WEM disciplines — employee performance, quality assurance and compliance, and resource management — saw enhancements.
Employee Engagement and Gamification
The employee experience is just as important to the success of a contact center as customer experience. In today's remote work environment, great employee experience means enabling teams to effectively work together — while giving employees the personalized experience they need to reach their goals.
With native gamification and a personalized employee hub, your agents have a single place to view and manage their performance and development in real time. The redesigned Activity view lets them see overall performance and personal bests, understand how their performance compares to that of their peers as well as their own trends, access scheduled coaching and training sessions, and keep track of assigned eLearning.
Performance metrics are consolidated from across the platform and gamified into user-friendly scorecards and leaderboards to engage and motivate employees to achieve their objectives. The screenshot below shows the personalized employee view with native gamification. And you can learn more about the complete set of performance management capabilities in Genesys Cloud CX.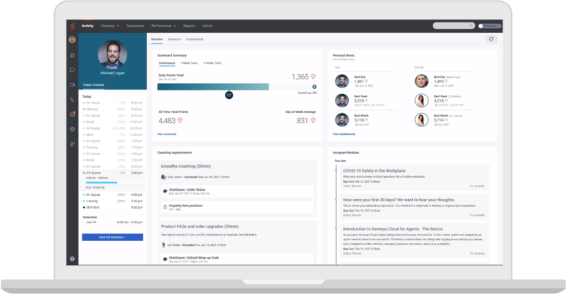 Coaching Sessions and AI
Quality managers and supervisors now can easily schedule coaching sessions in Genesys Cloud CX. To do this, select the best available appointment time from options based on workforce management schedules. AI-enabled coaching scheduling streamlines the coaching process, giving your teams more time to focus on performance improvements.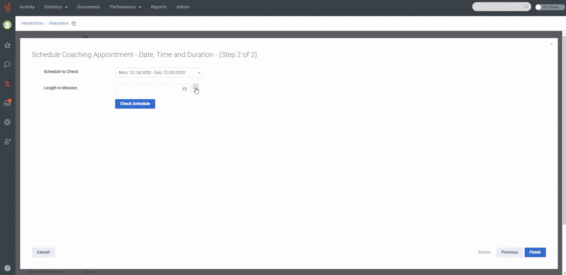 Programs and Topics for Speech and Text Analytics
Native speech and text analytics capabilities continue to be enhanced rapidly to give you additional insights. Programs, topics and phrases let you gather and deliver valuable business-level intelligence by automatically tagging interactions for specific business level intents. This gives you analytics about customer and agent motivations and goals during the interaction. Create your own topic to understand specific intents or use one of the 39 out-of-the-box topics, such as billing issues or balance inquiry, to get started.
You also have access to more languages for voice transcription (Spain Spanish, German, South African English and Indian English), as well as an enhanced the interaction player to synchronize and highlight words when recordings are playing. You also have easier search capabilities. Lastly, voice Bring Your Own Carrier (BYOC) customers can take advantage of transcription.
Enhanced Forecasting with External Data and Historical Views
In addition to AI-based automatic best-method forecasting, which improves accuracy with easier forecasting, now you can import up to three years of historical data in workforce management as the source for generating automatic best-method forecasts. Build forecasts immediately instead of waiting to collect historical data.
Seasonal or yearly trends are automatically considered when you generate forecast, too. Use a historical view in workforce management to visually compare the forecast with previous periods to easily validate forecast accuracy.
Native Chatbot and Voicebot Flows in an Integrated Tool
With Genesys Dialog Engine, you can create bots that understand natural language to automate voice and digital interactions with your customers. Traditionally, creating bots requires learning and using an extra set of tools outside the Genesys Cloud CX platform, as well as an additional integration effort to connect to systems and channels to orchestrate customer journeys.
Dialog Engine Bot Flows is a native bot-development platform with a visual flow builder that lets contact center admins and business users build bots for voice and digital channels from a single place. It understands context and orchestrates customer journeys to guide customers to the right answer or relevant agent queue. And, because you're designing the experience in a single tool, it maintains context and data throughout the interaction.
Zoom Phone and Adobe Integration
Because Genesys Cloud CX is a composable all-in-one CX platform, you can easily tap into the greater customer experience ecosystem. Use the new Zoom Phone integration to view directories, search contacts and make calls between Zoom Phone and Genesys Cloud CX.
And take advantage of the new Adobe Experience Platform Launch Extension for Predictive Engagement, which gives you more options to customize and display the Genesys Predictive Engagement tracking snippet.
For a full list of new features, visit the Release Notes in the Genesys Cloud CX Resource Center. If you have a question about any features, ask the online Genesys Cloud CX community or reach out to your Genesys representative.