The Genesys Cloud CX™ platform added the following new artificial intelligence (AI), workforce engagement management (WEM), and supervisory and administrative features in June.
Artificial Intelligence
Genesys added several new AI capabilities to improve routing and conversational bots.
Genesys Predictive Routing
Predictive routing uses machine learning to continuously analyze hundreds of different data points in real time. It predicts outcomes and matches customers to the best agents to resolve calls efficiently and effectively.
Genesys Predictive Routing automatically combines customer, agent and interaction data, and continuously retrains on the latest dataset to adapt to new data points. It also scales to provide incremental improvements in key customer experiences as well as operational and sales metrics like Net Promoter Score, AHT and transfer rates. Visit the AppFoundry® Marketplace to start your free trial.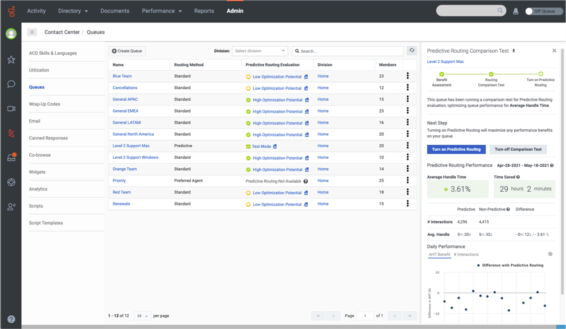 Amazon Lex V2 Voice
Version 2 of the Call Lex Bot action is available to use in call flows. The Call Lex Bot V2 action runs self-service applications within a flow before — or instead of — routing a customer to an agent. This action enables integration with Amazon Lex V2 functionality for processing before returning intents and slots to Architect. It also introduces DTMF functionality and support.
Google Dialogflow Architect Prompts
Admins and flow authors can create and use Architect prompts with Google Dialogflow bots, instead of using text-to-speech. Admins can leverage established Dialogflow prompts by pre-recording them and storing them in Architect. This feature eliminates the cost of rendering TTS each time the bot flow calls a prompt.
Workforce Engagement Management
Genesys made several enhancements to our WEM solution to make it easier to provide feedback, schedule coaching appointments, and analyze speech and text.
Agent Views for Development and Feedback Modules and Coaching Appointments
Contact center supervisors can use the new Agent Development Summary view and the Agent Development Detail view to assign development and feedback modules and schedule coaching appointments for agents. And agents can use the new My Development view to display their assigned development and feedback modules as well as scheduled coaching appointments in one place.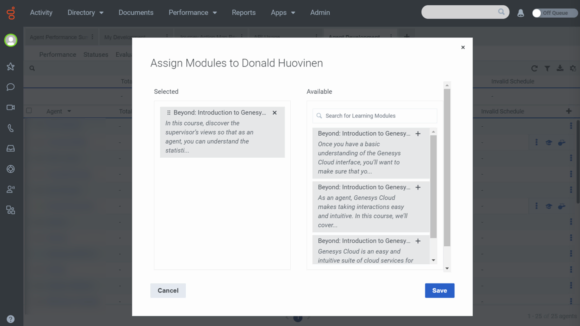 Out-of-the-Box Topics for Speech and Text Analytics
You can create out-of-the-box topics on the Speech and Text Analytics page. Use out-of-the-box topics as a starting point when working with speech and text analytics.
Genesys Cloud CX creates commonly used topics and phrases as part of the out-of-the-box creation process. It's highly recommended that you modify these topics to your own specific language and terminology.
Supervisory and Administrative
There are several enhancements to Administrator and other supervisory capabilities so you can more easily architect Genesys Cloud CX to fit your unique requirements.
New Permission for Enabling/Disabling Agents on Queue
Administrators and contact center supervisors have the permission to activate and deactivate on-queue agents from various performance views. This new permission allows for queue membership management from administration screens — without allowing changes to other queue-level settings.
Common Modules in Architect
Use the Architect common module flow type to build logic once and reuse it in multiple flows and flow types. Incorporating common modules into the flow design process reduces the need to replicate flow logic in multiple flows and decreases development time and effort.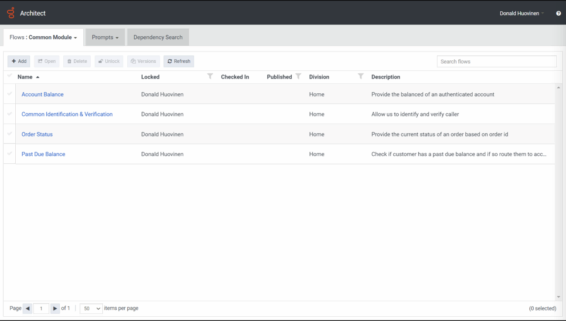 WebRTC Media Helper for VDI Environment
The new WebRTC Media Helper enables telephony administrators to use WebRTC phones with Genesys Cloud CX in a virtual desktop infrastructure (VDI) environment. WebRTC Media Helper is a browser-based application that lets the WebRTC real-time media flow run independently, outside a VDI session to provide an optimal audio quality experience.
Increased Routing Duration for Bullseye and Preferred Agent Methods
Genesys Cloud CX increased the maximum duration of time an interaction can remain in a routing state for a queue from 15 minutes to 72 hours. This increase allows administrators to optimize routing capabilities, keeping interactions waiting in the queue to reach an agent for a longer period of time before they are abandoned or disconnected. You can customize the duration for waiting in the queue to match your organization's best practices.
For a full list of new features, visit the Release Notes in the Genesys Cloud CX Resource Center. If you have a question about any features, ask the online Genesys Cloud CX community or reach out to your Genesys representative.