Meet customers on the channels they prefer. Too often, companies misinterpret this basic statement and simply add new channels to the customer service mix — without any coordination. They mistakenly treat it as if "more" were the only answer to meeting evolving customer behaviors.
But there's a telling difference between a multichannel environment — where each interaction  feels like a disconnected, standalone experience — and omnichannel orchestration.
With omnichannel orchestration, you have consistency of interactions across channels. This makes your customers feel like they're part of a larger, connected, more inclusive and more personalized experience.
Offering more channel choices doesn't mean you're creating a more satisfying customer interaction. Chasing the latest channel trend only prevents you from scaling up the orchestrated experiences people prefer.
In this blog, we'll look at the differences between multichannel and omnichannel customer experiences. We'll also explore the real value of omnichannel management and offer ideas on how to improve your omnichannel orchestration.
Understanding Multichannel vs. Omnichannel
Multichannel Environment

Omnichannel Orchestration

Customer can choose from a variety of channels, but interactions feel disconnected.
Customers have consistent experiences on every channel and each interaction feels like part of a larger connected experience.
Contact centers focus on channel management. Each channel operates with different processes and sometimes different teams.

And information is siloed in channels, so bots and agents lack conversation history or context for the interaction.

Contact centers collaborate with other business units. A comprehensive CX strategy focuses on a holistic view of the customer.

Tech platforms integrate systems, share data, and equip bots and agents with helpful insight and context for each interaction.

Chatbots don't have knowledge of previous customer conversations or the time they spent with self-service options.

Agents can't see bot conversation histories.

Chatbots engage with knowledge of customers' previous conversations and attempts at self-service.

Agents see the full conversation history across channels in real time.

Every time your customers re-engage or switch channels, they have to start over. Sometimes they must provide identification information again.
When your customers re-engage or switch channels, the transition feels like a seamless continuation of the conversation.
Experiences are disjointed, feel generic and can be frustrating to customers.
Customers feel remembered and understood — and the overall experience feels effortless.
Connecting Channels Doesn't Equal a Connected Experience
In an omnichannel strategy, it's important to seamlessly connect channels for an effortless transition between channels. And it's equally as important that the actual experience within each channel is great.
Customers want to be able to switch channels but doing so shouldn't negatively affect the experience. It needs to be seamless. For example, you deliver great agent-led customer service but the chatbot experience is frustrating. Or maybe you have messaging apps that customers love. But when the interaction escalates to a phone call in which they wait while an agent looks for context, the experience is diminished.
A solid omnichannel strategy empowers you to deliver on the expectations of fluid journeys and great experiences.
The Real Value of Omnichannel Experiences
The ability to switch channels in the middle of a conversation is convenient for customers. But the real value of omnichannel is much bigger than that. It provides the framework and insights you need to understand your customers, anticipate their needs and deliver consistent personalized experiences – no matter how or when they choose to engage.
The value of omnichannel management lies in the operational control and visibility it affords you to perfectly orchestrate the customer journey. This starts with the right digital tools and infrastructure to connect data and workflows across the separate (and sometimes siloed) business functions, touchpoints and channels. By unifying data, leading contact center platforms build a holistic view of customers and their end-to-end journeys.
These connections are the cornerstone of an effective omnichannel strategy. It's the starting point for elevating your visibility and then consistently orchestrating frictionless, personalized experiences that prove you know and understand your customers.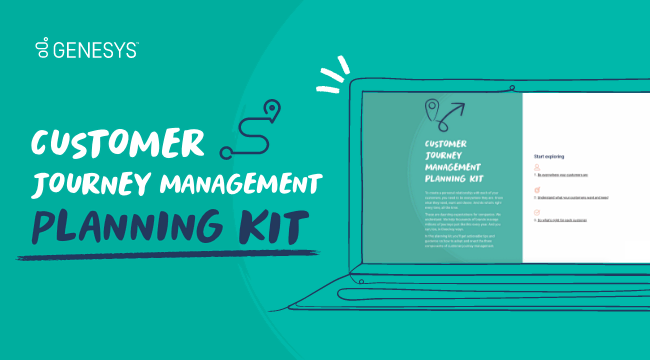 Be Everywhere Your Customers Are
Every channel matters — manage and optimize customer journeys at scale.
The Customer Journey and Omnichannel Orchestration
Omnichannel orchestration relies on understanding the customer journey, defined as a sequence of milestones a customer must meet to achieve a goal. Journeys vary depending on the customer's goal but they shouldn't be equated with length of time or channels involved.
It's just as important to define journeys from your customer's point of view. By taking a customer-centric approach, you can truly understand their journey and know how to orchestrate the omnichannel experience they prefer.
Here are six features of omnichannel orchestration you can implement in your contact center.
1. Full customer visibility. A 360-degree view of customer history across channels and time gives agents and bots the context to understand intent and deliver personalized experiences.
2. Unified agent desktop. By giving agents convenient access to customer data, conversation history and the knowledge base in one place, they can focus on the customer — not search for information.
3. Integrated data for deeper insights. Break down silos to connect interaction data across channels. This gives you access to analytics for deeper insights, journey measurement and experience orchestration.
4. Predictive routing. Match customers with the right resource and information, at the right time. This allows you to meet their needs with a shared strategy for routing and handoff across channels.
5. Shared knowledge base. A single, shared data repository drives leads to build better process insights. This creates efficiency and optimizes the experience on all channels.
6. Consistent experience on every channel. Ensure customers have consistent experiences across channels and can seamlessly transition if they switch or pause a conversation and resume later.
It's an Omnichannel World: Evolving to Experience Orchestration
Too many companies are stuck in a myopic multichannel mentality. They add new channels or tweak existing ones. And they focus on quantity and choice — not quality and customer satisfaction. And this only removes the customer from their own journeys.
Placing the customer at the center of your CX strategy — and evolving from a multichannel approach to an omnichannel customer experience strategy requires a shift in tools, contact center platforms, processes and mindsets across your entire organization.
Learn more about mastering omnichannel orchestration with our Customer Journey Management planning kit.