There was something strange in the neighborhood at Xperience19 in Denver this year. The theme for one memorable session was Ghostbusters, and building a bot – while having some fun – was the takeaway. Armed with a Dialog Engine Natural Language Understanding (NLU) model, Intelligent Automation, our Genesys skills and the Genesys® PureConnectTM application, attendees set off to build.
As in all Build a Bot workshops, a team of experts were in attendance. They taught attendees how to build a chatbot — but not just any chatbot. This was a Ghostbusters chatbot and all the Genesys experts were decked out in Ghostbusters hooded jackets, thanks to Joe Ciuffo.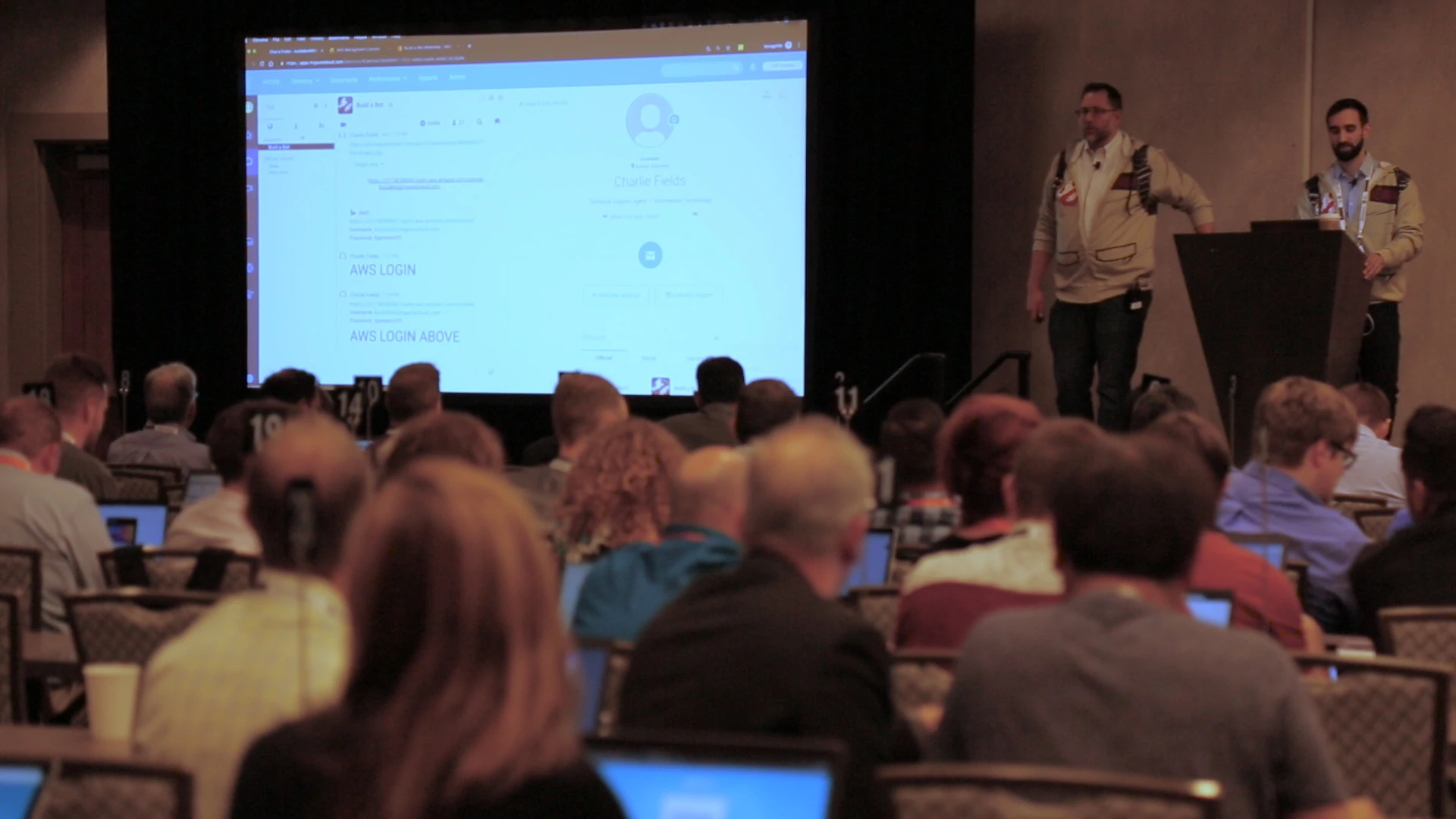 As more businesses embrace bot technology and understand its value, more people come to us for advice and instruction. This session was no exception, wth about 80 customers in attendance. Armed with laptops open and ready to go, Marc "Venkman" Sassoon took to the stage. Marc asked the audience if they remembered the 1984 movie Ghostbusters. (They did, even though some were born after 1984.)
He then created a use case. In the movie, Janine, the secretary for the Ghostbusters, struggled with customer service. Because of a ghost invasion in New York City, the phone was ringing off the hook. Janine couldn't keep up with demand. This Genesys Ghostbusters team had a solution. It quickly deployed a Genesys artificial intelligence (AI)-powered chatbot that uses Intelligent Automation with Dialog Engine.
Yours truly, Jonathan "Stantz" McKenzie, joined Venkman onstage to showcase the power of these technologies. The process was simple; we just needed to assign it with Dialog Engine utterances, intents, entities and slot values — and let it get to work.
Build, Test and Update the Bot
Armed with these intents – to use a bot to handle customer conversations by chat or voice demand — Marc showed the customers, in detail, how to build a chatbot using Intelligent Automation. He selected some of the 80-plus pre-built microapps we offer. These include the Intelligent Automation Natural Language Menu microapp, which seamlessly integrates with Dialog Engine NLU. The chatbot was taking shape.
For the bot, NLU does an analysis of each utterance, classifies the entity and selects slot values from each utterance, as shown below.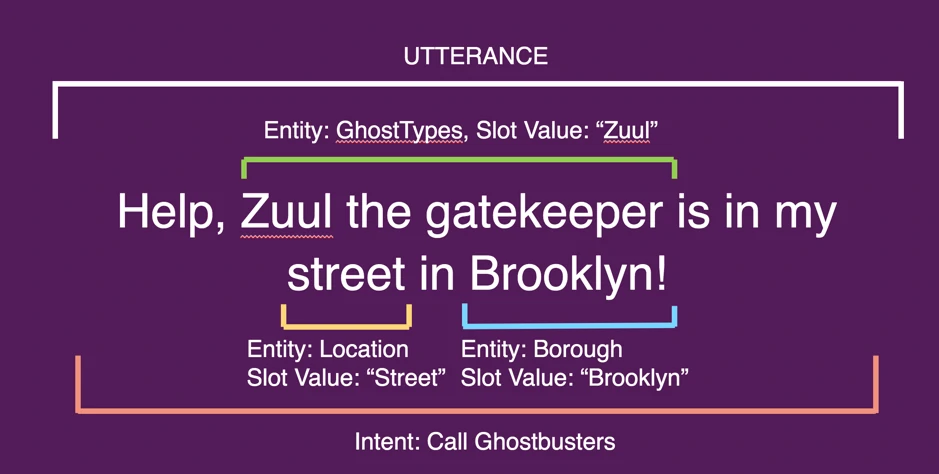 Once Intelligent Automation and the Dialog Engine are configured, flow and NLU combine to deliver the chatbot.
The next step was to test it. Attendees tested their chatbots using a conversation about ghosts spotted in the boroughs of New York City.
The final task was to make changes to NLU models, update the utterances, add more entity types — and have some fun. Each update occurred instantly and was visible in both Intelligent Automation and the chatbot.

Give Chatbots and Voicebots a Try
According to Accenture, well-designed bots can resolve 80% of customer interactions. Bots also make it easy for customers to engage with you in the ways they prefer – whether it's calling to schedule a Ghostbuster, chat online or self-serve in any number of ways. Try one of our workshops and see for yourself.
Register for an onsite Build a Bot workshop today and take the next step to improved customer experiences in the digital and AI world.