When you call for customer support, often the first thing the agent asks is "Can you describe what the issue looks like?" For about 2.2 billion people worldwide living with a vision impairment, the answer is "No, I can't."
In the US alone, the CDC estimates that one in four people have a disability and one in three people have unmet healthcare needs. We're positively surrounded by disability every day. And yet, it doesn't feel that way, does it? We assume everyone is their own version of "normal;" most times that assumption is wrong.
Similarly, lots of assumptions are made in product and service design about the abilities and proclivities of a customer. When you're trying to envision the "average customer," you start by looking in the mirror. This leaves out millions of diverse customers: people with disabilities, aging individuals, and the billions of others who live, work and socialize with them. Terms like "accessibility" and "inclusive design" have become more well-known. But, to many, they're still viewed as an add-on or a charitable effort.
However, if you learned that your business would collapse in just a few years if you didn't consider the needs of your millions of aging customers, accessibility would take on a whole new meaning.
I recently sat down with Will Butler, Vice President of Community at Be My Eyes, a free mobile application that was conceived by a blind craftsman in Denmark. The software to leverage the power of live video and allow blind and low-vision people have someone else "see" for them and help them overcome access barriers. Today, Be My Eyes software is installed in the call centers of Microsoft, Google, Procter & Gamble and more. And it has become the go-to video support app not just for people who are blind but for those who are colorblind, aging, dyslexic or for any other reason or need for visual support.
In this interview, Will offers some perspective on what "accessibility" really means, how the organization helps businesses meet their diversity and inclusion (D&I) goals, and why — when it comes to disability — it's important to not assume anything.
We've seen some stats that show many people have invisible disabilities. Would you define disability and talk more about what it looks like in the workforce — in the US and worldwide?
Will Butler: To be honest, disability is kind of a loaded term. I'm blind, and I'm proud of my Disabled identity, but I'm also aware that many people have disabilities that aren't part of their identity. In this way, the term can exclude more people than it elevates. That's why, in my opinion, we really need to throw out the dictionary when it comes to disability.
Every single human being will experience a disability at some point in their life. It's not a question of if but when. The thing we try to get across is that designing for disability is literally designing for everyone — ensuring that we can all continue to have great experiences with products and services, regardless of whatever curveball life throws our way.
At Be My Eyes, we often use a chart to debunk the notion of disability being a static or immutable identity. It starts by showing what we think of as classic disabilities on the left-hand side — things like being blind since birth or having cerebral palsy. But, as you move along to the right, you'll see acquired, temporary or chronic conditions that have profound disabling effects: everything from arthritis to anxiety to holding a baby in your arms.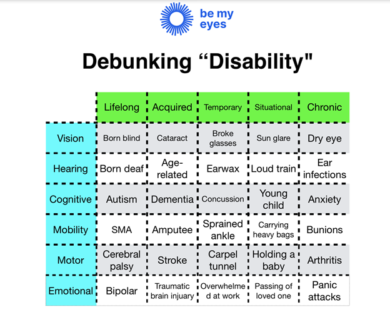 At Genesys, creating a culture of inclusion and a sense of belonging are cornerstones of our diversity and equity practices. The idea of getting an individual to bring their whole or authentic self can be challenging when it comes to the realm of disability. Why are people afraid to share their disabilities — and what are the benefits and implications for disability disclosure?
Will: When disability accommodation and inclusion aren't discussed openly and de-stigmatized at a leadership level, employees and customers will simply assume they are a nuisance and are better off to struggle in silence. But when you can be upfront about your needs — no matter who you are — you're setting up yourself and others to thrive.
For many of us, confronting a disability is a new challenge. And when we're trying to adjust to the myriad of other challenges that come with a new job or new product, we fear that 'making it a thing' is going to put us at a disadvantage. Managers, friends, and colleagues often don't intend to discriminate, but we carry with us tons of assumptions, stereotypes, and implicit bias about what people with disabilities can and can't do. People with disabilities know this to be true, and so often we hide our condition from others to protect ourselves.
The irony is that, if we don't ask for the accommodations we need, we are setting ourselves up for failure. We may feel a little sense of victory by passing as fully capable, but inside we are exhausted, both from hiding what makes us different and overworking to compensate for the inaccessibility of workplace tools or practices.
That's one of the reasons we created Be My Eyes for Work, our anonymized workplace video support tool that allows your employees to use our Be My Eyes availability algorithm to ping a predefined visual support network at your company to quickly assist when there's a barrier. It's a huge benefit to the employee because they don't have to figure out who to ask for help or always go to the same person for support. And, to those supporting, they're getting a window into the many aspects of the workplace that aren't designed inclusively.
When it comes to the stats around diversity being positive for businesses, it's usually talked about in the space of gender or race. Can you share some insights on how accessibility can also help companies from a business perspective?
I can't overstate enough the competitive advantage of having people who are open (and proud) of their disabilities in the workplace. They will help you access new untapped markets, push for innovative designs that benefit everyone, and even help to anticipate problems that you might otherwise not know about. Accessibility lawsuits are at an all-time high and sadly, the companies who are sued for exclusion are rarely doing so intentionally.
By contrast, having people struggling with undisclosed disabilities is a really bad thing. Productivity tanks, workplace culture becomes stifled and awkward feelings of resentment often crop up. If you work with more than 10 people, this is very likely happening in your workplace right now. And, to be honest, it's not a question of whether it's happening, it's a question of how many are struggling and how can they be supported.
Designing for Ability Makes Business Sense
There are billions of people with disabilities worldwide with trillions of dollars in disposable income. It's estimated that 25% of American households, and more than half of households globally, have a member with a disability. If your products or services don't work for one person in the home, you might lose the whole household's business.
Helping your D&I team wrap their minds around the twin goals of diverse identities and disability accommodation is crucial — and it shouldn't be too hard to do. Disability does not discriminate; it affects everyone. That said, rates of disability are higher among minority ethnic groups, particularly Native American and Black populations in the US. So, creating a diverse and inclusive workplace is really inextricable from accommodating disabilities. The more you work on disability inclusion, the more diverse your workplace will be.
Will does a great job of simplifying the complexities of living and working with a disability. However, it's a tricky field to navigate, especially for many organizations that want to confront and de-stigmatize years of misconceptions. As a company, as leaders, and as colleagues, we should continue to listen, learn, and be intentional with how we design for ability — for our employees and our customers.
About the Expert
Will Butler is a writer, producer, and podcast host from California. Legally blind since age 19, Will has written and produced numerous stories about adjusting to vision loss. His work has appeared in publications such as NPR, The Atlantic, The New York Times, and Pop Up Magazine. Will joined Be My Eyes as its Vice President in 2019 after four years at Lighthouse for the Blind and Visually Impaired in San Francisco. You can listen to Will's interviews with leaders from the world of blindness and accessibility on The Be My Eyes Podcast and the 13 Letters podcast.
When Be My Eyes partners with companies to bring its customer-focused or employee-focused operations, it not only provides the software, but also access to the network, knowledge and community to really live the mission and walk the walk of inclusion. Join 4.3 million others and, no matter your accessibility or inclusion question, you can always reach out to Be My Eyes at solutions@bemyeyes.com for help.