Companies often are organized in such a way that they create silos. Silos in data, operations, management, vision, and ultimately, performance. The answer to the question, "How are we doing?" is limited to the perspective of an individual person, team or organization. And in business, people do need to know how they're doing when it comes to fulfilling their responsibility — their promise to the company. But often it isn't easy to see how they're doing through the lens of the customer.
From a customer's perspective, there's one company and one truth — and that's their experience.
Various organizations play a role in the overall customer experience. The journey often begins with the marketing organization reaching out to make them aware. As they show interest and engage, the sales organization assists and nurtures them. After they've made the decision to purchase, the fulfillment organization delivers on the promise. And after the customer is established, the service organization keeps them informed and assists them when they need help.
Customers don't know or care that there are different organizations and "service owners" behind the scenes as they navigate a company.
Any disconnect that causes them to put forth additional effort — to identify themselves, to tell their story again — drives frustration and dissatisfaction. They're looking for interactions where they feel known, heard and understood. They want an experience where the company is guiding them to the right path, and the right resources.
In addition to impacts to Net Promoter Scores and customer satisfaction rates, high-effort experiences are more costly to companies as well. Research has shown that a low-effort interaction costs 37% less than a high-effort interaction. Low-effort experiences reduce costs by decreasing up to 40% of repeat calls, 50% of escalations and 54% of channel switching.
With customer effort being a significant driver for improved customer satisfaction, brand loyalty and cost, you might wonder where the points of friction are in your customer experiences. I confess, I've been a data geek for many years. And now with the power of artificial intelligence (AI) to help us churn through seas of data to surface insights, I tremble with excitement at the possibilities!
Recently, I've been sharing journey management output with business leaders. And I find that I'm not alone. In a recent meeting, the team was sharing insights on customer behavior, points of friction and failure along customer journeys. They also looked at the impact of guiding more customers down the path to success — in real business revenue and cost savings.
The excitement in the room was palpable. Eyes were wide; minds were spinning. Voices were raising, "Wow, we've never seen this before!" and "This is incredible to see!". Then they quickly shifted to "Could we also look at …?" and "Can we drill down into …?" These tools don't only provide answers and insights, they also inspire the next generation of questions.
To orchestrate incredible experiences, it's very helpful to know where to start and where the biggest improvement impacts exist. Journey management provides you with the map to continuous improvement. By connecting with disparate data sources from across your experience touchpoints, journey management platforms unify data.
AI is used to stitch together identities from across customer activity to create an adaptive customer profile that's continually learning. With a stitched identity, omnichannel events can be captured, tracked and woven into journeys. Across website activity, mobile applications, phone IVR systems, contact center agents, point-of-sales systems, service technician visits, ATMs — even IoT devices and telemetry — you're capturing events. These events are compiled into journeys, and users are presented with visualizations that show each step, each path and variation from point A to point Q in your experiences.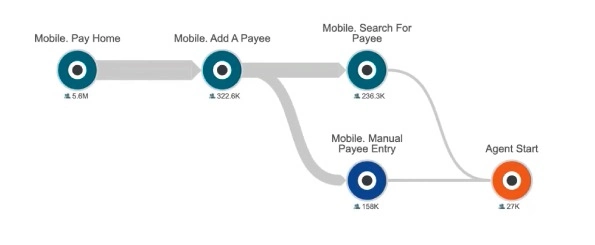 Order of magnitude of the volume of users along each path segment is visualized in the thickness of the line to help quickly understand whether a point of failure is a trickle or a raging river. Adding to the value of this picture is the ability to double-click into the common attributes of the users that are experiencing this friction or failure and quickly identify an impacted area. Examples might be demographic, geographic, application — to target for action and resolution.
While this can feel like a large effort that would need to involve multiple organizations and stakeholders across the company, it doesn't have to be. Organizations are discovering opportunity and value in simple use cases, such as evaluating their IVR system to gain understanding into existing self-service application success rates, and new customer intents that could benefit from application development. Or they're looking at digital dropout from web or mobile applications to the contact center.
You can start small and grow from there. But once you share the insights you're generating on your portion of the journey, your colleagues will soon want to find ways to join you. And that's a good thing for customers and for the company.
Managing the Holistic Customer Journey
Companies that are taking a design thinking approach, and looking at journeys holistically, are outperforming their competitors in all key metrics. Customers are delighted with seamless, low-effort experiences — experiences where the company knows who they are, what they've been through on their journey, predicts their needs and guides them to the right path.
And when they connect with human representatives, those agents have all the context to pick up the path where the customer left off. And they have the skills and knowledge to satisfy customer needs and fill them with confidence. These are the experiences that drive brand loyalty and promoters.
I've had people say to me, "Charlie, I can't afford to provide the kinds of experience that you're describing." I say, you can't afford not to.
According to "The State of Customer Experience" report from Genesys, 77% of consumers will switch brands after five or fewer negative interactions with a brand's customer service. And this doesn't just apply to the consumer experience. Research from McKinsey states that better customer experience in B2B relationships is increasingly critical for growth. B2B leaders stated that lack of speed with interactions with their suppliers were the No. 1 pain point, mentioned twice as much as price. The same principles apply.
The journey and experience are the one truth that customers have. Maybe we, as business leaders, have one truth, too — the experiences we provide to customers and employees.
Customer journey management is a first step to gain visibility and understanding into what's working and what's not. From there, we can use these insights as the map to create the next generation of orchestrated experiences that reduce effort and drive loyalty and outcomes.
Read the "Practical guide to mastering journey management," to get a phased approach for implementing journey management and tips on how to reduce time to value. And you'll see how leading businesses are succeeding with customer journey management.