Your customers have rising expectations — but are you rising to the challenge of meeting them where they are? Keeping pace with changing customer expectations is the greatest challenge facing the customer experience (CX) market today, according to the CX Leaders surveyed in "The State of Customer Experience" global research report.
Other than phone calls, consumers worldwide are generally less satisfied with CX channels than those in previous years. Just 43% of consumers said they felt like a highly valued and appreciated customer following a service interaction. And 31% said they've stopped using a company after a negative interaction in the past year.
Personalization is one area where most organizations are falling short. Just 35% of surveyed CX leaders say their company offers a highly personalized experience today. And in a recent survey by FT Longitude, 54% of banking leaders say they aim to provide a personalized experience — but it often appears to customers as generic.
Failing to provide true personalization comes at a tremendous cost. More than 80% of consumers say they'd purchase additional items from companies that consistently personalize the experience, according to "The State of Customer Experience." Seventy-nine percent say they'd recommend the company to a friend or colleague. And 56% say they'd pay a slightly higher price (64% of millennials and Gen Z).
Your employees also want a personalized experience — one that provides the knowledge to be successful, the tools to be empowered and the inspiration to drive customer loyalty. In fact, the report found that contact center employee experience (EX) is emerging as the No. 1 CX priority for business leaders.
To create personalized experiences for your customers and employees, combine the power of your people and Genesys technology — across channels, interactions, knowledge, data and systems — in real time. Coordinate every touchpoint and interaction based on the experience you want your employees and customers to have. Leverage innovations delivered through the cloud at a high velocity that have never been possible with on-premises technologies.
Join us at Xperience 2023 in Denver and discover a bold new way to deliver empathetic, personalized experiences at scale. Here's just a glimpse of what you can expect this June at the CX event of the year.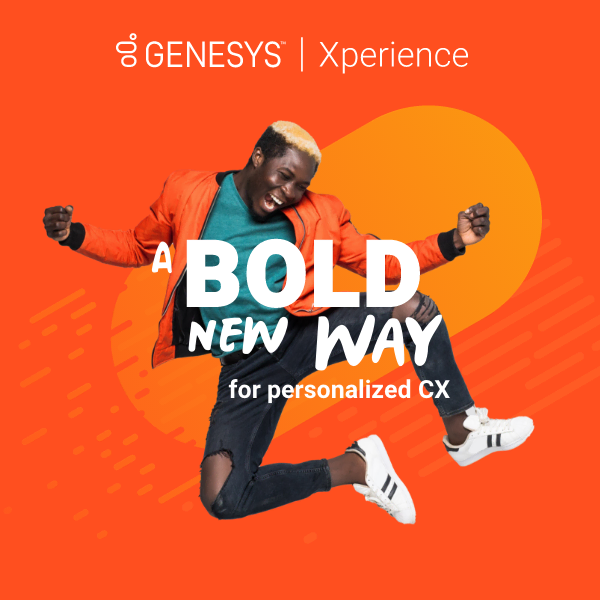 xperience 2023:
The CX event of the year
This is your chance to explore how Genesys technologies orchestrate personalized, end-to-end experiences within — and beyond — the contact center. Join Genesys leaders, product experts, and other CX and IT leaders, June 19–21 in Denver.
Bold Vision
Explore the future of CX in our opening day keynotes. You'll discover how to create a vision for your business that delivers the power of empathy to every experience.
Learn how Virgin Atlantic has reached new heights with an all-in-one cloud platform that enables the company to orchestrate customer and employee experiences at scale. And you'll hear about the vision Virgin has for personalized CX, the business impact of integrating its communications and what's on the horizon.
You'll also hear the story of Lighthouse Works, a nonprofit with a bold vision driven by inclusivity and empowerment for adults who are blind or visually impaired. CEO Kyle Johnson will describe how Lighthouse delivers customer experiences that exceed expectations by focusing on EX first and leveraging Genesys technology.
Bold Innovation
Day 2 of Xperience will begin by exploring the power of innovation delivered continuously through the cloud.
You'll learn how Rabobank invented a unique conversational banking strategy that's believed to be a first in the Dutch financial services market. Its contact center is much more resilient and agile running on the Genesys Cloud™ platform — now supporting over 15,000 users across more than 80 departments.
You'll also hear Chief Product Officer Olivier Jouve and GM of Product Management Mike Szilagyi describe how Genesys reimagined CX and EX to bring you Experience Orchestration. They'll explore how you can deliver innovative experiences with Genesys Cloud now — and what bold innovations are coming.
Bold Results
In the Day 2 afternoon keynote, you'll find out how partnering with Genesys enables you to achieve big business results. Scott Cravotta, EVP of Customer Success and Services, will interview a customer that has transformed its business with cloud innovation and share other examples of transformational outcomes.
You'll also hear more success stories as a roundtable of Genesys customers share how they've achieved bold results with cloud innovation.
Up Close and Personalized
Just like our solutions, our conference is personalized for you. So you'll gain valuable insights from attending Xperience — whether you're a long-time Genesys customer or starting to evaluate solutions in the market. And you can build your schedule based on your unique situation and needs.
Here's just a sample of the can't-miss sessions:
For those new to Genesys
Creating an employee experience that elevates your customer experience
Winning in the experience economy
Elevate CX and business performance through customer journey management
The road to Experience Orchestration: A customer's journey
For existing Genesys Cloud customers
The modern CX cookbook: Recipes for digital success
Customer connections: Workforce engagement management
Real stories of transformation: Lessons for success in a digital world
How customer journey analytics delivers quick wins and long-term success
For existing PureConnect and Genesys Engage customers
Key approaches to align your CX Evolution plan with your unique business needs
From pests to besties: Building stronger relationships with outbound campaigns
Migrate without a migraine: Routing and task management
What's next for Genesys Cloud? Innovation for transformation
Xperience A Bold New Way
Join Genesys leaders, product experts and your peers — CX and IT leaders across regions and industries — June 19–21 at Xperience 2023 in Denver to discover a bold new way to personalize CX. You'll get hands-on knowledge of how our scalable, secure and high-velocity technology enables customers to start the conversation anywhere — and take it everywhere. And you'll learn how to gain flexibility in your technology roadmap, discover how to position your organization to achieve better business outcomes and gain actionable insights that take the guesswork out of CX.
Highlights
Explore the future of CX in can't-miss keynotes that examine the value of an end-to-end, personalized and cloud-based solution
Learn how to combine our technology and your people to orchestrate personalized, end-to-end experiences in product demos
Hear real-world use cases from our customer experts
Discuss best practices for how to get started in customer roundtables and user groups
Hear expert advice from Genesys pros and 80-plus partners across our dynamic ecosystem in the community expo
Learn from other CX leaders in networking events
Explore innovative tech and capabilities in 28-plus breakout sessions
Examine the value of integrations in 15-plus partner presentations
Register now to join me in beautiful Denver and enjoy over two full days of in-person interactions at the CX event of the year!