Proper employee onboarding and continuous development is vital to ensuring contact center employees are well-equipped with the knowledge needed to deliver great customer experience (CX). However, contact centers consistently struggle to deliver necessary training for several reasons, including training content that evolves quickly, inefficient or inadequate training tools and processes, and high employee turnover rates.
With the rapid shift to remote work and the growing demand of new digital customer experiences, companies need to prioritize their learning and development initiatives now more than ever. In a recent study by LinkedIn, 64% of Learning & Development (L&D) professionals globally agree that L&D has shifted from a "nice to have" to a "need to have" in 2021.
Genesys is excited to announce the new development and feedback capability in the Genesys Cloud™ platform, which will help contact centers effectively onboard new employees, enhance agent skills and gather employee feedback. Supervisors can assign learning modules to their agents directly through the cloud CX platform that employees already use. This new learning capability is embedded into the Contact Center as a Service (CCaaS) platform, allowing customers to better manage the employee development journey — without added cost or complexity.
Genesys Cloud customers can also access pre-loaded product and experience training from Genesys Beyond — instantly, within the platform — to better onboard new employees. Genesys Beyond provides customers and partners with a modern learning experience and access to technical and CX training. Embedded training from Beyond gives contact center employees the skills needed to bring human and digital interaction together to deliver truly unique and meaningful customer experiences.
"The course 'Best Practices – Customer Service Representatives' is extraordinary. Having a person explain key points for success in videos makes this easy to understand, absorb and implement in an agent's everyday work. It is very motivating and encourages agents to improve their skills and abilities."
— Tatjana Knezevic, VP of Solutions Design at StarTelecom
Key features of the new development and feedback capability in Genesys Cloud include:
Development modules deliver information and learning efficiently throughout the employee development journey. Managers can assign modules manually or automatically, based on rules to improve their team's skills.
Embedded Genesys Cloud essential training from Genesys Beyond ensures agents know how to use their customer experience platform from day one
Personalized 360-degree employee activity view gives teams single-click access to their assigned development modules — in the same view where they see their daily schedules, upcoming coaching sessions, gamified performance scorecards, team leaderboards and more.
Tailored development plans enhance employees' skills and performance levels — and strategically guide them to surpassing performance objectives.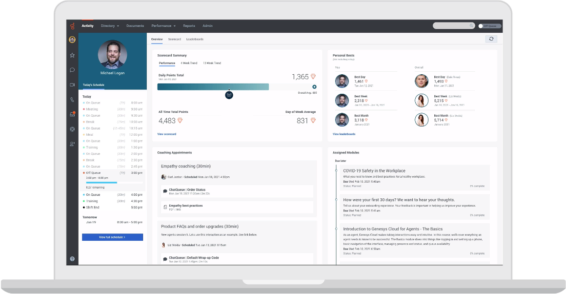 Agents can view and access learning modules from their personalized activity view.
This release adds to the full set of native employee engagement capabilities available to customers, including modern performance management through gamification, comprehensive coaching with artificial intelligence (AI)-enabled scheduling, speech and text analytics, personalized employee development hub, and more.
"The best part is that these are part of the subscription most customers already have; it does not cost them to add these features."
— Robert Wakefield-Carl, Sr. Director, Innovations Architect at Avtex
The development and feedback capability and pre-loaded courses are included in Genesys Cloud 3.
Genesys Cloud gives contact centers a complete set of tools to effectively unite and engage employees while developing their skills, regardless of their roles in the contact center. Learn more about employee development and engagement capabilities in Genesys Cloud. And get started today.