After filing for bankruptcy in January 2017, a streamlined Avaya has reached an agreement with its first-lien creditors and appears set to re-emerge from Chapter 11 protection before the end of the year. A new leadership team has even signaled intentions of emerging as a public company. Here's the burning question: Is Avaya built to last?
The answer is clear from a couple of simple charts:
The first on Avaya's revenue makes it clear that Avaya has been in decline well before its bankruptcy and by its own projections will be in decline after it emerges from Chapter 11. Bankruptcy is not a one-off event but one phase of a long-term trend going back more than five years.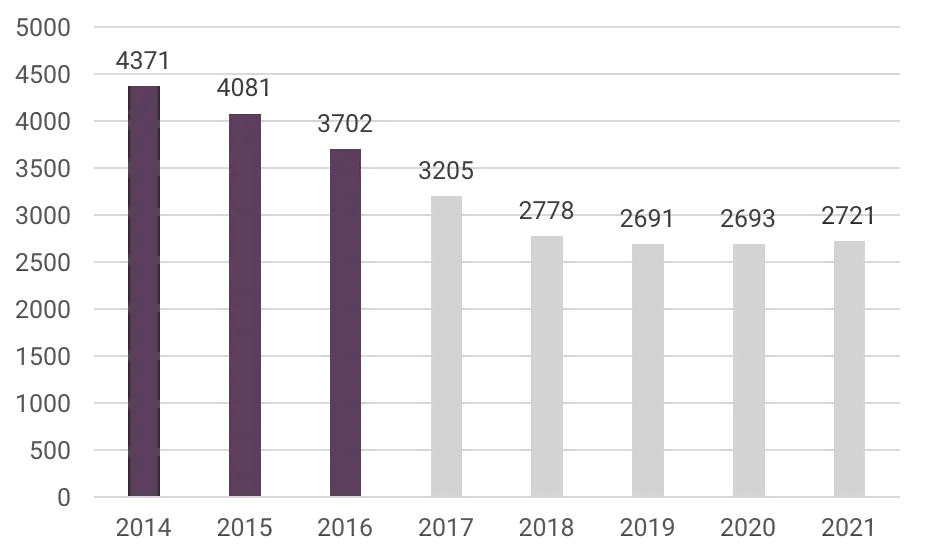 Source: Historical financials as published by Avaya. Projections as published by Avaya in its amended Plan of Reorganization as part of the Chapter 11 bankruptcy process. Financials shown in ($M).

The second chart is Avaya's spend on R&D, and this is for the entire company. Investment in R&D at Avaya has been in decline since 2014 and is projected to decline further through 2021.  This is happening at a time when the contact center and customer experience industries are transforming at rates never before seen in our industry, and this transformation requires deep and continued investment. To name just a few trends, our industry is moving to cloud; digital is exploding with a shift to mobile, web and messaging applications; and AI is bringing a powerful new tool to everything we do.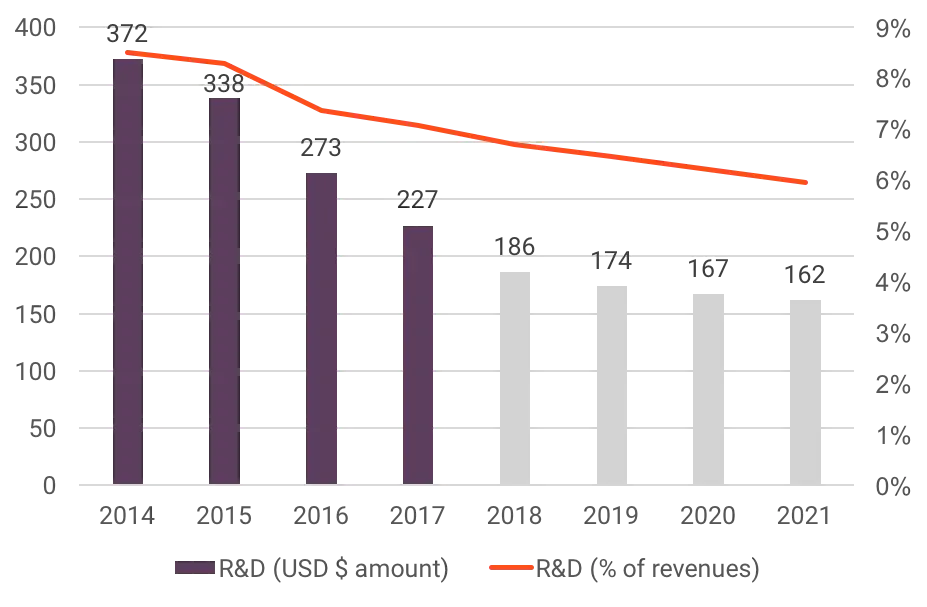 Source: Historical financials as published by Avaya. Projections as published by Avaya in its amended Plan of Reorganization as part of the Chapter 11 bankruptcy process. Financials shown in ($M).
Players in our space must innovate or die. Avaya's customers need to know they have an innovation partner on which they can count to keep up with this torrential pace of innovation –  innovation that is demanded by their customers and also by Boards that demand cost reduction through automation and smart customer engagement.
Genesys has a 25+ year history of being an innovation leader and made an all-in commitment to the cloud and digital channels in 2012. Avaya is playing catch up after years of underinvestment and, their customers have most certainly felt the impact. Even with massive investments, they will have missed these innovation cycles and certainly won't catch up through disinvestment.
Consider: So far in 2017, nearly 250 companies worldwide have migrated from Avaya legacy contact center systems to Genesys because our dependable platforms are built for the future.  These include major household brands, with 40 percent of the migrations falling between 500 to 5,000 seats. Genesys makes the transition easy with our PureBridge program.
How Genesys Differs
While Avaya is reducing investment in R&D, Genesys continues to invest in technology at a rate of more than $200 million annually. That's roughly the equivalent to the amounts invested by our next four competitors combined, allowing us to stay at the forefront of customer experience.
Genesys supports all the messaging platforms that are current today, has an aggressive AI program and is continuing with its championship of open systems through our Bring Your Own BOT program that other developers have created.
As a well-funded, privately-owned company, Genesys has also benefitted enormously through our acquisitions of other players in the market – including Interactive Intelligence and key niche vendors like Silver Lining Solutions – to accelerate the completeness of our offering. And while Avaya continues to struggle with market perceptions, Genesys is a Gartner Magic Quadrant leader in both on-premises and cloud market segments.
While Avaya is forcing customers to upgrade to a highly complex, cumbersome architecture in order to embrace omnichannel, Genesys already gives customers the flexibility to choose the scale and deployment model that best fits their needs. It's no mystery why leading global brands from all market segments and verticals are abandoning their legacy systems from Avaya and other vendors to achieve digital transformation with us.
Companies today need hyper-personalized omnichannel capabilities to connect the entire customer journey on any channel across marketing, sales, and service – and that's what we deliver. They need a technology partner like Genesys that continuously invests in innovation, enables them to conquer today's customer experience demands, while preparing them for tomorrow's changes ahead of the rest. And, a partner that's built to last. That partner is Genesys. We ARE built to last.
We have nothing but respect for Avaya customers – we speak their language, understand their needs and have structured our solutions to be easy to choose and purchase in a framework familiar to the former Avaya customer. Please let me know if you have any questions about how we can help bridge your customer contact center to the latest technology.