Imagine you've been asked to create a proactive message that will reach customers who are browsing your company's website to offer them a targeted promotion that increases conversion. You have a lot on your mind as you set up this touchpoint — it needs to be perfect.
You'll have to consider several factors.
Finding the group that's specifically interested in the service or product, so you don't annoy uninterested people with irrelevant offers.
Not giving the offer to people who will convert without any special offer. Otherwise, you'll leave revenue on the table.
Provide a nudge for the group that needs it to achieve the outcome you want, such as increase conversion.
Pointing human power (your agents) at prospects likely to convert so you use limited resources efficiently.
If you could predict the future, this task would be easy. But knowing how something is going to turn out is a superpower none of us possess.
Preview Audience Size When Creating Campaigns
Genesys Predictive Engagement proactively personalizes omnichannel customer experiences. It analyzes a customer's web behavior and identifies who, when and how to engage.
It then proactively triggers the precisely timed action through automated or agent-assisted messaging, chatbots or content offers. This drives the next best step in the customer journey.
Since the first release of Genesys Predictive Engagement, users have seen great results observing customer behaviors and creating triggers for engagement when customers demonstrate behavior the brand knows benefits from engagement. Now Genesys Predictive Engagement makes it easier for you to know what will happen when you set up engagement rules. It gets you one step closer to predicting your customers' next actions.
With the new Audience Estimator capability, Genesys Predictive Engagement allows you to estimate the size of your audience that's likely to reach an outcome. This gives you much greater visibility and control. And it allows you to maximize the revenue your offer generates, nudge customers toward the outcome your business leaders want and connect agents to customers who are most likely to convert. And that improves overall agent efficiency.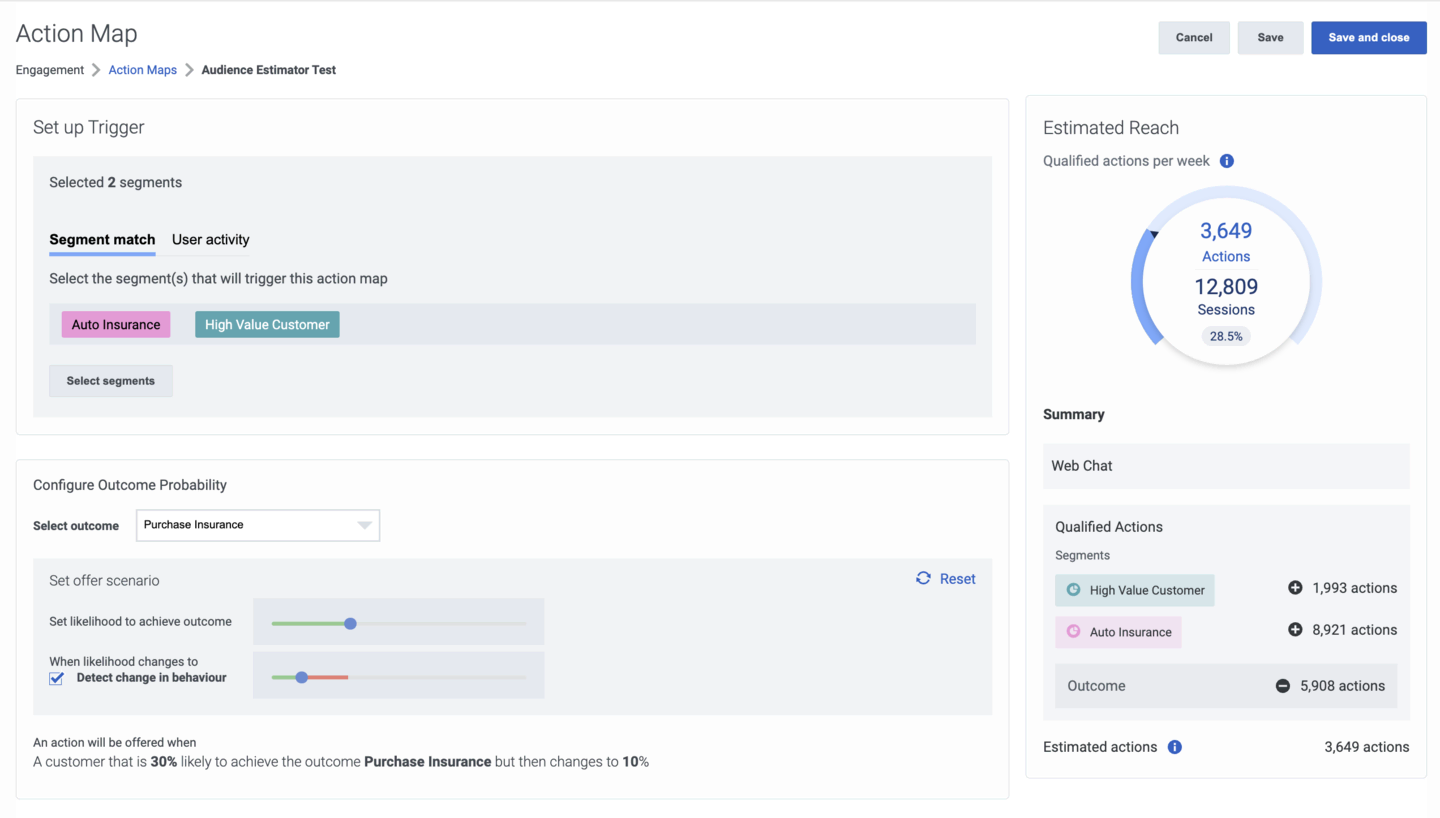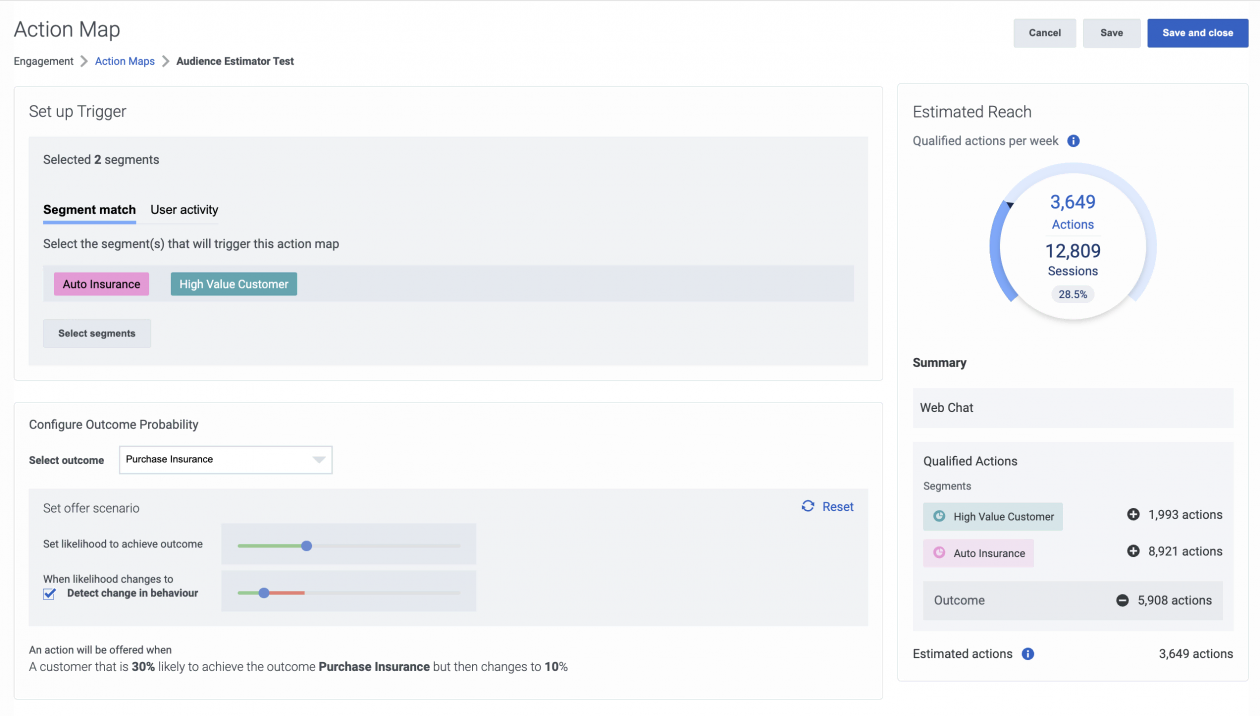 Genesys Predictive Engagement shows you the size of the audience it estimates will qualify for your action. No more guessing the size and impact of your campaign; you know from the start.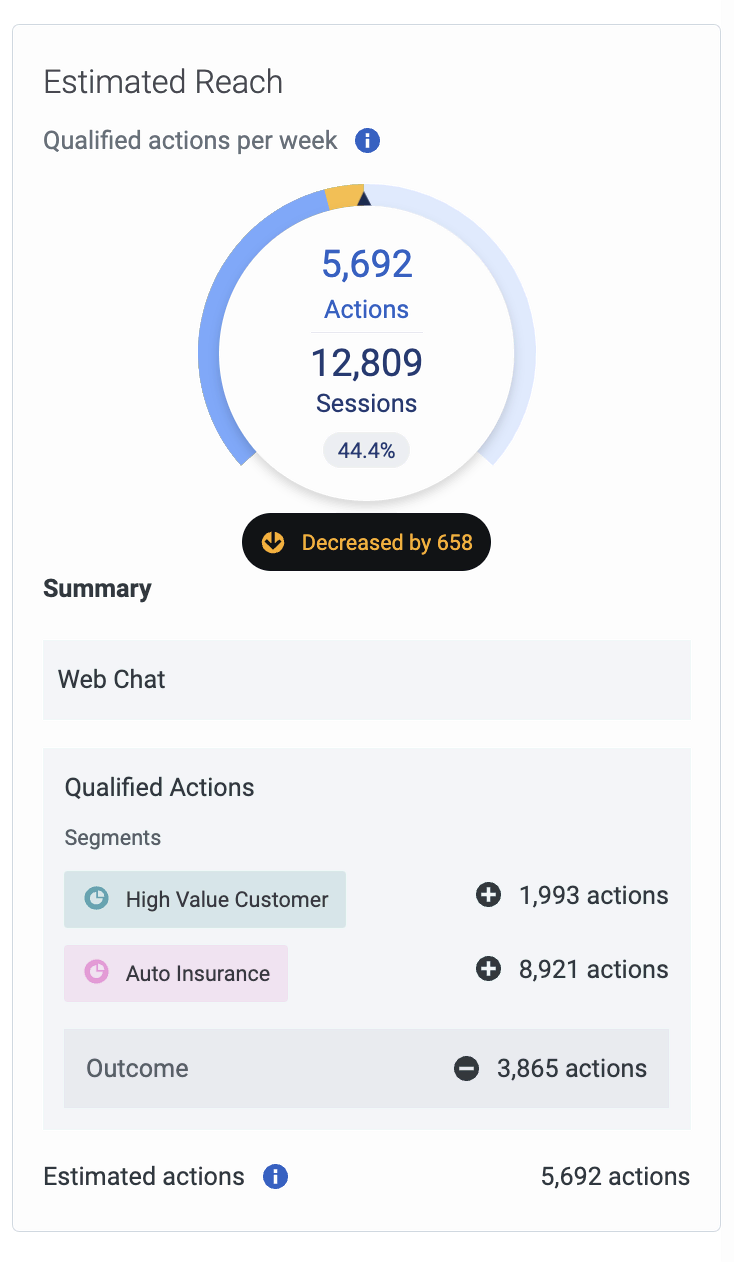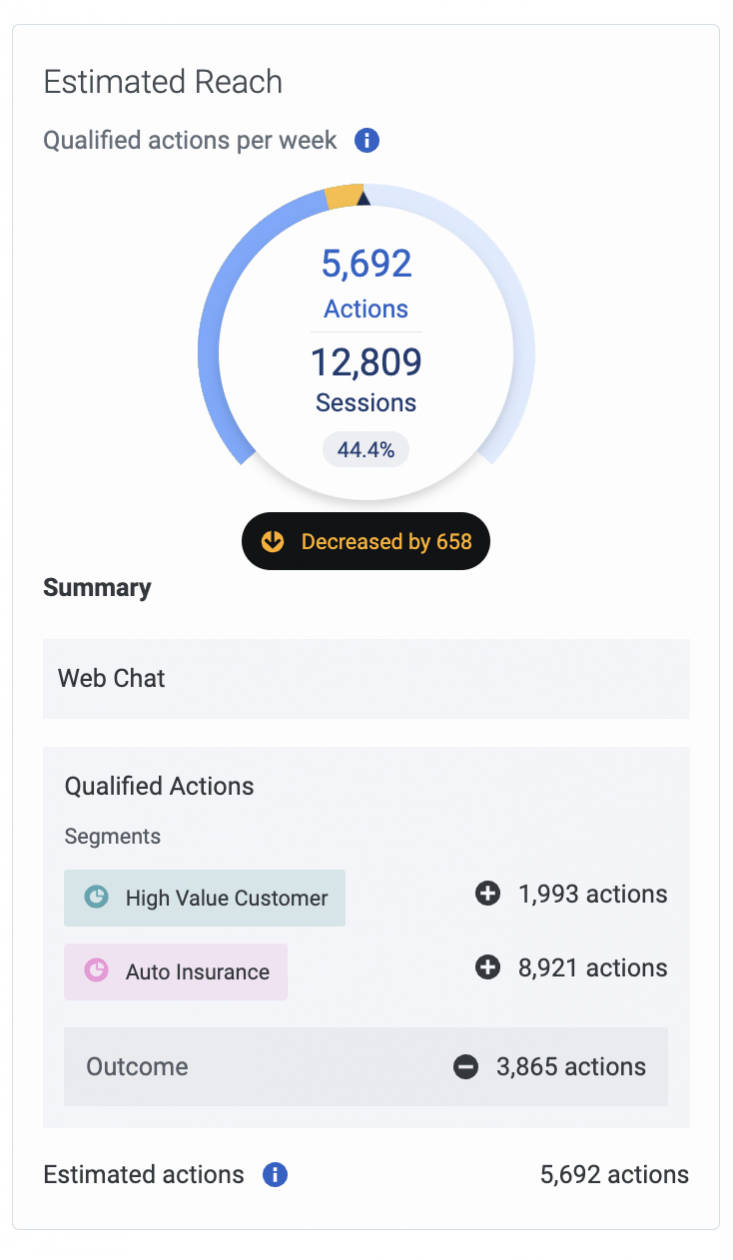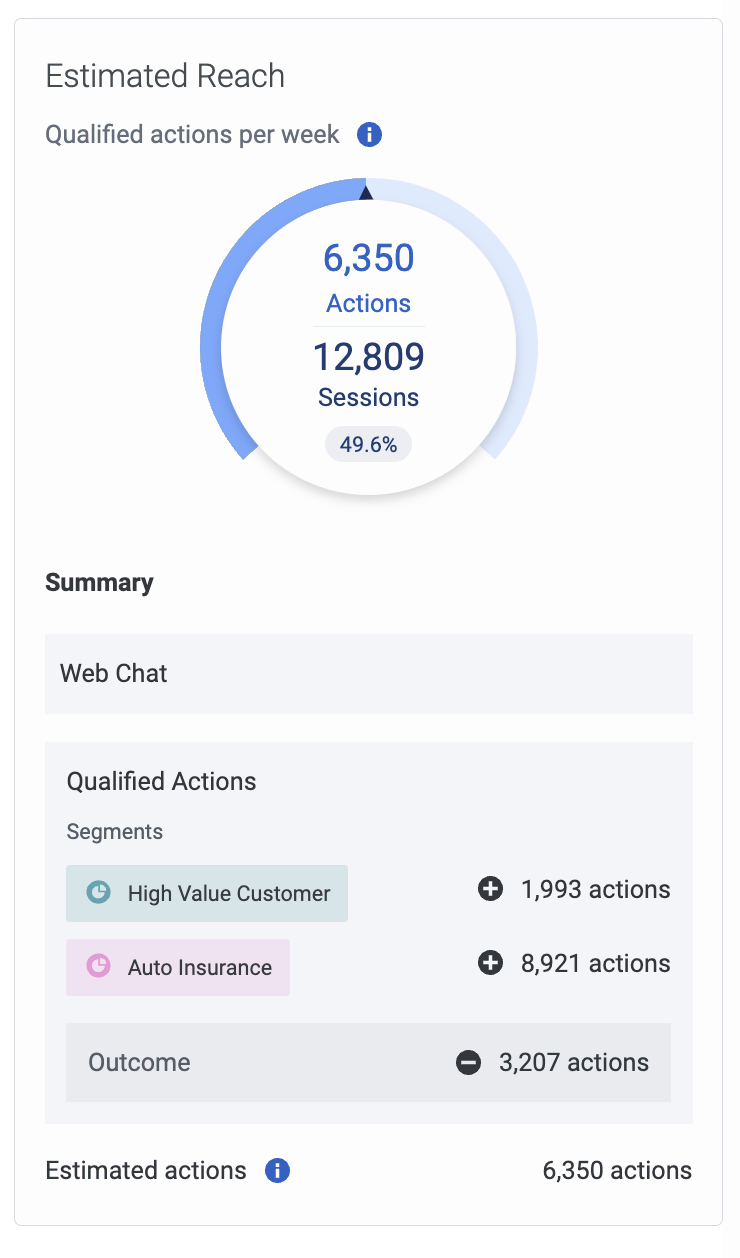 By adjusting your segments, you change the estimated reach numbers. Add or delete segments and triggers to get the audience size in line with business resources (human agent and bot capacity) as well as desired business outcomes.
Use Audience Estimator to Drive Sales
Many retailers want to predict changes to customer behavior, such as shopping cart abandonment, before they happen. This allows them to intervene by engaging high-value prospects before they navigate away from the site.
Genesys Predictive Engagement automatically captures events as customers shop online and then predicts the likelihood an event will be completed, as defined by an administrator. When that administrator adjusts the targets of a campaign up or down, Audience Estimator reflects the change and updates its prediction about how many people will be in the impacted audience.
When planning to use human agents or bots to engage groups of customers, all brands need to leverage resources carefully. Knowing in advance how many customers will be in a cohort recommended for action and engagement helps with campaign planning and targeting.
Adding and deleting triggers and segments into Genesys Predictive Engagement will ensure the right group of customers are engaged with the right offer, at the right time. And that drives the right business outcomes.
Find and Engage Customers Who Need Support
Every company deals with dissatisfied customers who could use a helping hand finding their way back to being satisfied. Leveraging Genesys Predictive Engagement and Audience Estimator also allows administrators to set up triggers for dissatisfied customers who will appreciate outreach from the company to support them as they try to solve a customer service issue.
Knowing the size of customer groups is critical so managers can appropriately schedule agents to handle conversations with customers. By adjusting the triggers and segments, an administrator can set up the predictive engine to find exactly the right audience size to support the staff available.
This Genesys Predictive Engagement update is available today. If you're already a Genesys Cloud CX™ customer, you can start building an audience and estimating outcomes now.
Or learn more about the benefits of migrating to Genesys Cloud CX today. And get a product demo.