Scuderia Ferrari and Genesys share a drive and passion for innovation, teamwork and performance.
Both companies know the excitement of seeing around corners — and using data and technology to anticipate what's next. Much like how an F1 race team uses real-time data to make split-second decisions for its drivers and pit crew, the Genesys Cloud CX™ platform provides the right data, artificial intelligence (AI) and predictive capabilities to empower organizations to drive end-to-end personalized customer experiences (CX).
​Being able to deliver these experiences at scale starts with understanding the people who drive your business. With Genesys technology, your employees are more engaged because they have access to the tools and capabilities that empower them to perform better — each day. They can uncover trends across massive data sets to get visibility into customer journeys and gain actionable insights into every interaction.
We help our customers drive loyalty by providing empathy at scale; delighting customers; and delivering personalized, unforgettable experiences.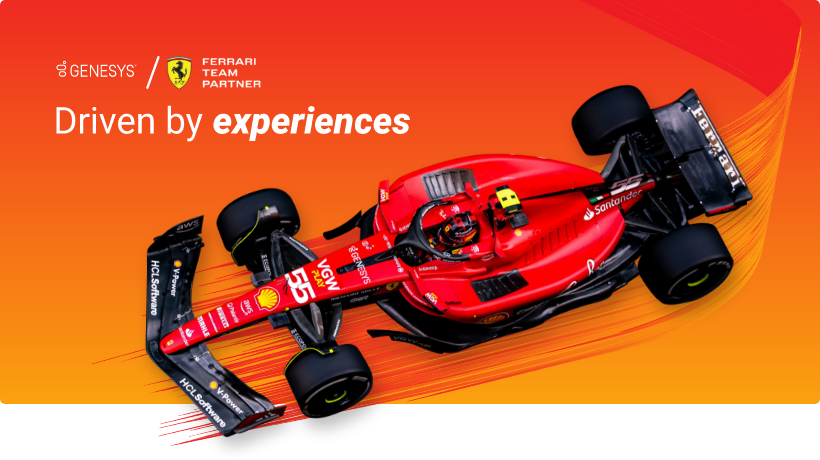 Driven by Experiences Inside the Contact Center and Beyond
We recently visited Ferrari headquarters in Maranello, Italy, with some Genesys customers and met with Ferrari technical experts. Throughout the three days, the group discussed the shared vision of using modern CX technology to deliver exceptional experiences as well as the value of data, innovation and teamwork in the contact center — and on the racetrack.
Nespresso
Customer experience is critical to Nespresso, a pioneer in portioned coffee delivered around the world, direct to consumers and businesses. As a premium brand delivering a premium product, Nespresso strives to deliver an experience that matches its product offering — innovating for both customers and employees.
The company uses Genesys Workforce Engagement Management for planning and forecasting and to enhance the employee experience and, ultimately, improve its customer experience.
"With Genesys technology, it's about delivering a better experience to our people so they can better serve our customers," said Dan Cohen, Head of Customer Relationship Centre, Nestle UK.
Learn more about how Nespresso uses Genesys to transform its CX through voice, digital, AI, workforce management and the Genesys AppFoundry® Marketplace.
TechStyle Fashion Group
TechStyle is the global fashion retailer known for its membership-based digital brands, including JustFab, Fabletics and Savage X Fenty. By replacing NICE inContact with Genesys Cloud CX, TechStyle leverages flexibility to handle retail peaks and seamlessly builds and embeds custom solutions.
"We wanted a sustainable, long-term partnership, and Genesys has been everything we hoped it would be," said Jack Roberts, Director, GMS Technology and Applications, TechStyle Fashion Group.
Learn how Genesys helps TechStyle stand out in the world of eCommerce by creating personalized end-to-end experiences with digital and AI.
KPN
When KPN chose Genesys as its all-in-one omnichannel solution, the leading telecom company in the Netherlands was able to make strides toward its goals of personalization.
"Genesys enables us to connect all the dots in the customer journey, make it more seamless and find positive trends to increase our customer scores," said Martijn Franssen, Sr. Director Digital Customer Development at KPN.
Learn more about the KPN journey to deliver personalized customer and employee experiences in its virtual contact center.
Goodleap
Goodleap, a financial technology platform that supports sustainable home improvement loans, leverages Genesys Cloud CX for growth, resilience and scalability.
For the company, personalized CX is about creating empathy and leveraging data for customer context. This provides Goodleap agents with the right intelligence to follow up with interactions, build business processes that excite and delight their customers, and improve its Net Promoter Score.
Workforce engagement management has enabled Goodleap to improve outbound calls and scheduling for contact center agents and administrative help desk team members.
"Genesys Cloud CX supports our exponential growth, enables us to scale at will and drove insane increases in productivity," said Alice Cathcart, Chief Information Officer at Goodleap.
Driven to Succeed
Genesys technology and the data it provides empowers companies to orchestrate new experiences — putting real-time, personalized data at their fingertips to make winning decisions for customers and employees. Thinking one step ahead and combining the right data, AI and predictive capabilities allows these companies to deliver experience orchestration.
Watch more videos of Genesys customers at Ferrari to see how the power of data, innovation, technology and teamwork can accelerate the customer and employee experiences.