In a race to respond to a more chaotic business environment fueled by change, uncertainty, and elevated customer and employee demands, three independent streams of activity often emerge simultaneously.
When you add multiple business units, varying priorities, and a lack of coordinated strategy and execution, customers and employees are left unsatisfied.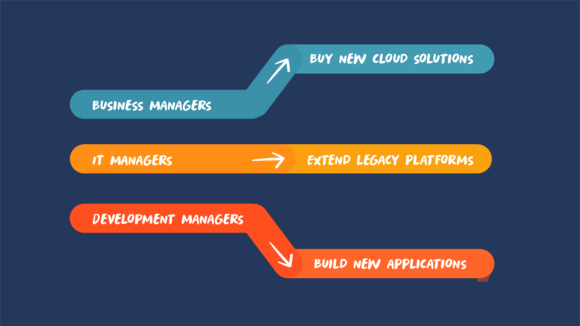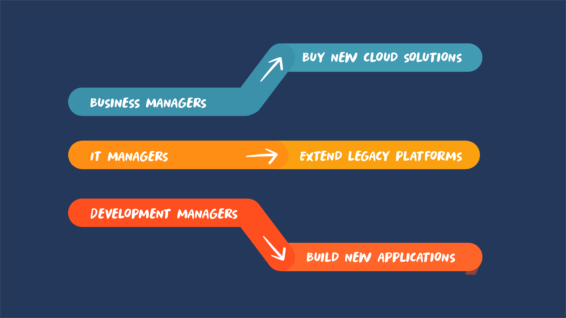 Organizations tend to respond by focusing more resources on the issue. However, many find the more resources they apply, the more disconnected, inflexible and undifferentiated the experience becomes. Technical debt rises and developers are consumed with trying to keep the lights on versus creating value for the business.
Enterprises think they have a resource problem; they really have an organizational and execution problem. Different teams across the business, IT and development need to stop strategizing, buying, extending and building in silos. Instead, they must adopt a new continuous co-creation mindset.
Leading CIOs and business leaders understand this. They're joining forces to toss aside old ways of thinking to become more composable businesses. Senior leaders are placing employees with diverse talents into newly formed co-creation teams — and empowering them to tackle the company's most promising opportunities and imminent threats. The goal is to turn rapid change and uncertainty into a competitive weapon. Teams addressing customer and employee experiences are increasingly relying on composable CX platforms to do so effectively.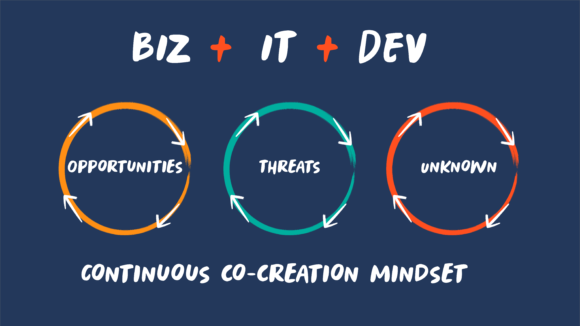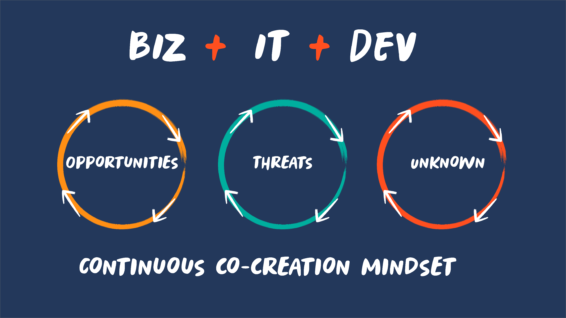 Why Developers Need to Be On the Buying Team
Developers are critical members of co-creation teams that deserve a seat at the table when it comes to evaluating and selecting composable CX platforms. However, while their influence is on the rise, they are too often not included. The following are three reasons this must change.
"The last year has made crystal clear the value that developers bring to their organizations through software-driven competitive differentiation, and agile development response to changing needs that were unanticipated for many organizations."1
– Al Gillen, Group Vice President, Software Development and Open Source, IDC
Reason 1: Speed Differentiation
Developers hold the key to business differentiation. They're the only ones capable of creating what others can't easily buy or duplicate. And with the right tools and mindset, they can do this all quickly.
On the flip side, developers are expensive and often hard to find. By joining the customer experience (CX) buying team, they become more aware of packaged product and marketplace capabilities available for purchase — the stuff they don't have to build. Many assume the dev team already has this information; however, that's not always the case. Dev teams usually set out to build far more than necessary.
CX platforms also tend to vary widely in breadth and depth in both packaged business capabilities and development capabilities. It's critical for developers to understand and evaluate these differences firsthand. The goal is to move the starting point for differentiation out as far as possible while giving developers the tools and resources they need to build differentiation well.
This includes a rich set of APIs, SDKs, integration methods and developer resources.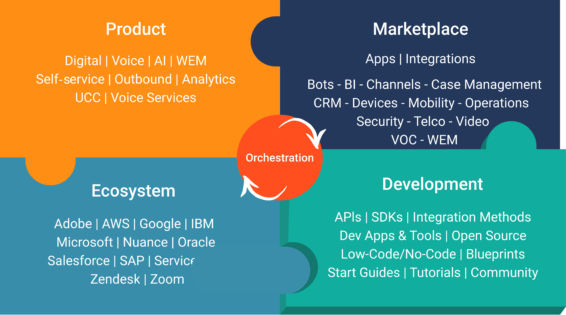 Developers should experience platforms and dev resources firsthand, including developer sites and forums. It's also good for them to learn about differentiated solutions others are building on the platform to spark the imagination in terms of the art of the possible.
By being on the buying team, enterprise developers ensure the CX platform chosen provides the proper mix of capabilities across the four composable CX building blocks to speed differentiation and apply scarce development resources more intentionally and strategically.
Reason 2: Adapt Easier by Extending Dev Teams with Minimal Risk
Development is no longer just for developers. Modern composable platforms come with low-code/no-code (LC/NC) toolsets for less-technical IT and non-technical "citizen" developers. Simple point-and-click and menu-driven interfaces help them build and modify functionality with little to no code.
This new level of layperson empowerment provides fertile ground for co-creation. Every layer of the business contributes to progress in a way only developers have in the past. And this lets pro developers focus their efforts on more sophisticated projects that move the differentiation needle. However, as Chris Johannessen and Tom Davenport advise in their Harvard Business Review article, "IT organizations need to maintain some control over system development, including the selection of which LC/NC tools the organization will support." The same goes for apps and packaged integrations found in marketplaces that make it easy to add capabilities and connect the greater CX ecosystem.
By being on the buying team, development leaders ensure citizen and business builders get the toolsets, apps, integrations and governance they need to affect change without putting themselves — and the business — at risk. And co-creation teams naturally foster the type of healthy citizen/IT/developer collaboration that makes this easier.
Reason 3: Future-Proof Purchase Decisions
Software and data are becoming a new global currency with value that's increasing exponentially. As automation and citizen/business empowerment increase, and data becomes richer and more ubiquitous, the types of problems enterprises are asking developers to solve are becoming more complex and mission-critical to the success — and even survival — of the business. We're seeing this with artificial intelligence and machine learning; and it's just the beginning.
Unsurprisingly, the influence of developers over enterprise tech decisions is on the rise. A key finding from an IDC survey states, "Developers should be considered technology buyers because they have a strong influence over purchasing decisions. Between 70% and 79% of developers feel they have either significant or complete influence over purchasing and procurement decisions, including decisions related to the modernization of legacy apps, cloud adoption, and cloud vendor selection."1 This includes composable cloud platforms.
As the world gets more complex and chaotic, having development leaders on the CX platform buying team helps enterprises make more sound, informed purchase decisions that ensure developers have what they need to solve tomorrow's toughest problems.
Let Co-Creation Reign
As you flow toward a more composable business, make sure technology, organizations and processes are steeped in the spirit of co-creation. Developers are the heartbeat and, when engaged properly, speed differentiation, empower less technical users to affect change easily, and help future-proof purchase decisions. These are three great reasons to invite development leaders to join the CX platform buying team.
Free everyone to co-create and, together, build what others have yet to imagine. Leave customers and employees happier than before. Provide more connected, effortless and uniquely empathetic experiences. Turn rapid change and uncertainty into your competitive advantage.
1IDC Survey Illustrates the Growing Importance of Developers to the Modern Enterprise, IDC, July 2021