Today's ever-changing conditions require companies to organize and execute differently. Instead of working in silos, leading CIOs and business leaders are joining forces and tossing aside the old ways to become more composable businesses.
They're bringing IT and business teams together as co-creators to anticipate and respond to change and uncertainty.
To operate at the speed of change, composable CX platforms offer a full set of native all-in-one Contact Center as a Service (CCaaS) capabilities (Figure 1). This is core to a composable platform.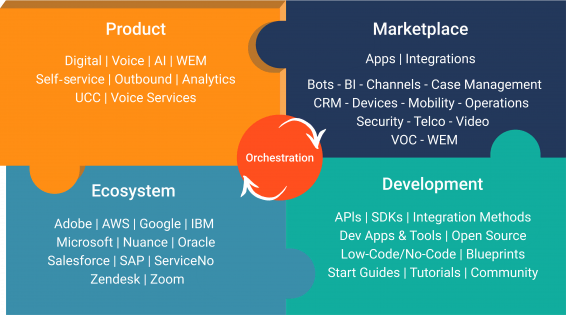 You turn product features on or off as new threats, conditions or opportunities appear. And because of their comprehensive nature, your starting point for differentiation is extended further than your competition. You also minimize your cloud footprint and deliver better economics.
A composable cloud platform unlocks turnkey innovation from the start while co-creation teams design, build and evolve your experiences.
Whether you're starting from scratch, migrating from legacy tech or expanding your current architecture, pre-built product capabilities unlock value to customer and employee experiences from the start.
In our composable CX blog series, we've examined the four building blocks that make up a composable platform. And we've outlined how they help companies differentiate faster, adopt easier and architect better.
We've investigated why developers should help choose composable CX platforms and covered some questions to ask when evaluating a CX app marketplace. We've also explored how a composable CX platform enhances your tech ecosystem.
In this article, we look at three native product capabilities to consider turning on in week one of use.
AI-Powered Chatbots
Consumer bot usage has increased — from 14% of consumers using them for service interactions in 2017 to 34% in 2021. And it's easy to understand why.
Effective chatbots combine the power of Natural Language Understanding with business logic and context. This enables them to answer common questions, perform triage and seamlessly transfer interactions to agents — without losing context.
When migrating systems or starting a fresh implementation, chatbots make a lot of sense as one of the first composable CX product features you bring to market. Being AI-powered, they don't necessarily require a full agent workforce to be up and running on your new composable platform.
Plus, transitions to new systems can be difficult times for your agents. Chatbots help lessen the load on agents while they learn a new interface or temporarily work between multiple, unintegrated systems.
However, don't throw caution to the wind. As Jane Hendricks points out, "Companies need to consider how bots fit into your customer journey and how they support an end-to-end orchestrated customer experience."
Web Messaging
Uncertainty and disruption over the last few years have driven people online and accelerated shifts in consumer behavior. Nearly half of consumers surveyed in "The state of customer experience" report used web chat in past 12 months.
If you're considering bots as one of your first projects, web messaging is a natural pairing. Leading web messaging capabilities allow customers to easily transition from a self-service bot to a live agent with full interaction and context history.
Serve customers at their pace and availability, maintaining continuous experiences over time. And, unlike voice interactions, web messaging allows agents to respond to multiple customers simultaneously. That makes it a formidable tool to improve response time and other SLAs as you get up and running with voice.
One important web messaging feature to be on the lookout for when evaluating composable CX platforms is asynchronous messaging.
Asynchronous messaging lets your customer continue the conversation where they left with key context — even if that conversation has been inactive for some time. This is critical as your co-creation teams look to deliver more personalized, frictionless customer experiences.
Unified Communications and Collaboration
Like your customers, your employees require omnichannel experiences to do their jobs effectively and efficiently. To help eliminate silos and foster co-creation, free-flowing collaboration and communication between employees should be near the top of your implementation checklist.
Native Unified Communications and Collaboration (UCC) capabilities break down internal communication barriers between teams and locations. Get seamless collaboration between your contact center and the rest of your organization — empowering agents to easily get the answers they need to resolve complex customer issues.
Additionally, when companies are already using a third-party UCC tool, composable platforms offer pre-built integrations to your tech ecosystem. That ensures streamlined communication across systems.
All in One, Not All at Once
With a composable CX platform, you can meet your customers where they are with minimal technical lift. Adapt to shifting market conditions by adding, removing, changing or exchanging native product capabilities in real time.
You can do this at your own pace; everything is built in and ready to be turned on when you need it. Create and constantly evolve timely, unique experiences that leave your customers feeling connected to your brand and keep your employees more engaged.
The composable Genesys Cloud™ platform offers the most comprehensive set of native all-in-one CCaaS capabilities on the market. The powerful set of digital, voice, artificial intelligence, workforce engagement management, analytics, unified communications UCC and voice services capabilities available have been built to work together from the start.
Get an up-close-and-personal look at these capabilities with our weekly live demos. Explore the interface, features and functionality of Genesys Cloud and experience the product through the eyes of your agents, supervisors and management.