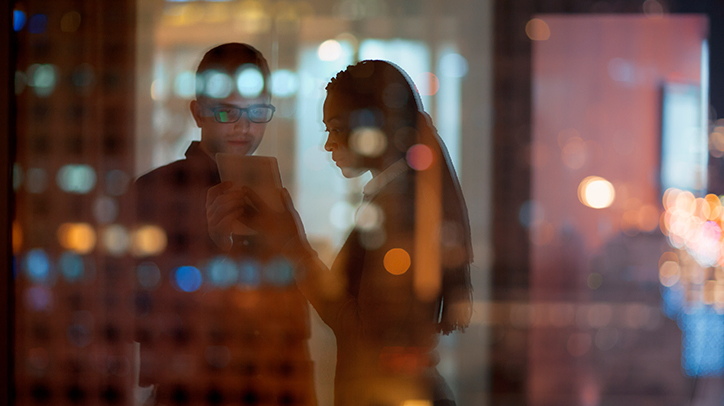 Delivering a seamless customer experience isn't as simple as it once was. Today's contact center employees must manage a wide variety of communication channels, continue multiple customer conversations over several days and weeks, and deliver results under increasing pressure from both leadership and customers.
To deliver the customer experience that's expected of them, employees need to be engaged with their work, proficient at their jobs and equipped with the right tools. Artificial intelligence (AI) tools support your employees in a number of ways. Here are four key ways you can use AI to improve your employee experience:
1. Enable employees to work smarter
Your employees make or break your brand's ability to perform. When your employees have exceptional work experiences, it's more likely they'll deliver exceptional customer experiences. This begins with learning who your employees are, what their unique skills are and how to best use their innate talents.
AI solutions can help managers position their direct reports for success. In addition to identifying agent strengths and growth areas, AI-based tools allow you to manage your roster in real time. That means putting the right work in front of the right person — and then recognizing their successes as they come.
Certain performance management tools can directly support personalized experiences for your employees, including:
Predictive routing
While some employees excel in handling returns and exchanges, others might perform best when dealing with upset customers. Predictive routing learns about your agents' strengths and intelligently matches customer interactions to the most ideal employee. Not only does this ensure that customers receive efficient support, it also helps agents focus on the interactions where they can most easily succeed.
Rewards and recognition
Motivating employees to reach individual, team and company-wide goals is easier with AI tools. Through competition and structured gameplay, you can improve employee performance, engagement and enjoyment. And you'll gain insights into each employee's work and performance.
2. Help your employees learn and grow
AI solutions can also empower employees to grow in their roles. These solutions can even build development paths that improve weaknesses and develop new skills.
Leveraging AI in the employee experience allows you to identify your employees' strengths and areas of opportunity so you can provide the tools and hands-on support needed for them to develop successfully. This support makes your employees feel more comfortable and capable in their skills. It also lets you create a more engaged and dedicated culture for your entire contact center. Demonstrating care, support and authenticity for your employees' success and happiness — today and tomorrow — is proven to enhance brand loyalty and increase staff retention and tenure.
3. Create more efficient workflows
When employees are met with less-than-ideal resources or inefficient processes, they can become frustrated. Removing these roadblocks is key to improving overall satisfaction and creating a more enjoyable employee experience. One great way to do this is to ensure your employees can allocate their time to higher-priority and higher-yield tasks.
Here are some of the best AI-powered capabilities to achieve this.
Automated forecasting and scheduling
Resource management in a call center is a complex job. Humans can't predict the future, which can make scheduling a challenge. And the growth of remote work and hybrid environments only amplifies those challenges.
But with the right historical data and AI support, this task becomes easier. Automated forecasting and scheduling calculates future resource needs and maps them to best fit employee schedules. Agents can also self-manage time-off requests and trade shifts automatically with the assistance of AI. As demand fluctuates, this tool can react in real time to ensure the staff with the right skills are available to help customers.
Predictive engagement
The last thing customers want is to waste their time. That goes for your employees as well. Instead of having your agents reach out to potential customers who are browsing your site at random, Genesys Predictive Engagement uses AI to find, win and keep online prospects and customers. It engages them at the right time — and with the right resources and actions.
This makes the best use of your agents' time, ensuring that when they reach out to a customer it's because that customer actually wants or needs help.
4. Provide the right tools for the job
Whether in the office or working from home, the vast majority of employees care about doing their jobs well. But, without the right tools and resources, it can feel nearly impossible for them to efficiently execute their roles. AI capabilities can lend a helping hand across nearly every facet of your business. They simplify complex processes and remove repetitive tasks from your employees' list of responsibilities.
Interaction analytics
Every interaction your employees manage is full of information, including emerging trends and unexpected events. With the right AI support, you can categorize and mine recorded conversations for key events and language. Managers and supervisors can search these interactions to better understand how their employees perform. And they can turn what they find into action items that range from hands-on coaching to in-the-moment praise.
Conversational AI: chatbots and voicebots
AI-powered chatbots and voicebots free your agents from the task of answering repetitive customer questions, such as operating hours and company mailing addresses. Natural language processing bots can even provide the right contextual information to agents in real time, enabling them to offer better support to the calls that reach their lines.
Improving employee engagement matters
Curating a strong employee experience has many benefits. It affects your brand's ability to drive revenue, meet customer demand and operate more efficiently. And it makes hiring and retaining the best talent that much easier. Reaching your brand's goals — no matter what they are — depends on your employees. AI capabilities make it easier to create a leading employee experience.
Remove unnecessary roadblocks and create a more seamless employee journey with AI. To learn more about what AI tools and capabilities are right for your company, reach out to us today.