While artificial intelligence (AI), bots and new digital messaging channels have emerged and dominated the "what's next" conversations around delivering great customer experiences, email remains an essential avenue for companies to serve and engage customers consistently over a known channel.
Approximately 306 billion emails were sent and received every day worldwide in 2020. And, while most consumers use multiple avenues to interact with companies, email is still the most commonly used digital customer service channel.
According to a recent Microsoft Dynamics 365 study, 64% of consumers prefer email as a way to interact with companies.
Despite its heavy consumer use, the email channel has historically fallen short on allowing contact centers to track agent productivity, meet targeted response times and find efficiencies. However, by using targeted business rules with intelligent routing to the best-fit agent, companies can bring efficiency back into this channel.
Genesys is excited to announce the new Genesys Multicloud CX™ cloud Email to support every company's goals for superior customer experiences over the email channel, while baking in operational efficiencies to contact center operations.
Genesys Multicloud CX cloud Email effectively categorizes, prioritizes and manages high volumes of emails, automatically delivering customers' messages to the agents best suited to handle them. Instead of using a first-in, first-out methodology to route emails to customer service representatives, Genesys Multicloud CX cloud Email uses the concept of a "universal queue" of email that's constantly being prioritized and re-prioritized as the backlog increases. Customers define categorization rules and prioritization schemas to meet their business needs and SLAs.
Supervisors and administrators can monitor what's going on in the universal queue with their email backlog at any time using Workload Manager, which offers new views not previously available.
When emails reach a priority threshold and there's room in the queue, they're automatically sent to what we call "the last mile," which uses a Designer application to route and deliver the email to the best-skilled available agent or representative. That person then responds to and completes the email.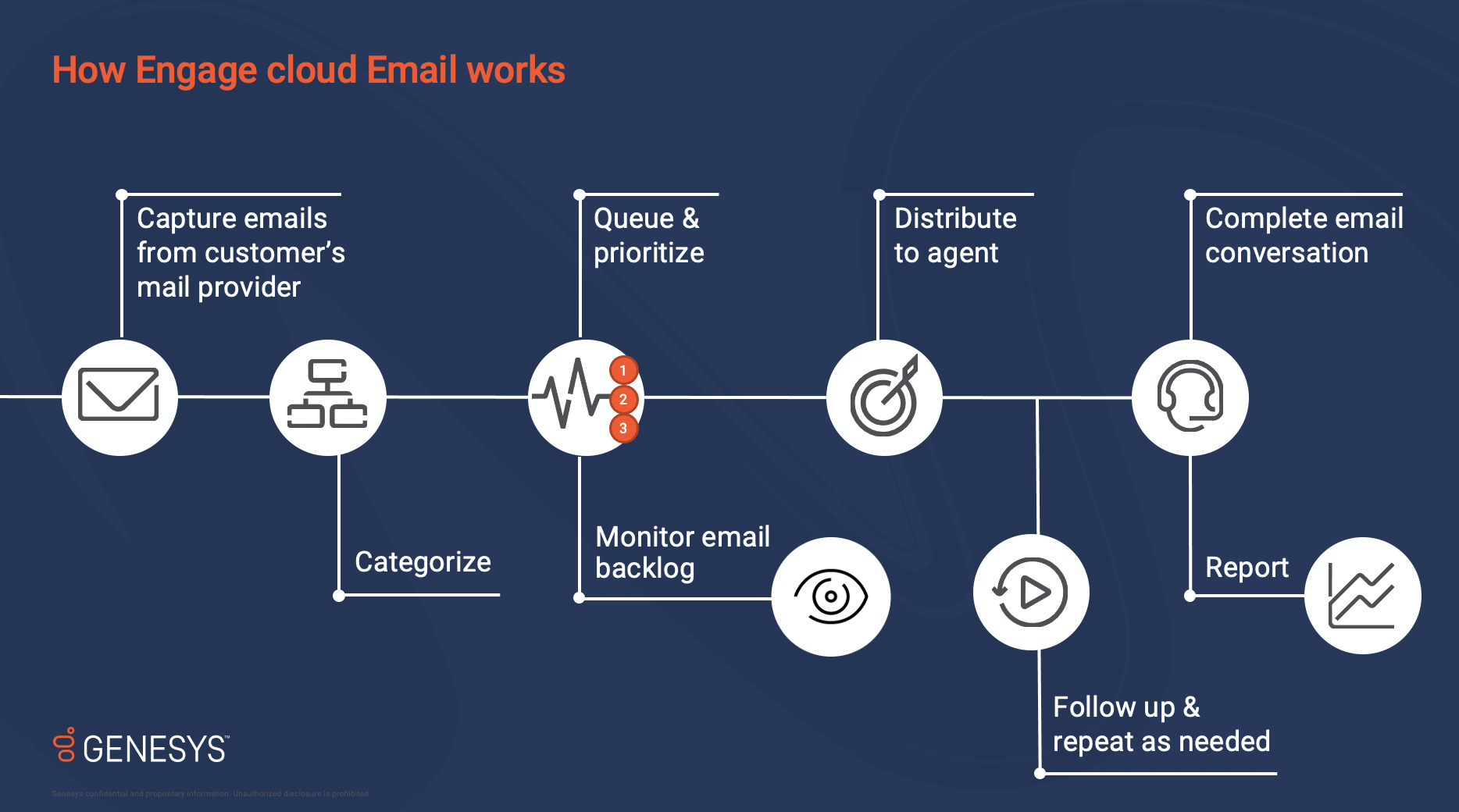 Genesys Multicloud CX cloud Email uses the same technology and user interface that powers the Genesys Multicloud CX intelligent Workload Distribution (iWD) product, which can provide amazing gains in efficiency and backlog management of work items.
The new Genesys Multicloud CX cloud Email delivers:
Improvements in efficiency and processing times – Through workload management and the omnichannel desktop, which shows other interactions with the same customer in a threaded view
Automatic prioritization of large workloads — Reduces cherry-picking to ensure highest-priority emails are handled first and SLAs are met
Greater visibility into backlog — New dashboards with filtering and saved views give supervisors and admins real-time insights into email backlog
Self-service management for configuration and ongoing changes — Connect to your corporate email in just a few clicks, and give business users control to easily create and edit rules and prioritization schemas
Whether managing insurance claims, taking in leads from marketing, or responding to frustrated customers about a retail purchase, Genesys Multicloud CX cloud Email manages email backlog and, ultimately, allows you to provide the best customer experience over the email channel. And, with the entire Genesys Multicloud CX omnichannel portfolio, it provides a solid foundation to cover all the channels on which your customers communicate.