This blog post was co-authored by Genesys technology partner, ObserveAI.
Many customer experience teams look at impartial agent performance data to make important business decisions. Reports indicate that some contact centers can only evaluate 5–8% of customer-agent interactions for quality assurance, compliance and coaching using legacy tools.
In addition, the pandemic has thrust us into a hybrid-remote work environment. If you ask the analyst team at Gartner about this trend, they'll tell you this shift is here to stay. In a recent survey, Gartner reported 82% of company leaders plan to allow employees to work remotely to some degree in the future. And nearly half (47%) said that they would allow all employees to work remotely full-time going forward.
As a result, coaching, especially for contact center teams, must undergo a digital transformation to account for challenges working in remove environments create.
The Old Way Versus the New Way
Contact centers are moving away from a reactive training mindset to a more proactive coaching mindset. Let's look at each to understand their defining differences.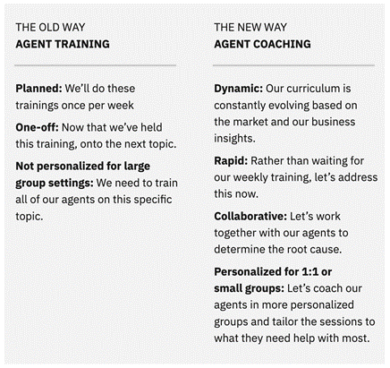 Six Ways to Improve Agent Performance and Coaching
Raise Self-Awareness: Your frontline agents handle a variety of customers daily. A great coaching program focuses its agents' attention on specific instances.
Example: "Here's what the customer asked. Here's how you responded. What could you have done differently?"
Be Proactive: Preparing for pitfalls based on past experiences is a great way to help agents navigate any future issues. Great coaching programs deliver proactive evaluations, can analzye reports and will prepare agents for similar issues.
Example: "Oh, this was a close call. What precautions can we take to effectively deal with the situation in the future?"
Be Goal-Oriented: Agents are your best brand representatives and your closest contact to customers. They can make or break brand perception. One of the biggest goals of a coaching program should involve molding your agents in a way that echoes the brand's core values.
Example: "We want to ensure clients are met by a professional, knowledgeable and friendly agent."
Establish Next Steps: Analytics-driven coaching programs pinpoint blind spots in an agent's performance. Designing customized sessions over a generic format that focuses on key problems is more effective in boosting agent performance.
Example: "Let's talk about specific areas we can focus on to move closer to our goal?"
Be Accountable: Completing the feedback loop on a session by measuring the effectiveness of the program is equally important. Transparency and documentation play an important role.
Example: "We trust you to do what you say you will do."
Put It into Practice in Your Contact Center
Using a contact center tool with the right features and AI-powered workflows can help you make informed, confident decisions.‍
‍Real-Time Agent Performance Dashboard: Automatically identify top- and bottom-performing agents across your team. Prioritize coaching for agents that need immediate help and celebrate top performers.‍
Missed Opportunities: Identify the skills agents need to improve on with a Missed Opportunities panel. Automatically understand where agents need the most help and tailor coaching programs to their needs. Track progress over time.‍
Action Plans and Documentation: Make a plan with your agent and document commitments. Automatically schedule follow-up notes and reminders to keep agents on track.
Increase touchpoints with your agents and get 100% visibility into agent performance to unlock new, undiscovered ROI.‍
Coaching Tags and Reports: Automatically track the success of your coaching programs and connect coaching conversations to operational KPIs. Make supervisors and teams lead consistent and measurable feedback. Know which coaches drive the biggest improvements in performance — and who leads the most engaged teams.‍
Coaching Forms: Bring consistency to the way coaches deliver and document feedback. Prep for coaching sessions in minutes with templates customized to your team's performance metrics. ‍
Centralized Documentation: Showcase evidence of everything your team has done to make agents successful. Track the unique development journey of each agent.
To learn more, request a 30-day trial of the Observe.AI solution.