According to BI Intelligence, about 80% of businesses will use chatbots by 2020. Juniper Research forecasts that chatbot technology will save businesses about $8 billion annually by 2022. And a BrandGarage and Linc survey revealed that 87% of businesses believe that incorporating conversational AI will help improve their customer service.
Other listed conversational AI benefits include saving money (59.4%), increasing customer lifetime value (47.8%) and enabling personal customer-to-brand interactions (39.1%).
Conversational AI will cross various touchpoints, including but not limited to, web chat, mobile web chat, mobile native iOS, mobile native Android, Facebook Messenger, WhatsApp, Slack, Skype for Business, Microsoft teams, Telegram and JABBER. And conversational AI empowers Genesys Cloud CXTM users to maintain high customer engagement with their brands by being available 24/7. When someone accesses a brand's website, social media or other digital platform on the other side of the world, some form of customer service will be available to enhance their brand using the feature-rich capabilities of the Genesys Cloud CX platform.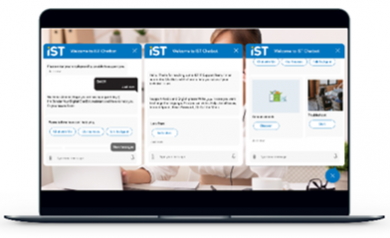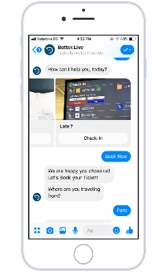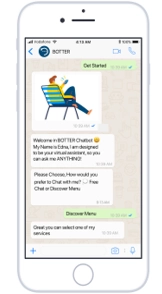 *webchat, FB messenger and Whatsapp Botter channels
These digital touchpoints are available via a plug-and-play connector. This allows businesses to eliminate huge upfront investments in new hardware and network architecture while simply integrating over the cloud platform. As a result, businesses save money traditionally spend purchasing standalone software. They also can eliminate training and retraining costs.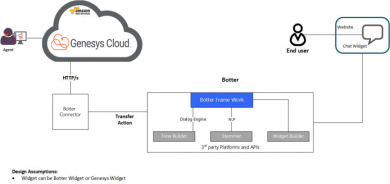 *Botter conversation AI chatbot integration with Genesys cloud
Conversational AI and Customer Empathy
Organizations that initiate an intelligent dialog with customers automate more than 90% of self-services because the human-like experience can confidently answer the interactions received. By designing a chatbot around your customers, it's not just about connectivity; the actual value of that connectivity is reinforced by understanding your customer's needs and feelings.
At IST, we understand that true customer empathy is a critical success factor. That said, the use of Natural Language Processing (NLP), combined with our advanced stemming conversational technologies, creates a conversational AI designed to be more accurate by the day and offer customers human-like conversations.
When Conversational AI is integrated into the Genesys Cloud CX platform, users can create scalable, personalized customer experiences without the need for manual logic building. The benefits of adding conversational AI goes beyond traditional customer experiences.
It empowers your business to leverage AI technology to analyze data which, in turn, allows you to make better-informed decisions. In addition, you can streamline operational processes and customer engagement — and consistently grow a profit stream for your organization.
Conversational User Interface Chatbot Builder
When choosing a chatbot solution for your contact center, the Chatbot Builder from IST is designed to ensure a human-like conversation with both conversational user interfaces and graphical user interfaces. It gives customers a drag-and-drop capability that lets users customize and build an entire enterprise-grade chatbot within a matter of minutes.
Learn more by watching this video to see Botter and the Genesys Cloud CX platform in action.
Register on AppFoundry's live webinar about IST Networks on February 26th at 8AM PST. Don't miss out!
This blog post was co-authored by Mohamed Shams. Mohamed is a Senior Product Marketing Manager at IST Networks, an 18 years of expertise in customer experience system integrations company, Shams is responsible for the marketing & product activities of IST AI product portfolio that include (voice solutions, chatbots, and RPA). Previously, Shams worked as a marketing manager for a tech software startup. Shams graduated with a Bachelor's Degree in International Business Administration with a Post Graduate Degree in Professional Marketing.