Businesses want to delight customers through a smooth service experience across every channel. But workforce and resource constraints often force businesses to turn to self-service technologies like Conversational AI — where bots, also known as virtual agents, interact with customers in their natural language. These bots understand intent and fulfill requests, or transfer customers to a live agent, when necessary.
As part of the promise to deliver Experience as a ServiceSM, Genesys believes that the ability to build these bots shouldn't be limited to a few developers. Contact center admins or managers should be able to quickly build bots through a low-coding approach. A crucial step  we've taken in this direction is being able to build bots with our native, intuitive bot builder Genesys Dialog Engine. Then you can integrate the bots with Genesys Cloud CXTM Architect, the easy-to-learn, drag-and-drop workflow builder, for various channels like messaging, inbound chat, or SMS.
Build contact center workflows into the customer journey to deliver quick and complete responses to frequently asked questions through the channels your customers prefer.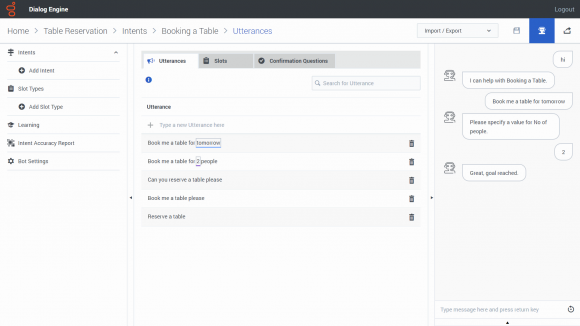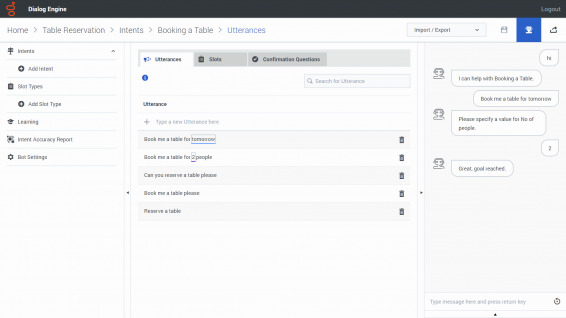 Here's an example of a table reservation bot for a restaurant. Let's take a look at how to set up the bot for your chosen digital channel within Genesys Architect.
Ensure you have the right permissions to work with Dialog Engine.
Access Dialog Engine Bot Builder Dashboard on Genesys Cloud CX, based on the regional setup.
Create a "Table Reservation Bot" within Dialog Engine with the related user intent that can capture information from the customer. Dialog Engine allows you to build these intents within the bots across the various channel in a customer's natural language — how customers naturally ask questions. Architect allows you to integrate different types of intents, whether they're conversational or information-based.
Once you've created the bot, you can access it through Architect for any specific channel, including inbound chat, SMS or email, through the flow builder.
Choose the Call Dialog Engine Bot action and the list is pre-populated with all the Dialog Engine bots that are built into the system. Architect automatically creates a flow path for each of the intents, allowing you to customize responses specific to each intent and steer the call to a human agent for complex and critical intents.
Architect also supports integration to third-party vendor bot platforms such as Google Dialog Flow and Amazon Lex. This means you can provide a unified experience to your customer through the bot platform you prefer.
Check out the Call Dialog Engine bot action article in the Resource Center more detailed instructions on how to set up the bot flow within Genesys Cloud CX Architect.