Spring is here and what better way to start fresh than a little house cleaning. In March, we focused on making the Genesys Cloud CX™ platform easier to manage, configure and navigate. More recordings, flexible scheduling and updated labels are just some of the new features available.
Resource Center Refresh
The Genesys Cloud CX Resource Center got a makeover. The new layout provides a more consistent, cohesive viewing experience. It's also easier to navigate and find helpful content and information for all Genesys Cloud CX users.
If you subscribe to the Genesys Cloud CX Release Notes, there's a new centralized home page that provides quick access to details on our weekly releases. There are no user restrictions or user access required.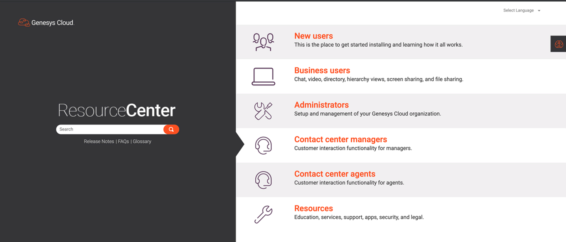 Enhancements for Supervisors and Administrators
Queue Configuration Tabs
Genesys replaced the Settings tab in the Queue configuration workflow, which contained fields for configuring both after-call work and the routing method. There are two new tabs: General and Routing. This change has no impact on functionality.
This change will improve routing workflows for a more intuitive setup and to prepare for future queue settings. The General tab now contains the after-call work configuration; the Routing tab contains the routing configuration. Keep an eye out for more on queue configuration.
Manual Assignments
Supervisors now can assign interactions waiting in a queue in the Genesys Cloud CX user interface. Users must have the appropriate permissions to manually assign waiting interactions to on-queue agents or themselves. This gives supervisors control in rebalancing or shifting waiting interactions.

Flexible Email Response Time in Flows
We've increased the maximum time for inbound and email and message flows from 24 to 72 hours. This gives administrators and managers more flexibility when configuring email and message routing based on the organization's schedules and schedule groups. Having a wait action lets you pause the email or message process for a duration — or until a time that you specify.
ACD Agent Consult Call Recordings
Administrators can now enable recording of consult calls providing quality managers the ability to assess the interaction in its entirety, enhancing quality evaluation and coaching. Often, an agent needs to consult with another agent or specialist during a conversation with a customer. When this option is enabled, the consult portion of the call is recorded as part of the interaction when agents use the Consult Transfer option to speak to another agent. During that time, the customer may be on hold with Genesys Cloud CX playing hold music. A new recording is started for the consult conversation. Genesys Cloud CX also records if all three parties are on a call together.
Increased Screen recording limits
Genesys Cloud CX has increased the concurrent screen recording limit from 500 to 2000.
Administrators can limit the bandwidth used by screen recordings by setting a maximum number of simultaneous screen recordings. This setting can be particularly useful if you have quality management policies that automatically initiate a screen recording.
Gain Actionable Insights with Ease
Content Search View for Voice Transcripts
Contact center managers and supervisors can now search for interactions that contain a voice transcript between external and internal participants. The Content Search view displays interactions that contain a voice transcript of the conversation between external (customer) and internal (IVR, ACD, agent, conference, or voicemail) participants, based on filter criteria.
Use the Content Search view to filter for specific words that are an exact match, similar to or not similar to words in voice transcripts so you can find exactly what you want.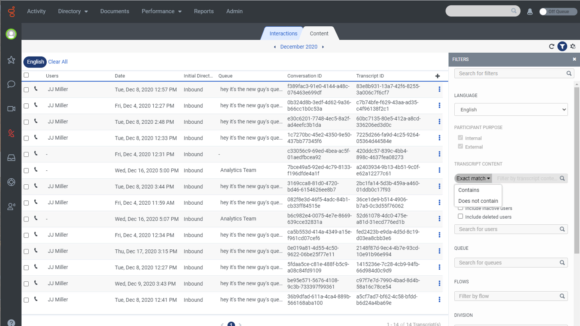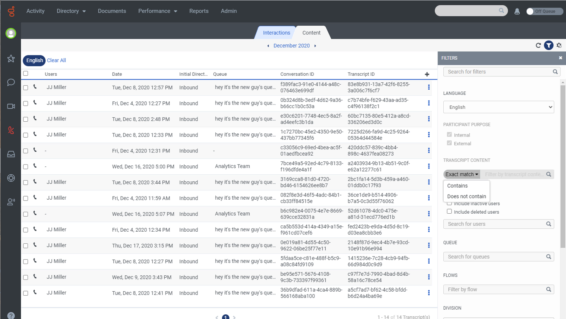 Bot Reporting
Optimize flows and create better configurations using the new bot reporting tool. Developers can use a new operational bot reporting API to gain insights into bot metrics that are supported within Genesys Cloud CX. For Dialog Engine bot flows, the API contains additional statistics to better understand bot conclusion data.
Get more detail on our March releases here. And for a full list of new features, visit the Release Notes in the Genesys Cloud CX Resource Center. If you have a question about any features, ask the online Genesys Cloud CX community or reach out to your Genesys representative.