Magical law in Harry Potter's wizarding world is so complex that no one understands it completely. A lot remains to be discovered. Artificial intelligence (AI) and its use with the customer experience is much the same. Finding the right bots for your business is a common concern as businesses evaluate multiple technologies for natural language understanding (NLU) and other capabilities to provide the answer. But it goes beyond developing a bot that simply understands what customers want.
Bots on a Flexible Foundation
In Harry Potter's world, "The wand chooses the wizard." In the customer experience world, "The customer chooses the channel."
A flexible platform enables this by letting you move between multiple channels easily. You only need to create that bot once, and then automatically consume it on other channels as desired. This platform also enables you to easily integrate with third-party AI technologies.
For example, let's say you've created virtual agents or bots within Google DialogFlow. The integration between Genesys and Google makes those bots available on all Genesys real-time channels including voice, chat and messaging channels, like WhatsApp and Apple Business Chat.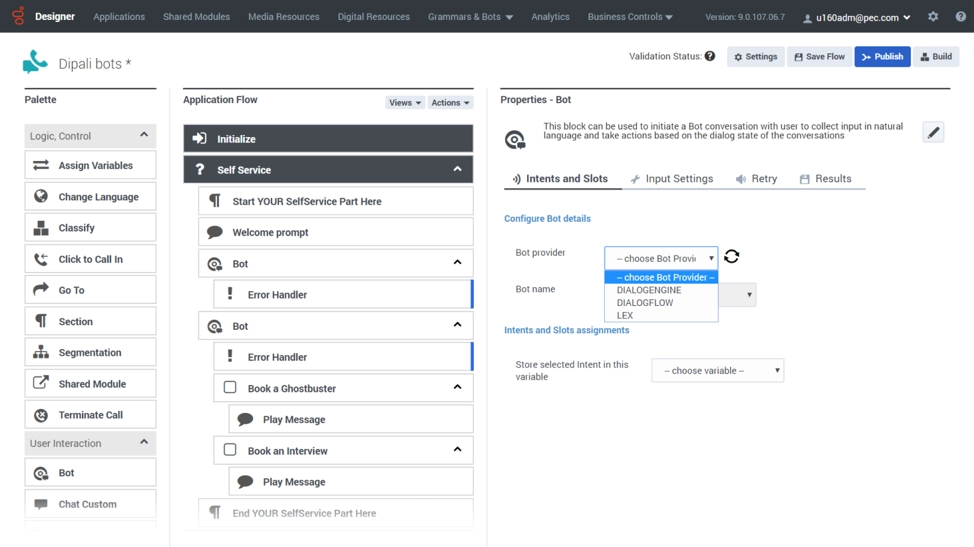 Bots With Business Logic
Even wise old wizards need training in how to control their magic — or it's not nearly as effective. In the world of AI, control is the purview of business logic.
Think about banks: They usually authenticate in different ways based on low or high security tasks. Each type of task might have a different set or number of questions. With Genesys, this logic can be easily implemented or updated using our drag-and-drop design interface.
Bots That Take Action 
According to Harry Potter in The Prisoner of Azkaban, "What matters is the part we choose to act on."  The same is true for customer experience. With proactive bots, we can be more effective in predicting and choosing to engage and act at the right time using the right channel.
Suppose that a business uses Genesys or any third-party NLU to identify customer intent, such as bill payment. Genesys can orchestrate that interaction and act on the intent by triggering the bill payment application using a prebuilt microapp or by sending the customer to an agent to pay the bill – whatever action you define.
"Genesys helped easily offer new ways to communicate with customers with Watson as the first point of contact. About 85% of our service is through artificial intelligence," said the Head of Customer Experience at Bradesco NEXT.
This is the true power of AI. It's not just about understanding what the customer wants. It's being able to do what they want. Start with the right foundation and you'll be a wizard of customer experience in no time.
Take the Next Step
Get hands-on experience in our on-site build a bot workshop – offered at no cost. You'll meet with Genesys experts and identify the right AI application for your business needs. And, you can keep your personalized chatbot or voicebot for 30 days.
Sign up for a Build a Bot Workshop and take action for personalized customer experiences.