Customer demands are evolving and contact centers are challenged to keep up. Customers want to engage with companies in the channels they prefer. They expect efficient, personalized service. When they reach out to a company, they expect their problem will be resolved or their questions answered quickly — the first time. But in a tough post-pandemic job market, many contact centers are understaffed and contact center agents are overloaded trying to meet rising customer expectations.
Implementing artificial intelligence (AI)-powered solutions in the contact center can take some of that burden off agents. It gives customers the power to self-service for certain interactions. This empowers agents, gives them time to focus on more complex and personalized interactions, and makes their jobs easier.
But finding the right AI-powered solution for your business is key to success. It's important to align with the right technology partners to face industry challenges and meet business outcomes. The combination of Genesys and Google Cloud technologies allows companies to up their customer experience game.
Google Cloud Contact Center AI (CCAI) brings its machine learning (ML) and natural language processing (NLP) intelligence to the Genesys Cloud CX™ platform, providing a single agent interface, supervisor tools, automated interaction routing, outbound, scripting, real-time reporting and analytics, and workforce engagement management to global contact centers. But the benefits go beyond that.
There are a few unique differentiators contact centers get compared to basic bot suppliers.
Virtual Agents with Dialogflow
Broader support with 45-plus languages as well as regional variants and geo-specific hosting
Short- and long-form conversations with multitrack flows for more human-like conversation handling
Built-in CI/CD tools and bot diagnostics for simpler maintenance
Ongoing ML-based automated improvements in intent matching, reducing bot training effort
Agent Assist
Support for 45-plus languages and variants, which maintains the highest transcription accuracy in the marketplace
Articles pushed to agents in real time based on conversation context, giving them quick answers to questions without the need to search for it
High-quality call summarization out-of-the-box, which reduces close time by over 90%
Insights
Call transcript auto-labeling for specific customer taxonomies to identify why certain types of customers are contacting your business
Topic modeling based on ML-discovered trends and keywords eases the administration by learning as it goes
Direct integration with both Google Cloud Dialogflow and Agent Assist helps you identify how you can make improvements to your AI strategy
Integration and Setup
Customers can implement AI without tying up their entire development team. In fact, they don't need to do any coding.
They can follow the setup processes outlined on the Genesys Cloud CX Resource Center; much of this process can be completed within an hour. The full Genesys Cloud CX administration suite uses the same console for configuring queues, routing and other contact center functions.
The Genesys Architect design tool simplifies two key integrations with Google Cloud CCAI: Dialogflow ES and Dialogflow CX (as shown below).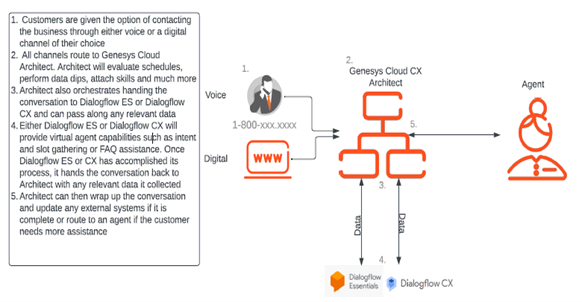 Whether you're using it for voice, chat, messaging or another channel, Genesys Architect provides external data dips, business schedule evaluation, advanced routing logic and more. It also orchestrates the optimal moment within a customer interaction to offer a virtual agent.
And to leverage the Google Cloud NLU engine, Dialogflow, you drag a block into a flow builder and then specify the virtual agent you want to use. Bi-directional communication captures and forwards vital data, such as customer intent. This enables Genesys Architect to improve routing decisions, update third-party systems, or trigger another virtual agent to assist.
Knowledge and Continual Learning
With capabilities like real-time knowledge article surfacing, contact center managers can improve customer outcomes. Google Cloud Agent Assist provides an agent interface and NLU engine that enables real-time knowledge article surfacing. And the Google Cloud engine becomes smarter over time, constantly updating the knowledge base from actual usage insights captured during live customer interactions.
Google Cloud Storage (GCS) provides an easy way to host and store knowledge articles and FAQs. If you already have a robust knowledge base, you can host an index to your knowledge base in GCS and keep the knowledge base where it's located.
Agent Assist grabs that content and builds a thorough knowledge base, which can be linked via a conversation profile to the assistant feature enabled within Genesys Cloud CX. This significantly reduces the time agents have to spend searching for information by surfacing answers and articles based on the topics discussed on the call.
What Good Looks Like
Like many innovators, Italian energy provider Eni Plenitude had to break new ground. When building its voicebot Lucilla, the company needed to be sure the system understood the subtle nuances of the Italian language, such as when customers pronounce meter reading numbers differently over the phone.
With Genesys and Google Cloud Dialogflow, Lucilla correctly identifies the customer in more than 80% of cases and successfully routes 90% of calls to the correct agent on its first attempt. Results include a 30% reduction in agent callbacks and a 30% increase in Net Promoter Score (NPS).
Electrolux, one of the world's largest home appliance manufacturers, competes in a fast-changing market where customers regularly switch between visiting stores and shopping online.
Now voicebots and chatbots powered by Google Cloud Contact Center AI detect customer intent and suggest self-serve options, or intelligently route calls to the specialist with the right skills. Once engaged with an agent, knowledge is automatically surfaced from the company's SAP C4C and knowledge management systems. This ensures they have all the information needed to resolve the customer's particular issue — and that reduces agent frustration. Plus, supervisors have better visibility into interactions. Now, managers use call and screen recordings to accurately pinpoint coaching opportunities.
Results include bot intent recognition of over 75%, a 45-second reduction in wait time. Electrolux also saw improved FCR, NPS and employee satisfaction scores.
Become a CX Innovator
Genesys customers looking to create market-leading self-service or improve the contact center agent experience can sign up for the Google Cloud virtual self-service workshop. It only takes a couple hours to create a Dialogflow CX bot integrated with an Architect flow, plus a Google Cloud Agent Assist integrated with Genesys Cloud CX.
More than 100 organizations have chosen Genesys Cloud CX with Google Cloud CCAI solution — and the numbers continue to increase. In addition to unrivaled self-service experiences, these companies enjoy advantages around integration, DevOps, real-time transcription and article surfacing, language support, and more. And that boost their savings and improves the customer experience — the true differentiator for businesses.
To learn more about Genesys Cloud CX, request a trial today.
Michael Hoch, Head of Alliance Partnerships, Google Cloud, also contributed to this article.