At the start of 2020, we announced that PureCloudTM would be renamed the Genesys CloudTM platform. Over the last several months, we've been rolling out Genesys Cloud branding changes to the product interfaces, installers, websites, documentation and support tools. And we'll continue those changes into 2021. Additionally, we'll review requirements around changing the domain name.
Because this will have a greater impact, we want to be sure to have all the necessary details and plans around what's best for our customers. You can rest assured that we'll provide plenty of notice before any development efforts. It's important that all Genesys Cloud users are ready when domain name changes are rolled out. We'll share more on this in the coming months through the weekly release notes and monthly blog series.
November was a short month, with much of the world celebrating holidays. But development on Genesys Cloud is continuous. Here are some of the new Genesys Cloud features delivered during November.
New in Artificial Intelligence (AI)
Genesys Virtual Agent Services powered by Google Contact Center AI (CCAI) is available for purchase as a premium application from the AppFoundry Marketplace. This package gives users a streamlined installation, plus full integration with the Genesys Cloud billing system. With consolidated billing, administrators can track pricing and usage data across the organization in a single bill for both Genesys and Google accounts. For more information, check out Genesys Virtual Agent Services on the AppFoundry Marketplace.
Dialog Engine offers conversational AI capabilities as a native Genesys Cloud service, including AI-powered chatbots and voicebots. Enhancements in Dialog Engine give administrators greater control over bot versions. Chatbots and voicebots continually evolve as you fine-tune the models and add new business requirements. With bot versioning, authors can back up bots and roll back to an earlier version, if needed. For more information, read about Versioning bots in our Resource Center.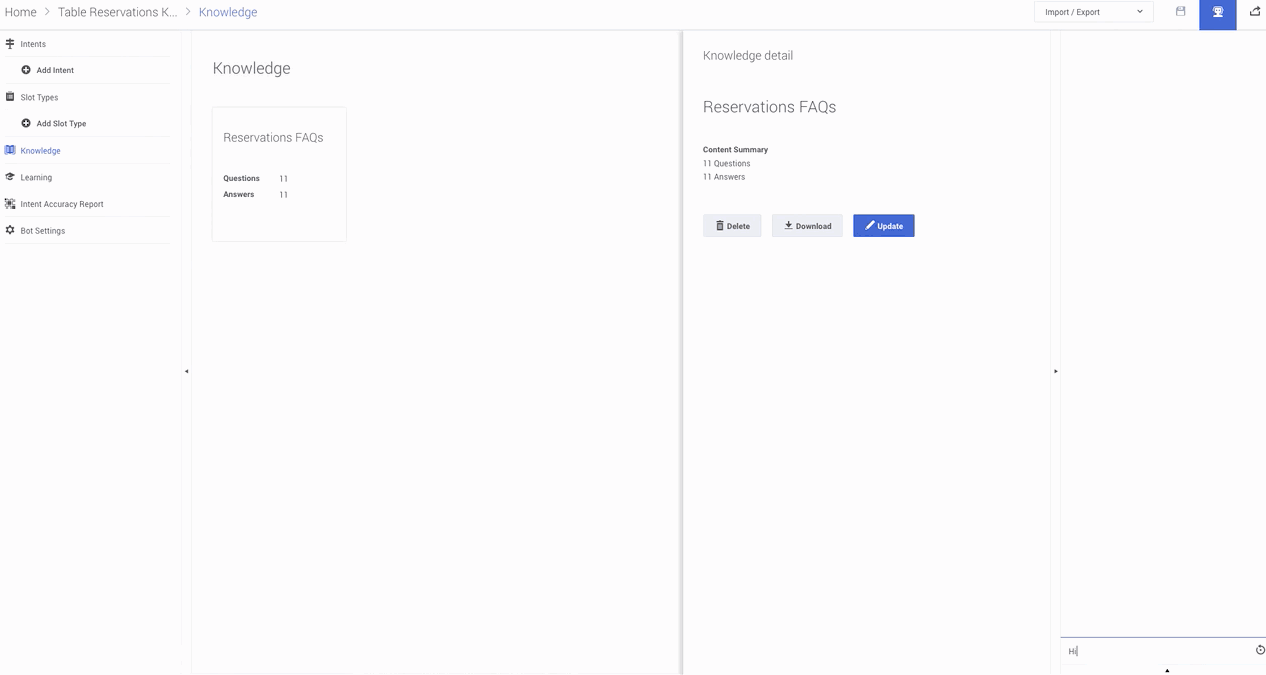 Agent-Owned Outbound Campaigns
The new agent-owned outbound preview campaigns feature is especially critical in organizations where sales or collection representatives rely on account-based commissions. This means agents and sales representatives are assigned outbound calls only for records or accounts they own. Administrators can set up agent-owned outbound campaigns by enabling preferred agent routing in Genesys Cloud.
Interaction Enhancements for Delivering a Better Customer Experience
Speech and text analytics improvements include lowering the minimum confidence level default for words appearing in the transcript tab from 60 to 40. By lowering the confidence level to 40, more words will appear in the transcript tab, which creates a better overall customer experience. We appreciate all of the great feedback from users in the community as we roll out new features like speech and text analytics. Speech and text analytics capabilities are offered with the Genesys Cloud 3 user subscription.
Service-level calculation enhancement allows administrators and contact center managers to choose to include or exclude abandons in service-level calculations. Tracking abandons as part of your service levels can offer unique insights into queue performance. However, there might be situations where tracking abandons in service-level calculations aren't appropriate. You now have the flexibility to determine when — and if — they're included.
Interactions panel improvement allows for greater flexibility when switching between multiple interactions. When an agent switches between multiple interactions, the right-hand panel will reflect the interaction tab in focus versus defaulting to the external contact profile. The external contact profile tab is auto-selected only after the agent accepts an interaction.
New for Administrators and Developers
Access partial availability timestamp in the Analytics API lets developers look up the data lake availability date and time. For more information, see the availability timestamp Analytics API in the Developer Center.
CIDR IP address range for cloud media services provides enhanced security with a smaller range of IP addresses that administrators add to the allow list on their firewall for outbound connections to and from telephony endpoints. Customers using the Amazon Web Services (AWS) IP address JSON file should configure their firewalls to allow access to the new CIDR IP addresses soon. This will ensure their organizations are ready for the early 2021 cutover. For more information, read about the CIDR IP address range for cloud media services.
For a full list of new features, visit the Release Notes in the Genesys Cloud Resource Center. If you have a question about any features, ask the online Genesys Cloud community or reach out to your Genesys representative.