It can be tough to keep up with the weekly release notes for the Genesys Cloud™ platform. To make it easier for you, we've compiled a monthly list of the top feature releases for the platform. This quick, 10-minute read will catch you up on what was new in June 2020 — and why it matters.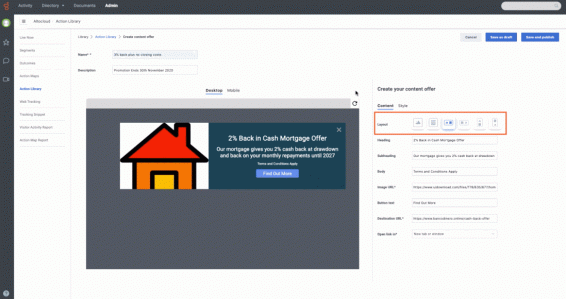 Upload and Preview Images with Content Offers in Genesys Predictive Engagement
Embrace the power of images for more effective prospect and customer engagement. Upload and preview images when building content offers in Genesys Predictive Engagement to better inform and persuade your audiences. This feature enhances existing functionality that allows you to easily configure the look and feel of your content offers.
See and Contextualize Which User Actions Drive Desired Business Outcomes
Four new Architect flow actions for Genesys Predictive Engagement were added to retrieve customer journey data and inform agents on user actions that contribute to desired business outcomes. For example, you can map out a customer's session history to learn which pages the customer visited and then provide the best resource available — all while seeing how those user actions drive a specific business outcome, like completing a purchase or filling out a CTA form, in real time.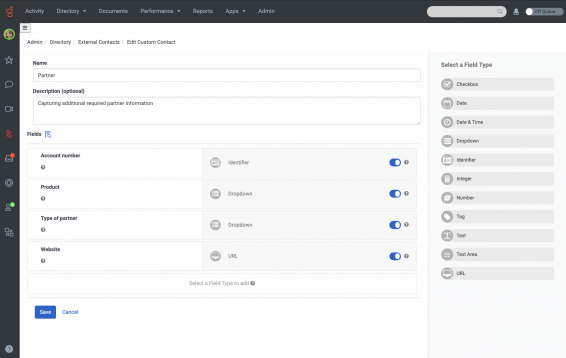 Leverage Custom Information About Your Customers to Personalize Experiences
Create custom fields for external contacts and organizations that allow you to provide a more personalized customer experience. Suppose that your company offers a reward or VIP program. Now, you can add a membership ID and other associated data to a contact and create custom experiences for customers enrolled in that program. For example, you can route those customers to specific agents who can best assist them.
Template Messages for Agents Using WhatsApp
Facilitate and provide better alignment to your prospect and customer interactions on chat at any given time with pre-approved, structured messages. Agents can use template messages to respond to inbound messages inside and outside the 24-hour customer care window.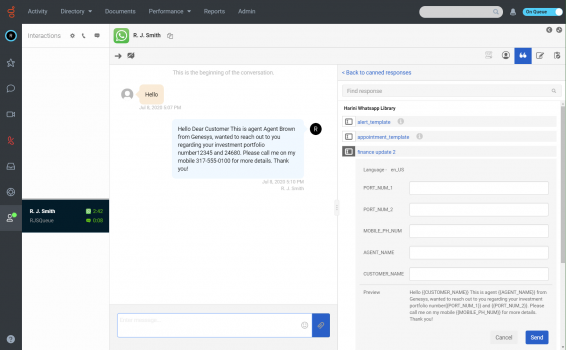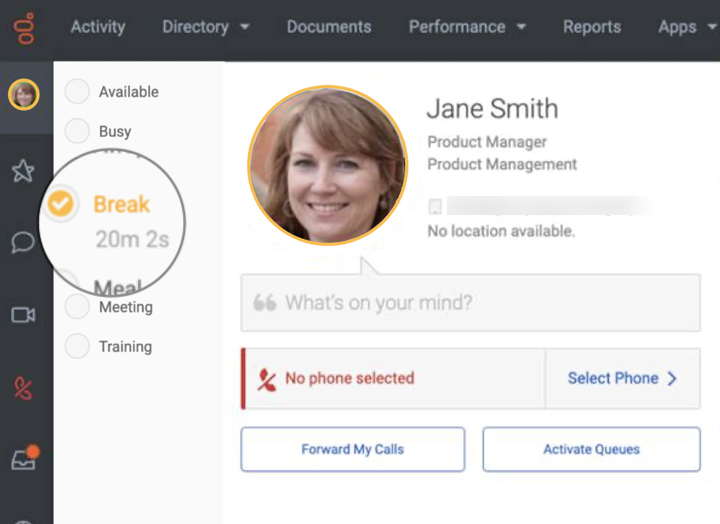 Agent Status with a View of Time Elapsed
Agents' statuses now show the time elapsed in the current status to help agents easily keep track of the time spent on their breaks and lunches.
Continued Improvements in Reporting Capabilities
Genesys Cloud continues to include new filters and columns across its reporting views and dashboards, as well as new metrics and API dimensions. New available metrics like occupancy, provider and digital-flow data give contact center managers and supervisors a more granular view into performance.