The Genesys Cloud™ platform continuously releases new features and capabilities so you can deliver the best experiences to your customers and employees. This article gives you a quick look at some of the releases from last month, including the new voice transcription feature that allows agents and supervisors to view voice interactions as text. In addition, Genesys Cloud integrates with the Adobe Experience Platform. So, it's never been easier to access the latest tech and deliver great customer experiences.
Deliver Contextual CX with the Adobe Experience Platform Integration
Joint Adobe and Genesys customers can visualize key unified customer information on the agent desktop, adding real-time context to frame the customer conversation. From Genesys Cloud, users can pull in select customer profile data from Adobe Experience Platform (AEP), including information on campaigns, demographics, product transaction history, product holdings and lead status. This allows businesses to personalize their customer engagements in real time. If there's no existing profile in Genesys Cloud, Adobe can create one.
These enriched customer profiles connect sales, marketing and service engagements to empower agents to express empathy, troubleshoot issues, up-sell, cross-sell and improve KPIs.
Improve Customer Interactions with Voice Transcription
Having voice transcriptions of customer calls is a game changer for improving customer interaction quality and satisfaction. With it, agents can deliver a smooth customer experience by overcoming possible challenges with connection quality, differences in customer accents, audio volume or other variables. Voice transcription facilitates employee training and quality management for managers and supervisors. This feature is currently available for US, UK, and Australian English as well as US Spanish; we'll continue to expand to other languages. Learn more about best practices for voice transcription here.
Sentiment analysis tagging and scoring is also available in the API — and coming soon to the user interface. Sentiment analysis gives agents and managers insight into a customers' satisfaction levels during an interaction. Positive, negative or neutral sentiment markers let you quickly understand what's driving both good and bad experiences and take action to reward or improve performance.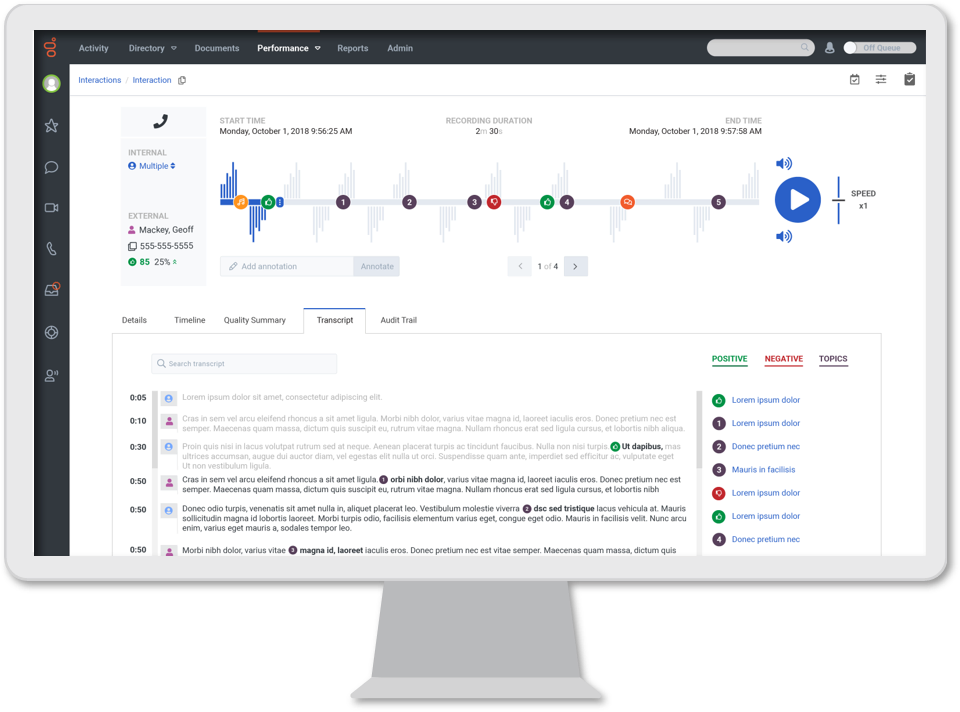 Quickly View Changes, Events and Access to your Genesys Cloud Org
A new audit log viewer lets you easily see a wide range of events in your Genesys Cloud organization configuration. You can see users log in and log out, workforce management schedule changes and more.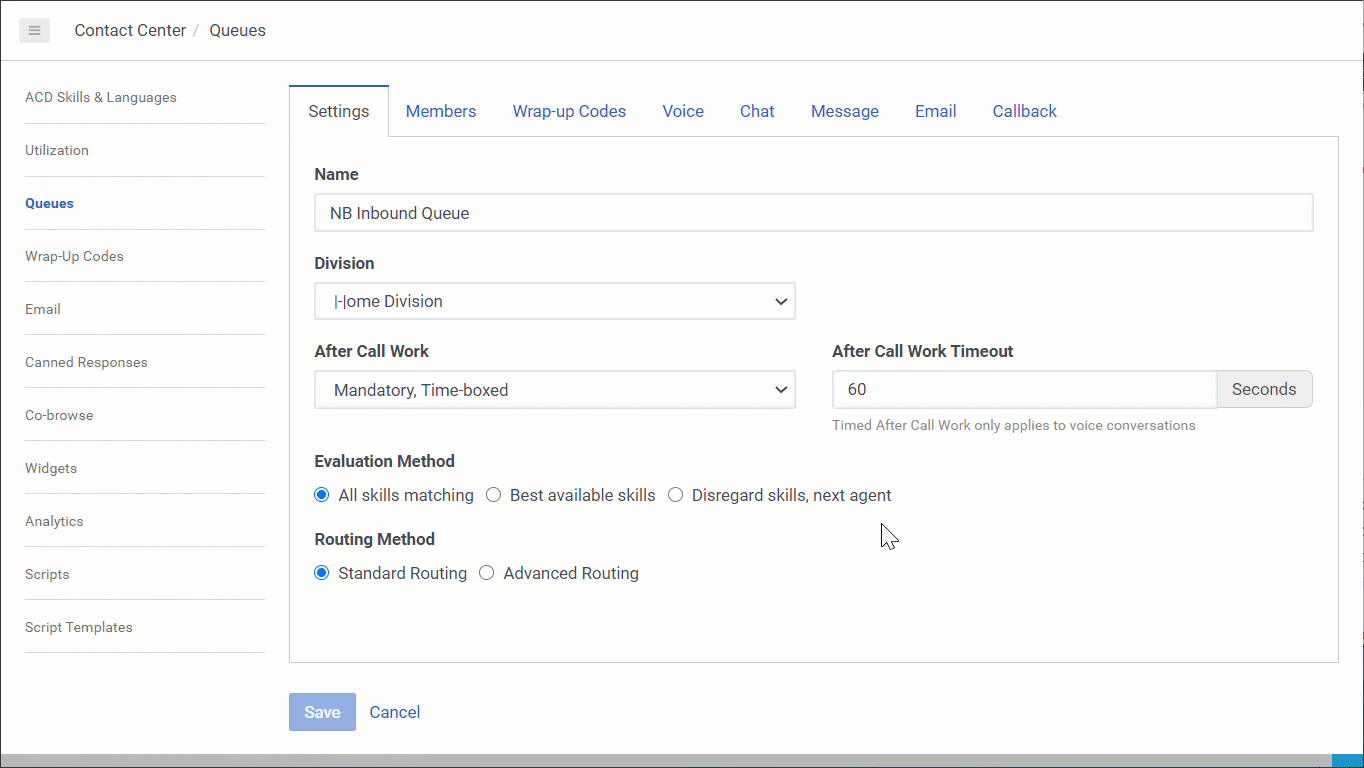 Gain More Visibility Into Agent Status
Contact center supervisors can view an agent's secondary status in Adherence views, including Real-Time Adherence, Historical Adherence and Schedule views. Adherence views let supervisors see how agents align with their planned schedules.
By adding a secondary status, such as agent training or off-queue attendance at a team meeting, you'll gain greater insights into your agents' overall activities and productivity. And that facilitates better resource planning in the short and long term.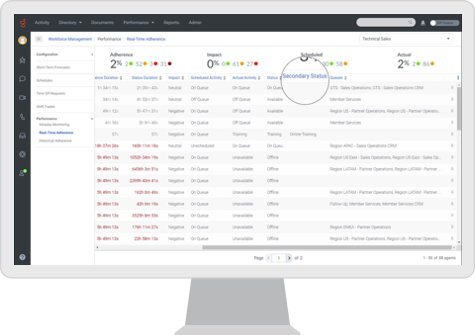 More Features and Enhancements for Integrations
Administrators can create custom actions to act on data in Google applications, including Google Cloud and G-Suite
More Salesforce integration enhancements for developers including an SDK that allows custom actions, such as routing of Salesforce emails through Genesys Cloud
Greater flexibility in selecting a text-to-speech (TTS) provider to use with bot integrations
Enhanced capabilities to easily retrieve external contact entities like contacts, organizations, notes and relationships
For a full list of releases in Genesys Cloud, visit the Release Notes in the Genesys Cloud Resource Center. And if you have a question regarding one of these or other features, ask the online Genesys Cloud community or reach out to your Genesys contact.