Every day, more people join social media channels — and Instagram is no exception. Currently, Instagram has over 1 billion users, 90% of whom follow a business' Instagram account. So, it's imperative for companies to invest in this social media channel as a part of their customer experience strategy.
From building your own business community to answering customers' inquiries, Instagram could be the key to strengthening relationships with existing customers and prospects. Having the right strategy to not only talk to your customers but also interact with them can be the differentiator you need to win business.
Instagram Direct Messages (DMs) allow you to have those one-on-one, customer-to-business conversations that boost customer engagement and provide the privacy the Instagram comments section lacks.
Expanding Customer Interactions on Instagram
Customers expect to be able to reach your business on their preferred messaging and social channels. Failing to offer that personalized, consistent experience across every interaction can potentially damage your customer relationships, tarnish your reputation and cost you valuable revenue. To deliver these seamless, personalized experiences, the Genesys Cloud CX™ platform now supports Instagram DMs.
With Genesys Cloud CX, you can engage anytime, anywhere, and on any channel — from a single platform. And you can do this all while driving revenue, building trust and breaking down silos between marketing, sales, and service. In the end, this empowers you to orchestrate experiences to better serve customers — no matter where they are in their journey.
How Instagram Direct Message Integration Works
Customers get in touch with companies for numerous reasons, including to learn about a product or service, resolve an issue, or share a bad experience. Instagram DMs make it easy for customers and businesses to privately exchange texts, photos, videos, posts or stories.
Direct messaging presents a great opportunity to introduce new products or services, up-sell or cross-sell, provide guided buying experiences, and gather valuable feedback from your customers and prospects. You can leverage Instagram DMs in Genesys Cloud CX to create meaningful relationships, boost your customer experience and build brand loyalty.
Genesys Cloud CX for Instagram Direct Messaging integration provides a way for your customers to send messages to your Instagram professional/business account. These customers can use Instagram Direct Messaging to interact with your agents using Genesys Cloud ACD messaging channels.
To do this, log into Facebook through Genesys Cloud CX and configure a few settings to connect the Genesys Cloud CX for Instagram Direct Messaging integration to your Facebook business page.
Genesys Cloud CX messaging enables you to respond to customer interactions received from Instagram DMs asynchronously, just like other third-party messaging channel, such as WhatsApp or Facebook Messenger.
Messaging interactions look, feel and operate like other Genesys Cloud CX ACD interaction types; they allow customers to have a direct conversation with you via your customer service employees.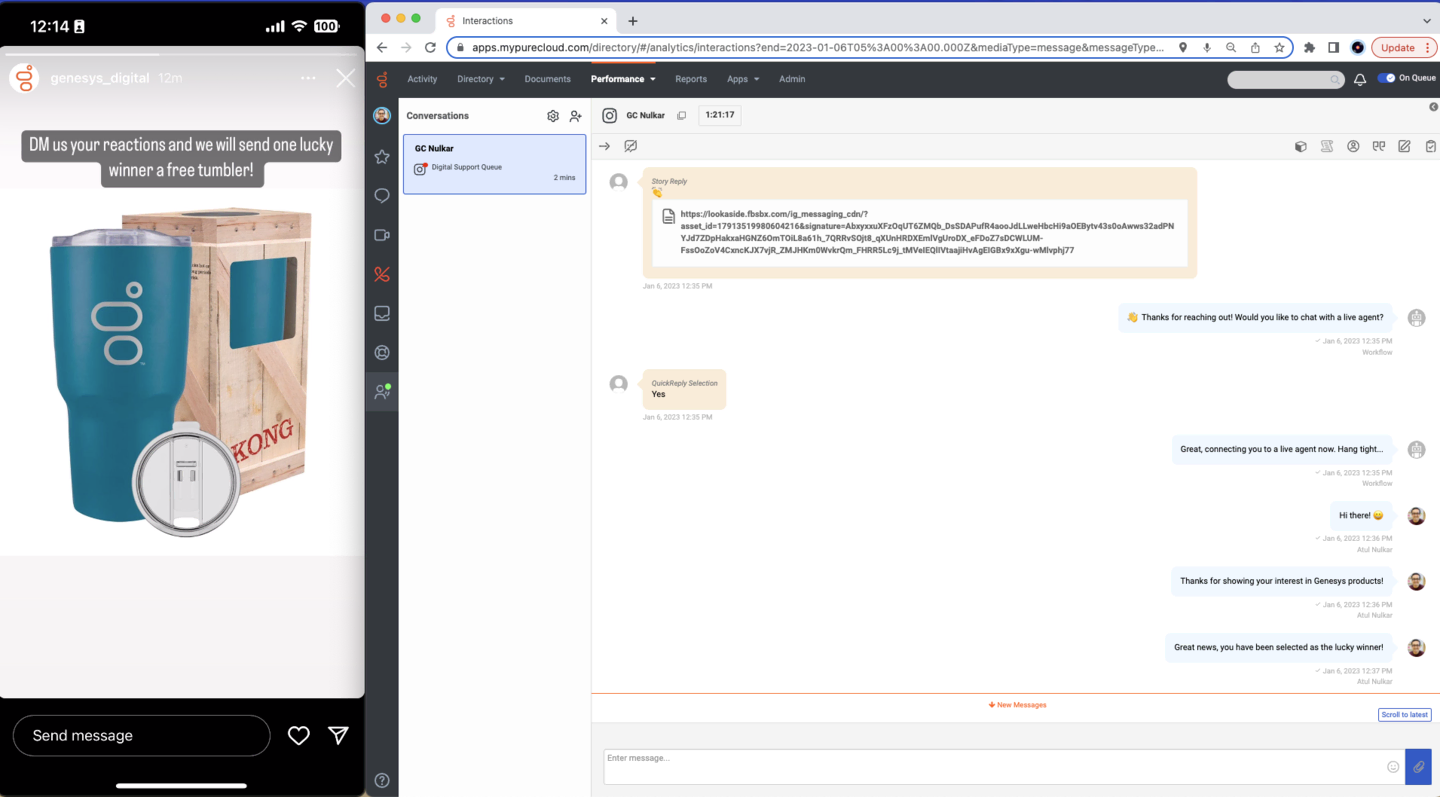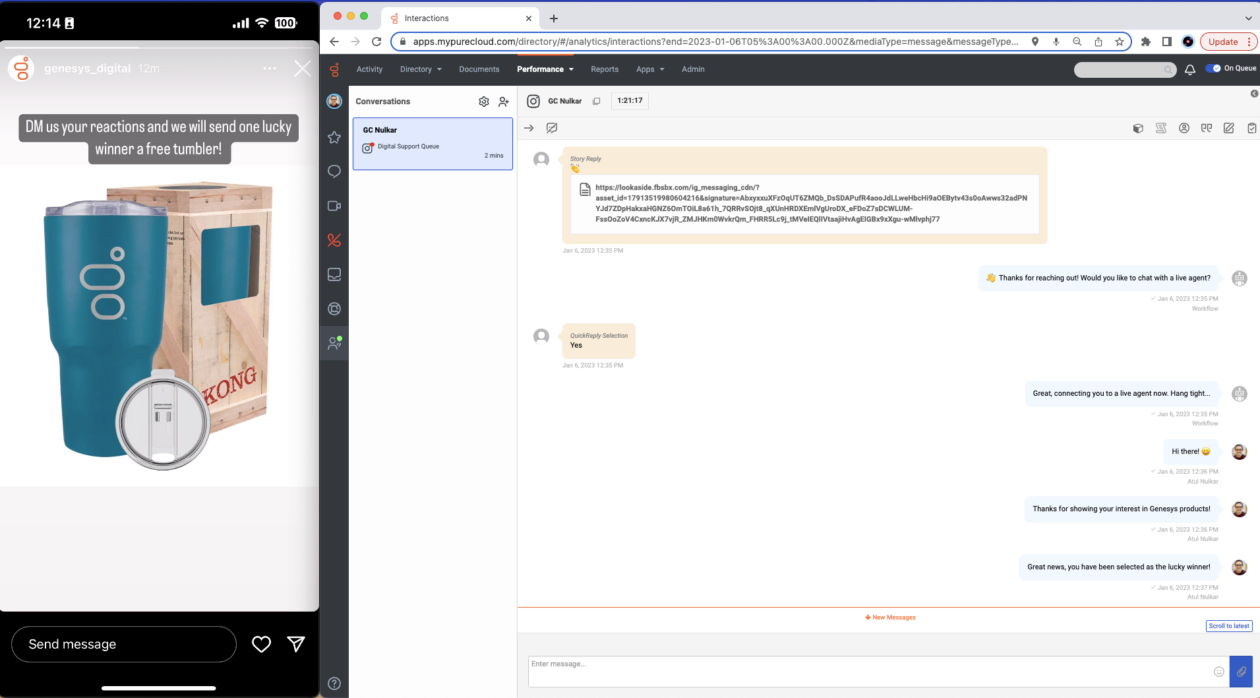 Genesys provides a unified agent experience for message interactions. Using the Instagram message channel icon in the notification panel and top interactions bar, you can identify which messaging channel the agent is working in.
Contact center agents can receive regular text messages, emojis, photos, audio, videos and links to posts. They can also respond to conversations that started from story mentions and story replies. When responding, agents can use text, emojis, images and videos and deliver them privately to customers or prospects in their Instagram DM inbox – in either the web version or on the mobile app.
In addition, an Instagram professional/business account user can be notified when someone mentions them in a story. When this happens, the customer service agent on queue who's representing the business will receive a message in Genesys Cloud CX as a link referencing the story the customer posted. Similarly, if the business has created a story in its Instagram professional account, and customer or prospect replies to the story, a Genesys Cloud CX agent will receive a private message with a link to the story.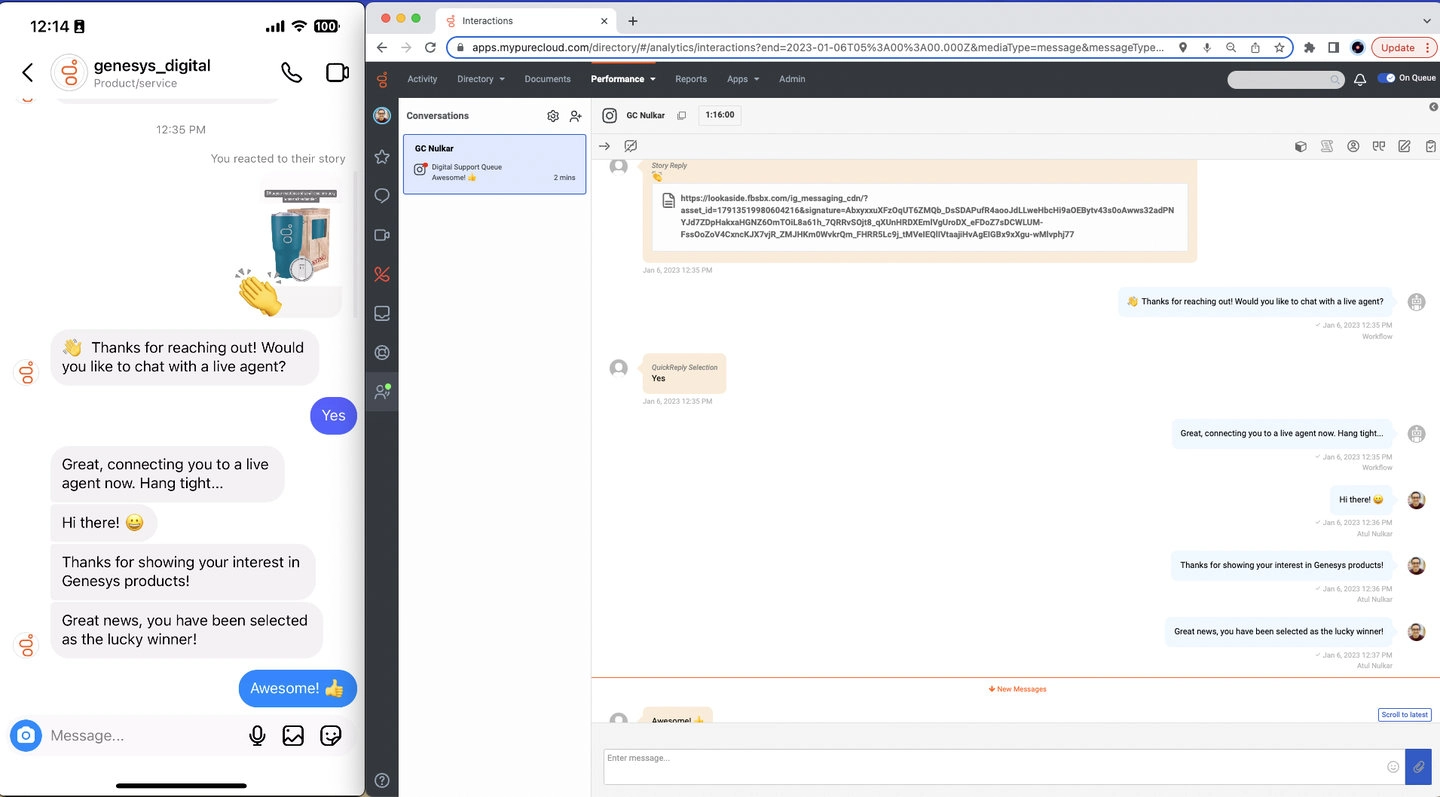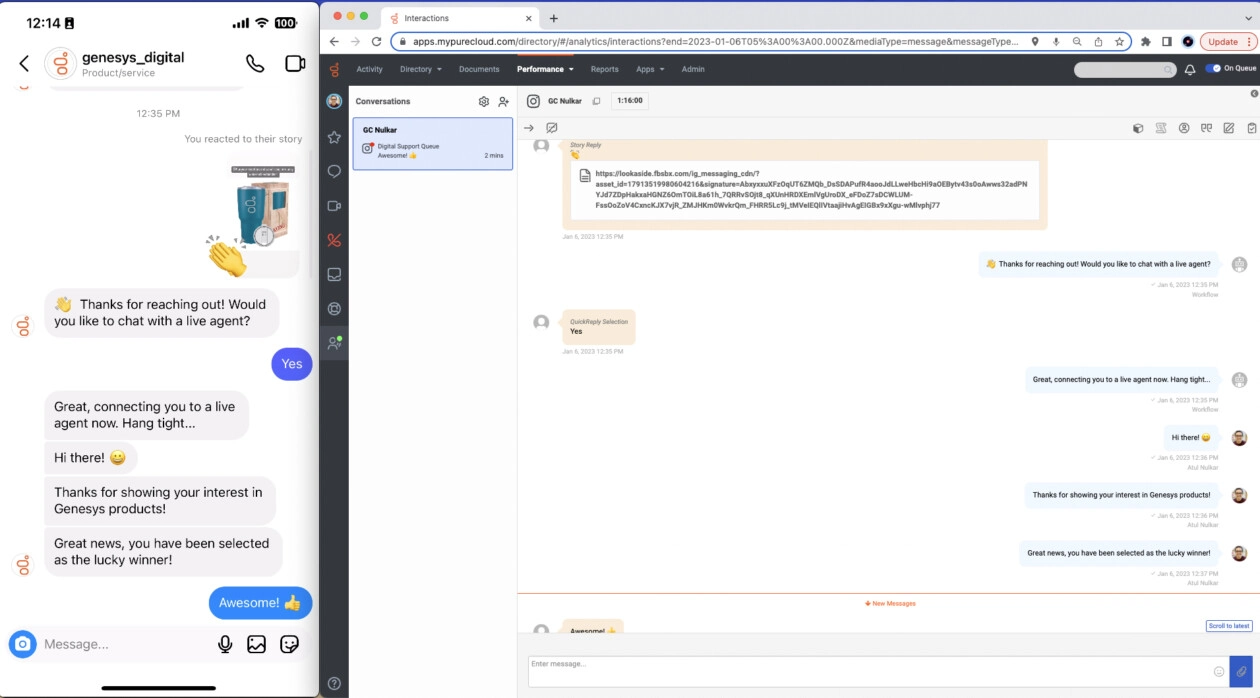 Businesses can also leverage bots to deliver "Quick Replies" and structured messages in the form of Rich Cards and Carousels (aka Instagram Generic Templates). Quick Replies offer predetermined prompts that customers can choose from to get answers and information quickly. These replies can help guide your conversations, increasing your ability to respond to more messages. Check out this Resource Center article for more details on the Instagram channel capabilities as well as bot support for different media types.
Instagram mobile and web apps allow users to unsend direct messages. Genesys also deletes any messages that users unsend — and those messages won't be available as part of the interaction history.
You can also view your in-progress or completed Instagram interactions in Genesys Cloud CX. The interaction details page provides a central location for viewing more information about that interaction and completing tasks related to it. It shows the interaction overview, which is a visual representation of the interaction and the details of the interaction in tabbed pages.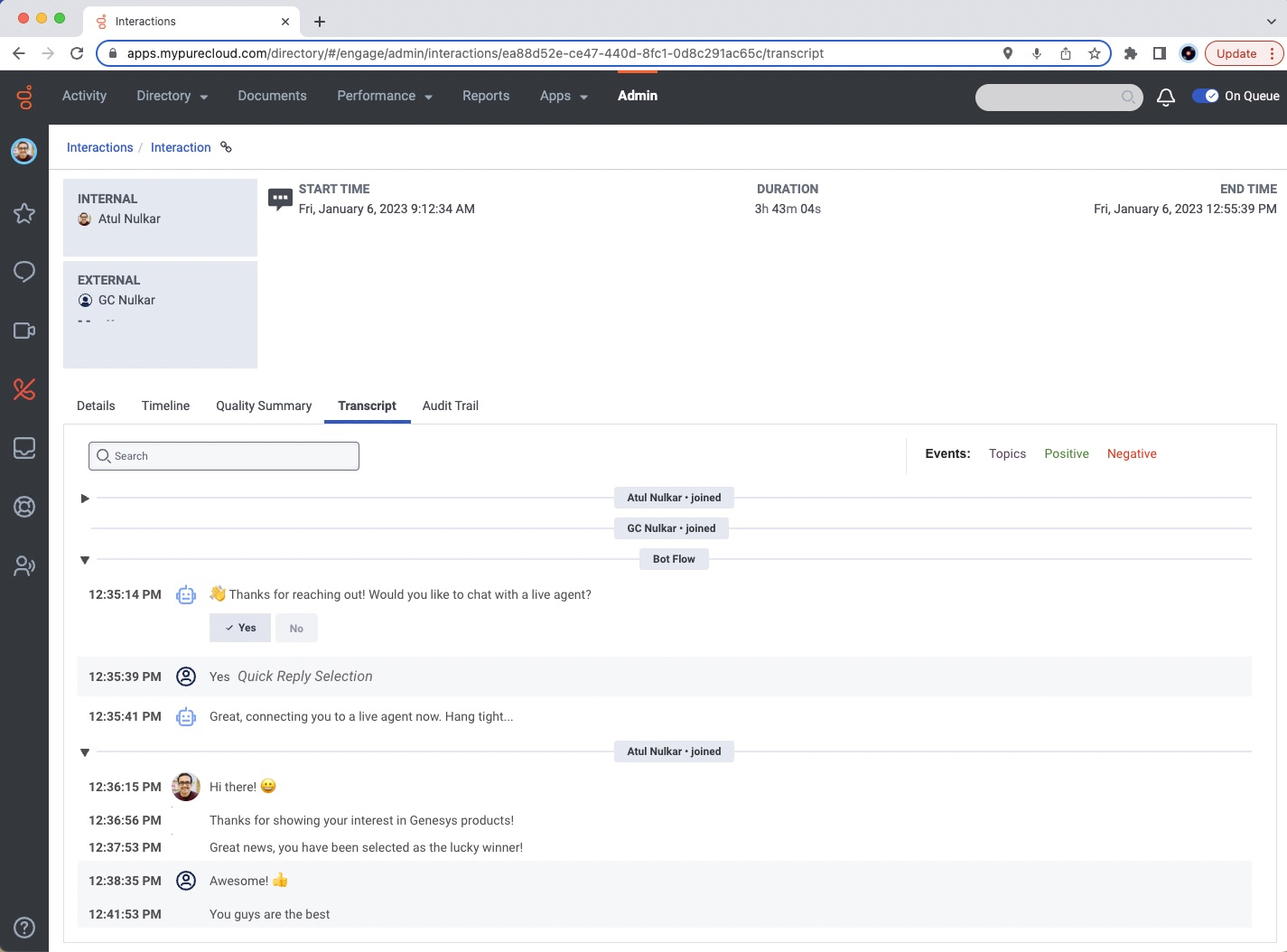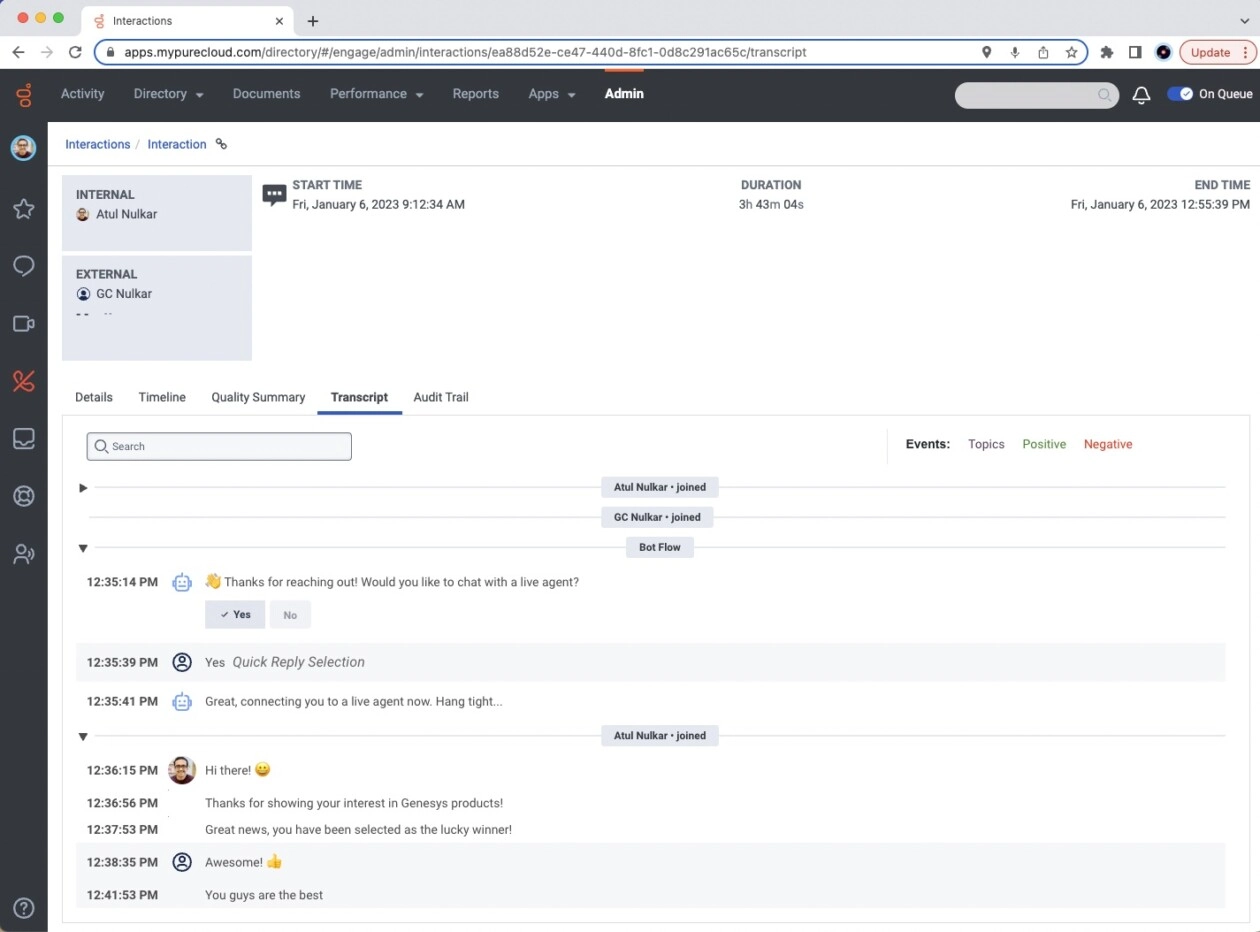 Personalize Instagram Interactions and Drive Seamless Customer Journeys
Empower your prospects and customers to get the help they need with digital experiences that make their journeys smoother — every step of the way. And you can help your customer service team thrive with a unified agent desktop and artificial intelligence-powered assistance and collaboration tools.
These are all available in a quick-to-implement and easy-to-use solution that helps reduce customer and agent effort while improving efficiency. Check out this Resource Center article and learn more about how to enable Instagram DMs on Genesys Cloud CX. And check out this practical guide on SMS and messaging apps to learn how you can make it easier for your customers to connect with you.