In my previous blog, we discussed some practical examples of how to leverage the short window at the right time with predictive engagement. In this blog, I'll explain how you can use the latest engagement technologies to work smarter — not harder.
Once you have visibility into all of your customers' online visits (with a little embedded code called a "Snippet"), you can use artificial intelligence (AI) to track the journeys of individual visitors. Then you can identify the best moment — and ways — to engage with them.
Here are three common ways businesses engage with prospects in real time.
Launch a Voicebot or Chatbot
There's no best method for every sales interaction or support case. The most effective way to engage depends on the customer's need, preference, real-time behavior and intent. For example, if a customer generally is on track, but needs more information or guidance, then a chatbot or voicebot can probably handle the issue.
If a prospect is looking at a high-value item, but actions suggest indecision or hesitation, a human agent might be a better choice. Only humans offer positive emotional support to uncertain prospects or customers. This can help them continue their buying journeys and feel confident about the product or service they want. You can apply the same idea when the customer has been identified as a churn risk. In this case, human engagement has a much better chance of saving the customer than a bot does.
In some cases, the combination of multiple methods (e.g., blending bot and human resources) is the best way to keep the customer on track. This requires a seamless handover between bots and humans.
Pop-Ups With Personalized Content
Content offers are sometimes enough to keep prospects on the site or pull them back to their original buying path to purchase. The content offer method can be applied to display knowledge articles, guidance or recommendations. The most effective content offers pop up at just the right time to keep the prospect on track. Consider varying the type of content offers, including:
Image-only content
Text-only content
Combination of image and text
AI-triggered content offers typically include a call to action, a link that redirects the customer to the desired landing page.
With most content offers, you can:
Provide a promo or discount code
Prompt tips, clarify possible questions or deliver better guidance about how to complete the required forms
Show alternative or complimentary product offerings
Welcome and engage returning visitors and offer to continue their journey where they left off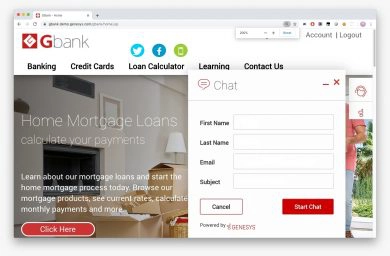 Connect Your Best Available Human Agent
Combining bots, content offers and human engagement in the right mix — and in the right order — can generate the best result. But this is only true if the customer context can be shared across the entire engagement. Instead of managing hundreds of static rules on your website, you can apply machine learning to continuously and automatically adjust the decisioning about how to engage the customers to ensure the best possible outcome.
Learn how Genesys Predictive Engagement can do all of this in an orchestrated manner, across sales and service use cases.
In my next blog, I'll share details on how to integrate predictive engagement with your existing CRM and Martech ecosystem to deliver better sales and service engagements.
Catch up on the first blog in this series, "Win Over – and Keep – Prospects with Predictive Engagement."