This blog post was co-authored by Genesys technology partner, Brightmetrics.
The COVID-19 pandemic turned our worlds upside-down . Like most businesses, you likely had to put an emergency plan in place to get your contact center agents the technology and resources they needed to work from home. The next step to a successful contact center is to measure agent performance.
Improved Agent Performance Leads to Customer Satisfaction
It's important to set clear, metric-driven goals and expectations for your contact center agents. Understanding how your agents are performing is the first step. Every operation is unique; you need to find the right mix for your team. We recommend using the following data points and calculations as a starting point. Once you understand your contact center's averages, you can set goals and expectations for your agents.
Data

Interactions
Talk average
Hold average
After-call-work average
Total average

Calculations

Efficiency
Adherence
Quality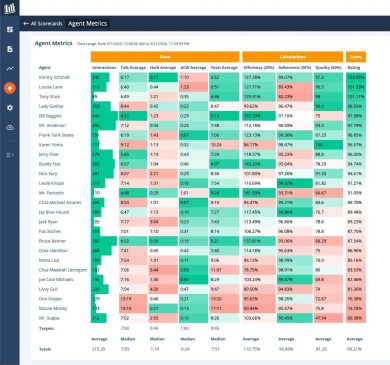 But setting goals is just the beginning. The time-consuming step is spending countless hours, on a regular cadence, pulling together the data for each of your team members to know where they stand in relation to those goals — or relative to the rest of the team. This continuous feedback is crucial for your team's performance and their morale.
"Clear and quantifiable agent performance standards also have a positive impact on job satisfaction."
– Jeff Rumberg, Metric Net
Measuring performance isn't the only factor that contributes to your agents' happiness and satisfaction. However, it does contribute significantly to the sense of purpose and realization regarding the effect your agents have — and what they bring to your mission. Receiving affirmation for where they're crushing it and coaching them in areas where they could improve is a vital ingredient.
"For employees, happiness comes from the feeling of progress and momentum, both in their company and in their own career trajectories."
– Dr. Jennifer Aaker, The business case for happiness, Stanford Graduate School of Business, M345
According to Jeff Rumberg at Metric Net, "Agent job satisfaction is a bellwether metric that impacts many other metrics in service and support. It is positively correlated with customer satisfaction and negatively associated with absenteeism and turnover, meaning that absenteeism and turnover go down as agent job satisfaction goes up." Read more of Jeff's research on Employee Engagement in the Contact Center: Metrics and Drivers.
Manually gathering these data points and calculations often requires hours of additional work for contact center managers. The Agent Balanced Scorecard from Brightmetrics™, a leader in contact center analytics, facilitates the process.
"When it came to building and managing a balanced scorecard, what had previously taken several hours a week of manual work in an Excel spreadsheet is now automated within Brightmetrics."
– Henry Svendblad, CTO, Company Nurse
With customized options from Brightmetrics Agent Balanced Scorecard, available in early access for our CCaaS Analytics™ for the Genesys CloudTM platform, you can set clear and quantifiable agent performance standards that will lead to efficient contact center operations. And, ultimately, this could save you thousands to hundreds of thousands of dollars on your bottom line.
To learn more, visit Brightmetrics online and check out the listing in the Genesys AppFoundry Marketplace.
Join the live webinar on August 26 at 8:00 AM PT and learn how agent scorecards give your managers and team leaders the performance insights they need. Save your spot!