Meet Kate:
Customer experience
AI with a human touch
Chatbots, machine learning and analytics resources
Combining the human element and machine learning to enhance the customer journey is what Blended AI does. Meet Kate, customer experience artificial intelligence (AI) from Genesys. Kate brings together AI, adaptive learning, bots, cognitive computing, and other Genesys automation technologies. With Kate, you can deliver proactive and predictive experiences, personalized for customer journeys. You can also use Kate to improve agent performance. By integrating humans with technologies, Kate creates a powerful differentiator for your smart business.
Build a bot workshop
Take the next step in your AI strategy. Build your own chatbot or voicebot in just hours.
All chatbots are not created equal
Bots are increasingly important in building customer relationships, but they also introduce new risks and costs. Genesys automation reduces risks with pre-built microapps and directed dialog, making chatbots easy to configure and deploy. Design your bot once and leverage it across any channel: web, mobile, SMS, Facebook Messenger, Apple Business Chat and voice. With Genesys automation solutions, you can detect patterns and trends you can use to adapt and deliver great customer experiences. You can also:
Create seamless handoffs to live agents with full context across channels
Unify routing and reporting across chatbot and live conversations with Genesys ecosystem integrations
Use third-party chatbot platforms and leverage Genesys omnichannel orchestration and routing
Genesys and Google Cloud Contact Center AI
You can now deliver faster, more seamless customer service that's sure to make your brand experience stand out. Contact Center AI is a simple, secure and flexible solution that allows companies with limited machine learning expertise to deploy artificial intelligence in a fraction of the time. See how Genesys and Google are working together to deliver the next generation of connected customer experiences powered by AI.
Level-up your AI game. Find out how in 7-10 minutes.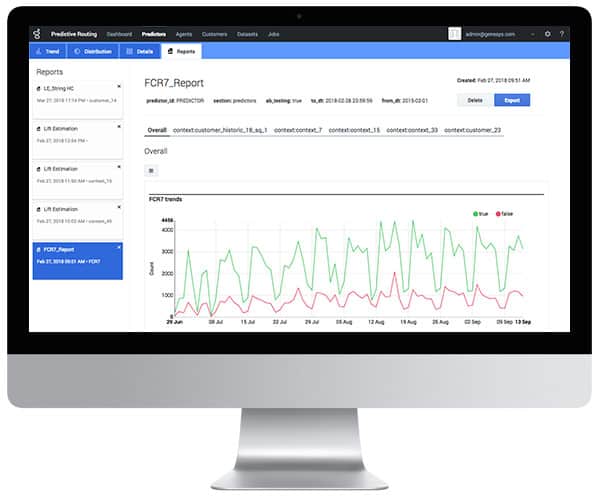 Sometimes you can predict the future
Genesys Predictive Routing uses machine learning to choose the resource that will deliver the best results for a given customer and the business. It operates within the controls established by your existing routing logic to deliver predictable results. Complementary to skills-based routing, context-based and rules-based routing, predictive routing is outcome-oriented. Unlike traditional routing, predictive routing uses rich historical data gathered over time and:
Adapts to the changing patterns of interactions
Builds predictive models using continuous learning
Improves business KPIs automatically compared to traditional manual adjustments
MIT Techology Report: How global brands blend humans and AI to improve customer experience
Workforce planning in a New York minute
Genesys Decisions provides what-if analyses and staff- and budget-planning tools for your business. It uses AI-powered algorithms to develop efficient operational plans and accurate forecasts in minutes instead of days. This bigger-picture analytics tool for executives and workforce planners answers important questions about operational risks, service delivery, customer experience and resourcing options. Decisions forecasts important planning metrics to quickly and accurately:
Simulate how many agents you need week over week
Develop highly efficient, just-in-time hiring and overtime plans for optimal use of your labor pool
Translate capacity planning into an accurate budget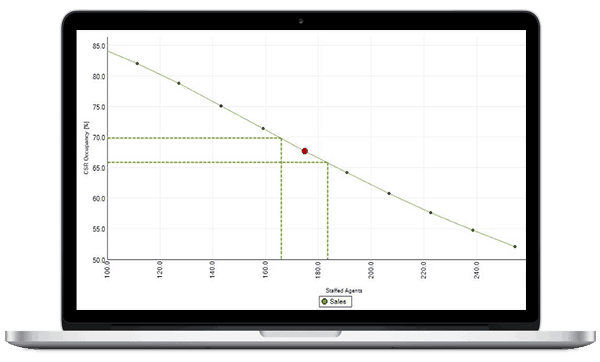 Explore Genesys innovations…