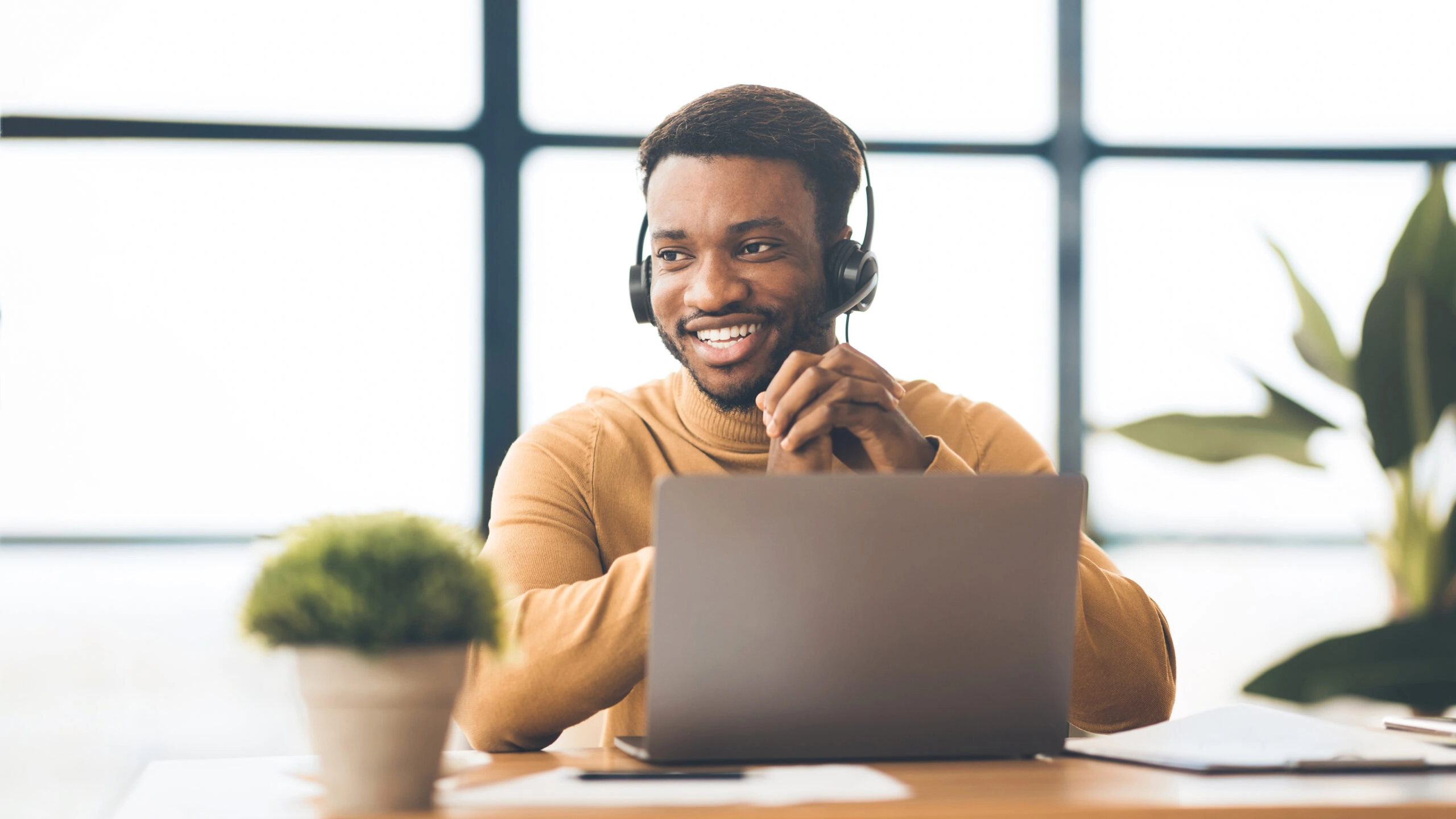 Agents to advisors: New roles and opportunities
In the past few years, banks have been investing in bots — often with the expectation of a dramatic decrease in calls. But, data confirms that's not always the case. Bots handle the easy questions so agents aren't stuck with routine tasks like resetting passwords or transferring funds. Yet, agents must handle more complex and challenging queries — and sometimes they're taking even longer to do it.
To handle these complex calls in their changing roles, agents should see themselves as bankers and they need better hard and soft skills. Upskilling has become increasingly important in supporting employee engagement at scale.
Preparing for changes in banking
When the COVID-19 pandemic hit, banks very quickly had to move thousands of agents to a remote work model. And it worked fairly well from a technology and change management standpoint — with minimal disruption for customers. Now, banks are struggling to keep remote workers interested and engaged over the long term. They're already hiring new agents who've never worked in a physical contact centre. Not only do they need to train these agents, but the agents must be continually upskilled for new types of products and higher expectations. While similar changes are happening across all industries, licensing requirements and regulatory adherence further complicates this in banking.
Increased automation and simplified processes are part of the answer, as they enable more flexibility. Employees need that to deal with distractions at home. And the business needs operational flexibility in terms of right sizing, which is important to its financial health.
If you've invested in bots and other digital technologies, there's more you can do with them. Start with these four areas of focus to prepare employees and support more effective engagement.
1. Speech and text analytics
Compliance and regulatory issues mean banking interactions with customers must be highly scripted. To monitor them, managers typically listen to a subset of calls and report on what they hear. While this manual process is informative, speech analytics does this faster and more effectively. For example, you can identify compliance liability by defining topics and phrases according to your legal, regulatory and business obligations. Monitoring every interaction reduces your risk of compliance failures, financial impact and reputation damage.
Identify important KPIs for which speech and text analytics can find actionable data. 
The massive amount of interaction data captured via phone and digital channels can also reveal insights into what your customers and agents experience. Speech and text analytics work with quality management processes and methodologies, making it easier to extract meaning and insights out of each interaction. You can identify trends and spot common themes that you can use to improve agent performance for specific use cases, such as reducing AHT, increasing FCR or raising sales conversions.
Sentiment analysis looks over data and applies sentiment markers: Was a phrase a customer said positive, negative or neutral? This data can then be analysed in different ways to give a sense of how the individual agent or call centre is performing — and what would help them improve.
2. Coaching
Traditionally, coaching referred to one-on-one communication between agents and managers. It was meant to help agents develop and improve specific skills to handle customer interactions. Automated coaching enhances informal or occasional personal coaching. It's more targeted and effective because it can be personalised — whether you have 10 agents or 10,000.
With a deeper understanding of agent and customer interactions, supervisors can identify performance trends, target behaviour for guidance or reinforcement, and create a persistent culture of improvement.
Effective coaching should look beyond the here and now to focus on the skills, attitudes and behaviours that will improve agent performance over time.
Smarter call-centre coaching for the digital world
McKinsey & Company
Focus on learning modules that provide metrics for improving employee performance. The content should have specific targets for each role and give employees resources and recommendations to meet them. You can use these during agent onboarding and continue as they grow in their positions.
Automated coaching creates a more positive dynamic; it allows supervisors to recognise and reward positive behaviours, and schedule training and feedback sessions, as needed, for onsite and remote employees. When this is triggered by artificial intelligence (AI), it speeds up the process and manages coaching to completion — taking the burden off administrators.
3. Gamification
Two years ago, 10% of banking employees worked remotely. Now it's about 80% — and with no physical connection to a banking environment. Gamification is a good way to keep agents connected with your organisation and with each other, and to accelerate onboarding for new employees.
Gamifying KPIs adds some fun, friendly competition to the agent workday. Performance-based metrics motivate agents, let you manage and track performance, offer recognition for achieving goals, and promote professional development. Use this data to establish clear coaching plans, create a culture of learning, and promote fairness and transparency. It can also be used to simplify process and procedure changes.
First decide what data would be most useful for agents overall, then personalise development with AI-driven performance objectives. Encouraging employees to take part in their job growth will boost productivity. Advanced native gamification technology makes it easy.
4. Agent assist
The more time agents spend searching for relevant information, the less time they have to build customer relationships. An AI-powered knowledge suggestion engine, or Agent Assist, helps live human agents answer customer inquiries in real time. These engines automatically bring up suggestions based on the context of each conversation.
The best engines include confidence scores to show the agent how accurate the suggestions are for a particular query. It's the agent's decision on whether to disregard low-confidence suggestions. To build on this knowledge and usefulness, ask agents to upvote or downvote each suggestion. Then, over time, machine learning occurs as suggestions continue to improve in relevance and accuracy — boosting agent efficiency.
Conclusion
The industry is evolving with virtual branches, advanced automation and a debate around remote workforce strategy; business leaders must answer new questions.
How will this affect bank branches, industry best practices, and adherence to rules and regulations, such as GDPR?
How will you train staff, transfer knowledge and award performance pay?
And how will scripting for communications change?
Banking is moving fast. The next few years will usher in even more changes. Prepare now for how you'll respond and what you need in place for long-term success.