Customers expect more from their interactions with your brand. They're more tech-savvy and have easy access to a wide range of messaging apps and digital tools. And they don't think twice about interacting with a bot to solve their issues.
At the same time, they have less patience for more traditional brand-to-consumer interactions. They know there are alternatives; they won't wait endlessly for the next available agent. And they'll become frustrated if they're put on hold for too long.
The widespread use of social messaging apps like Facebook Messenger and Twitter Direct Messages has set the bar for a richer, more convenient level of conversational experiences. Today's consumers expect the same level of interactions with brands on any digital channel. What's more, they expect you to know who they are and how they've interacted with you in the past. And they want you to address their individual needs across touchpoints with your brand.
To remain competitive, you must adapt to these higher standards in online customer expectations.
Next-Generation Web Chat
Traditional web chat experiences are underwhelming. The new Web Messaging for the Genesys Cloud™ platform solves this, taking web chat experiences to the next level. Your business will be empowered to establish rich, interactive asynchronous conversations that persist over time, modernizing the experiences you offer and fulfilling customer expectations.
Genesys Web Messaging puts end users in control. They can engage with businesses, day or night, and continue conversations at their own pace — without having to wait in a queue for the next available agent. Brands have a constant presence and customers receive a heightened experience through the combination of a chatbot, agent and rich-media-based engagement.
And employees are happier, too. According to Forrester, asynchronous messaging also allows agents to be more efficient, with a 15-30% productivity gain. When employees are less stressed handling customer inquiries, agent engagement improves. And that enhances communication with customers and improves FCR.
Any business administrator can author and configure Genesys Web Messaging, on any website, using an intuitive visual interface; there's no need to involve IT.
And, with the proactive nature of Genesys Predictive Engagement, you'll never miss a chance to offer your customers a delightful web messaging experience — and that will optimize online conversion opportunities. Get a full view of the customer journey to ensure your agents can offer a more contextual and personalized experience.
Benefits for Customers
More Convenient Conversations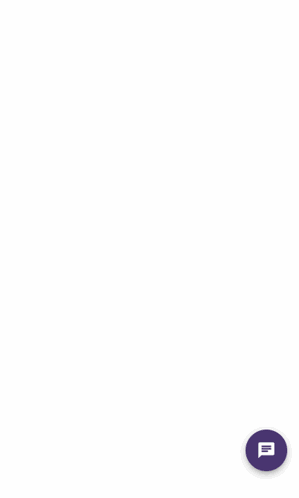 With web messaging, customers can reach out to businesses at any time — no need to stay on the website or wait in line for the next available agent. Customers can ask questions and receive help from bots. They can pause and resume conversations at their own pace and across devices, without ever losing sight of previous conversations. This frees them from having to start conversations from the beginning every time they reach out.
Personalised, Rich Conversations
Improve customer experience by sharing images for better context and leveraging quick replies for faster resolutions. Rich messaging frees customers from needing to type long messages. In-app previews, file validation, emojis and animated gifs help you create smoother experiences
Benefits for Agents
Empowered Agents
With a wealth of customer information at their fingertips, such as customer web history, customer journey context and customer profiles, agents know exactly who they're talking to, get straight to the point and provide better customer experiences.
Connected Experiences
With the ability to follow up during the entire customer lifecycle, even when customers aren't online, agents can offer fully connected experiences that replace fragmented, frustrating strings of interactions.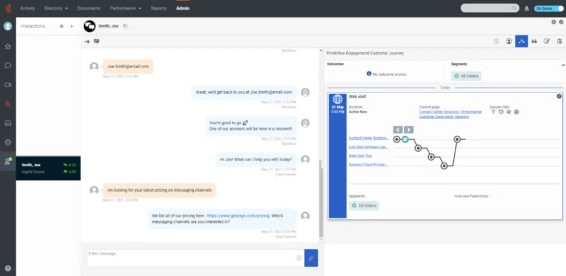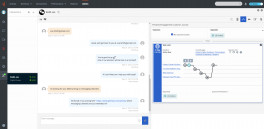 Benefits for Admins
Easy to Deploy and Customize
With one-click publishing, admins can customize and deploy different variations of Genesys Web Messaging, allowing them to quickly react to changing business needs — without needing to involve IT.
Offer a 24/7 Online Presence
The asynchronous nature of Genesys Web Messaging enables admins to improve the customer experience on their websites by offering customers the option to self-serve at any time with a bot. They can also choose to schedule a callback when the next available live agent is free.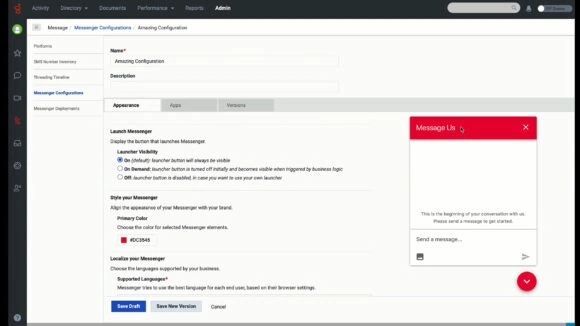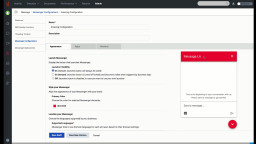 Asynchronous conversations are now the way forward. In a digital-first world, where everything is just a click away, everyone has the freedom to start, pause and resume conversational messaging on their own terms. Businesses must meet these new expectations by connecting with their customers on more human levels that put empathy at the center of each interaction.
Genesys Web Messaging gives customers exactly the experience they want — at exactly the right time — ensuring they feel known, heard and understood. Learn more about Genesys Web Messaging online and download our practical guide today.