Back in the early aughts when I was authoring SIP (Session Initiation Protocol) stacks, we couldn't have predicted how customer expectations would shift toward the contextual and personalised experiences that are now necessary to build brand loyalty.
The rise of the cloud, digital interactions and automation has changed how we think about customer service. And they've moved us toward integrated solutions, in particular the combination of Contact Centre as a Service (CCaaS) and CRM systems, that give companies a view of the complete customer journey.
Our role has expanded from those early days of needing to be in the physical location where the phone rang. Now we need to understand the full customer journey, leverage technology like APIs to combine data from multiple platforms, and use artificial intelligence (AI) to learn and recommend best actions.
Customers get a more connected, personalised experience when agents have access to data from sales and marketing platforms, along with the data in the contact centre. This allows the customer to be seen even before they enter the contact centre, while there and after they leave.
Customers will experience less frustration and more positive outcomes with quick routing to the right employee and being able to speak with a service representative who knows their full interaction and history — every time. Consistent, connected experiences across channels, whether agent-assisted or automated — voice or digital — leads to faster, more efficient resolutions for inquiries and issues.
And agents or customer-facing employees get a more satisfying experience when they can operate from a single, modern "pane of glass." Timely access to contextual customer data enables quick, effective customer resolutions.
This type of innovation doesn't happen in a silo. And Genesys works with strategic alliances to ensure this, elevating the game with technology and processes that mold the experience to each customer's needs. When customers seek help and support, they expect efficient and empathetic service through modern voice and digital channels.
Genesys and Salesforce have a shared vision centred around the customer. Salesforce enables the full customer data, context and insights needed to orchestrate people-centric experiences. Genesys reaches customers globally to orchestrate end-to-end customer and employee experiences that stand apart. The free flow of data between platforms gives businesses access to a complete tool set, expertise and vision to deliver empathy at scale.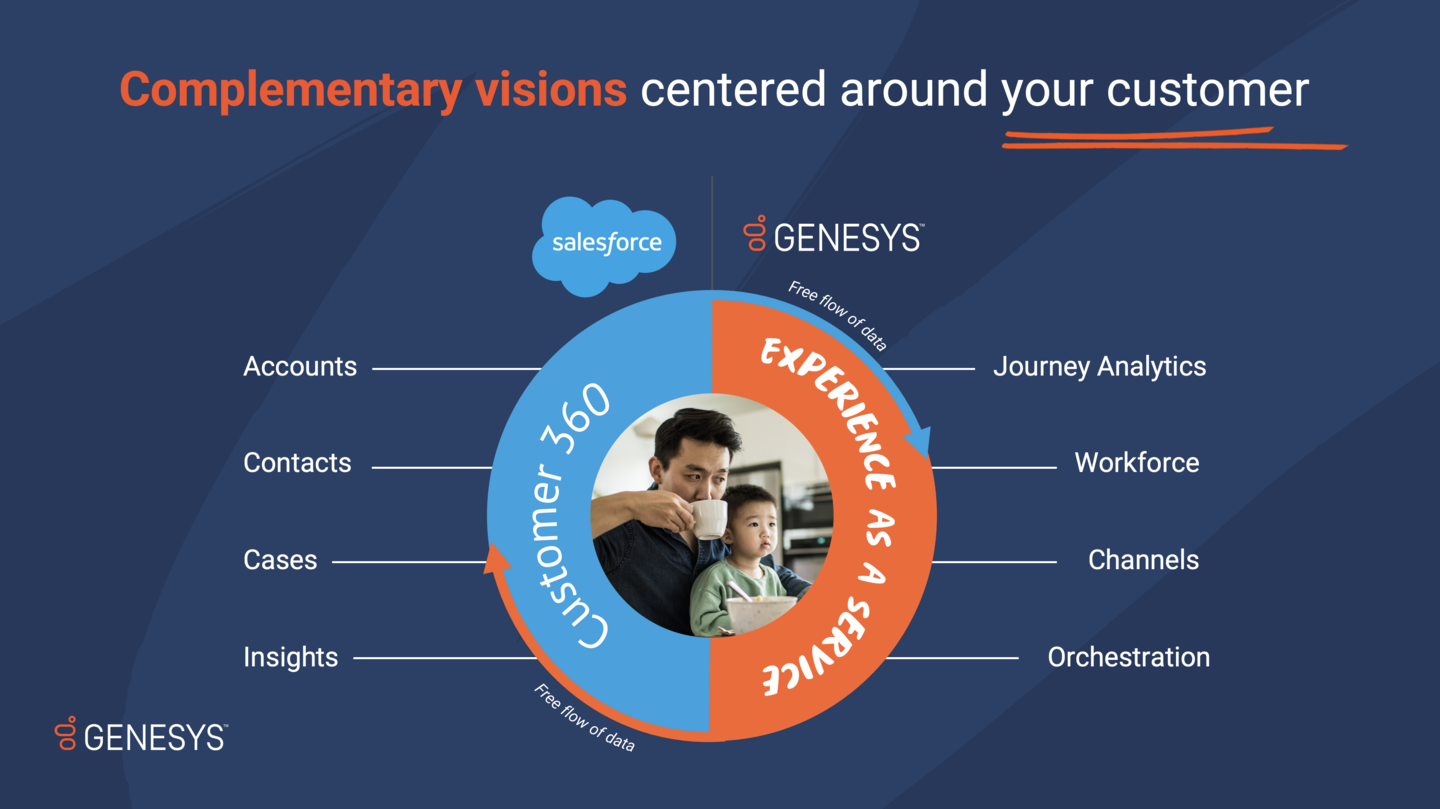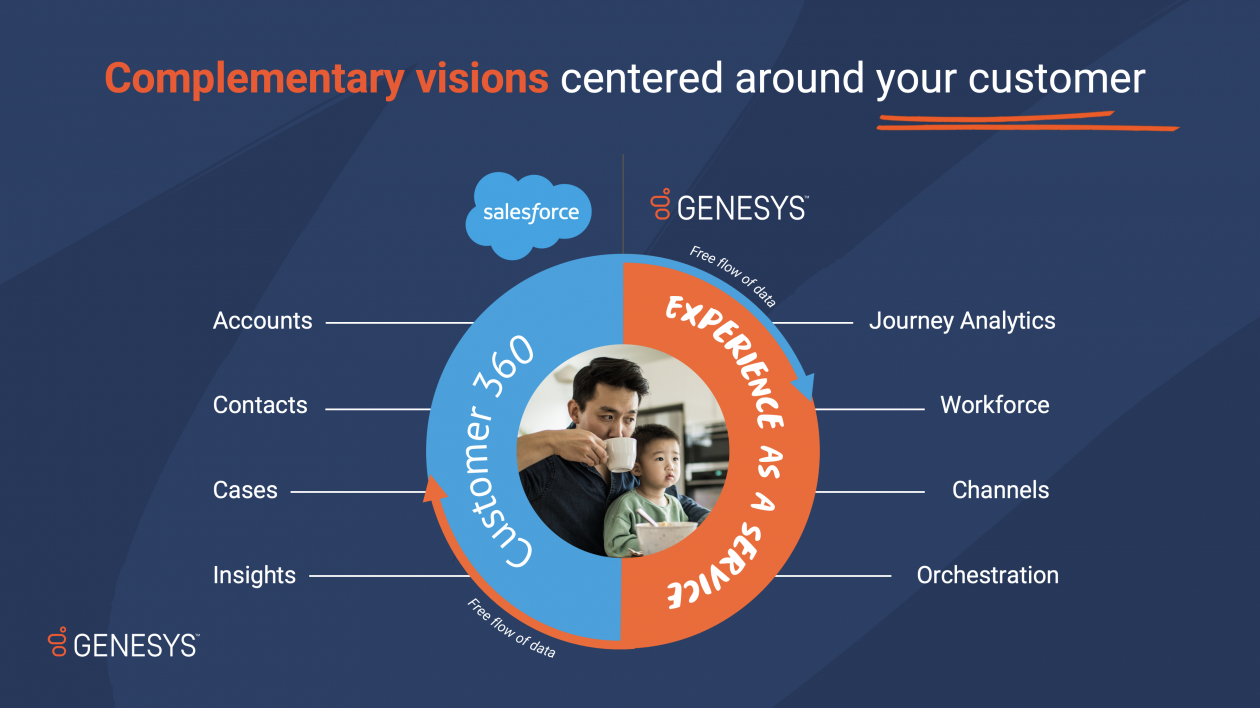 Together, Genesys and Salesforce share over 650 customers in more than 90 countries, leveraging the Genesys Cloud CX™ for Salesforce CTI integrations running highly complex workflows. This rich history spans our first integrations across Genesys on-premises contact centres and Salesforce CRM platforms — including Sales Cloud and Service Cloud — to our existing solutions for both the Genesys Cloud CX and Genesys Multicloud CX™ platforms.
Our latest integration, Genesys Cloud CX™ for Service Cloud Voice, joins our contact centre innovations with Salesforce. With Service Cloud Voice for Partner Telephony, customers can connect their existing customer experience solutions into Service Cloud Voice to create a unified agent and digital channel experience that delivers faster, smarter and more personalised service.
This native Service Cloud Voice integration between Genesys Cloud CX and Salesforce Service Cloud gives agents the power of the leading CCaaS solution, within the standardised Service Cloud user interface.  It's different from traditional CTI (computer telephony integration) in that user interface (UI) is fully native to Salesforce; it's not an overlay within the CRM environment. This allows for single sign-on (SSO), a standardised data model and a singular view of all customer interactions.
"Genesys and Salesforce have a shared vision of modernising the contact centre," said Ryan Nichols, SVP and GM, Contact Centre, for Salesforce Service Cloud. "We know from our long partnership that contact centres and CRM are better together. Through intelligence, workflows and a deeper understanding of the customer, Salesforce Service Cloud Voice, paired with Genesys Cloud CX, will empower agents with a seamless experience to help them wow customers."
Genesys Cloud CX for Service Cloud Voice is now in limited availability. It creates a single-pane-of-glass desktop experience for agents through the Salesforce Service Cloud native UI, powered by Genesys Cloud. Our initial release focuses on core voice interactions, including:
Voice services: Receive and manage inbound ACD calls within Service Cloud. Integrate voice into Salesforce with Genesys Cloud CX Voice services. Purchase, activation and setup of telephony services are easy and efficient. Genesys Cloud CX Voice and Bring your Own Carrier are supported.
Customised screen pops: Know who's calling and why. Equip your agents with customised screen pops, journey data and relevant information from Salesforce. Use this customer information to truly personalise experiences.
AI-based dynamic routing: Route interactions to the agents most likely to resolve the customers' questions and automate requests with self-service options that reduce the contact centre workload.
Other features include after-call work, call transfers, login with Salesforce SSO, outbound agent calling on behalf of queue and more.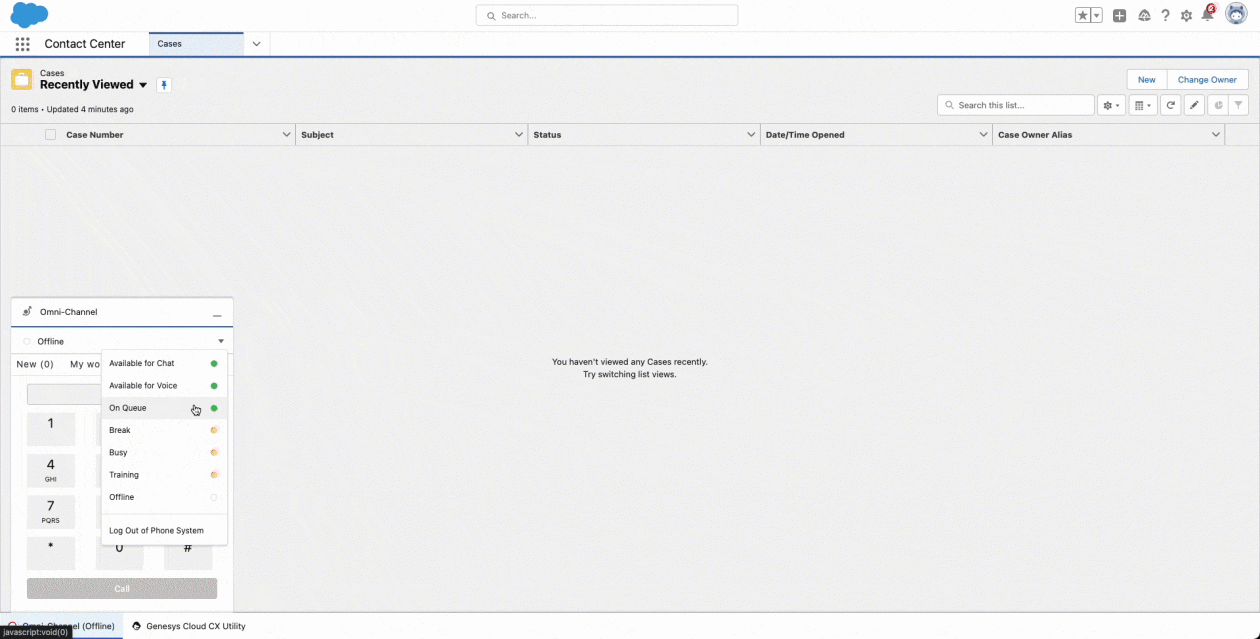 Our partnership continues to evolve as the market demands the delivery of more connected, personalised customer experiences through seamless data flows. As self-service automation has gained traction, and live agent engagement becomes increasingly complex, delivering a connected customer experience, every time, requires a deeper level of context and connectivity across the organisation.
Improve Contact Centre Retention
At a time when employee retention is more tenuous than ever, our customers need technology that goes beyond optimising for agent efficiency. They need tools that improve agent engagement by providing all the content and context necessary to deliver empathetic customer experiences.
Customers can easily leverage Genesys Cloud CX Workforce Engagement Management for capabilities that go beyond time management, forecasting and other operational-focused functions. Genesys Cloud CX Workforce Engagement Management addresses the human side of the workforce with practices like recruiting, talent development, performance reviews, coaching and rewards. It shines a light on employees and their satisfaction, while enabling them to achieve greater productivity and deliver better customer experiences.
Further Innovate with an App Ecosystem
A strong ecosystem of partners makes differentiation for our customers possible. Genesys AppFoundry® is a curated marketplace of experience solutions that includes over 450 applications, integrations and services specific to the composable Genesys Cloud CX platform.
Customers use a single click to install a third-party app. Genesys AppFoundry includes over 175 premium apps across 12 diverse categories; they're fully integrated into the customer's Genesys Cloud CX invoice — and many offer free trials.
Customers can request access to the Limited Availability of Genesys Cloud CX for Salesforce BYOT today in the Genesys AppFoundry Marketplace.